Technology Latest News
OnePlus may partner with T-Mobile to launch the OnePlus 6T
OnePlus's half-way upgrade from the OnePlus 6 has yet to be officially announced, and though we've come across plenty of rumors about the OnePlus 6T, perhaps the biggest news for the phone is that T-Mobile will sell it directly through a partnership with OnePlus. 
The partnership, which was explained to CNET by people familiar with the arrangement, includes an October launch date, and it entails the OnePlus 6T being customized for T-Mobile's network. Though this would be an exclusive partnership, OnePlus is still expected to sell a standard version not tied to T-Mobile.
When the deal comes to fruition, it will be very different than the strategy OnePlus used for its original OnePlus One, a phone that was hard to get your hands on even if you wanted one. Back then, the company was so small it used an invite system to sell phones (and drum up some hype at the same time). 
If all goes according to plan, it appears OnePlus could finally have a phone that any customer walking through a T-Mobile store could just chance upon.
OnePlus for the people!
Bargain hunters have always had a lot to like from OnePlus, and any that are in a T-Mobile store will probably have a hard time missing the flagship looks and lower price of the OnePlus 6T.
With both T-Mobile's unlimited data plan and OnePlus's phones offering great value to shoppers, a partnership like this could go a long way toward cementing OnePlus's place as a true value champ while also making it a household name.
Of course, this makes us wonder, will the T-Mobile version come in magenta?
Best OnePlus 6 cases to protect your new phone
While we've already started to see rumors of a OnePlus 6T, the existing OnePlus 6 is still the best the company has to offer. And, if you own a OnePlus 6 but no case, it's probably time to get one, because the glass design introduced in this model is not quite as safe from drop damage as previous OnePlus phones were.
There are plenty one OnePlus 6 cases that will still let you show off the great looks of your phone, and even more that can go a long way toward protecting your OnePlus 6 from all sorts of potential hazards, whether they be water or high falls.
If you've been waiting because plenty of popular smartphone case manufacturers held out on making OnePlus 6 cases, don't worry. We've found some good options anyway.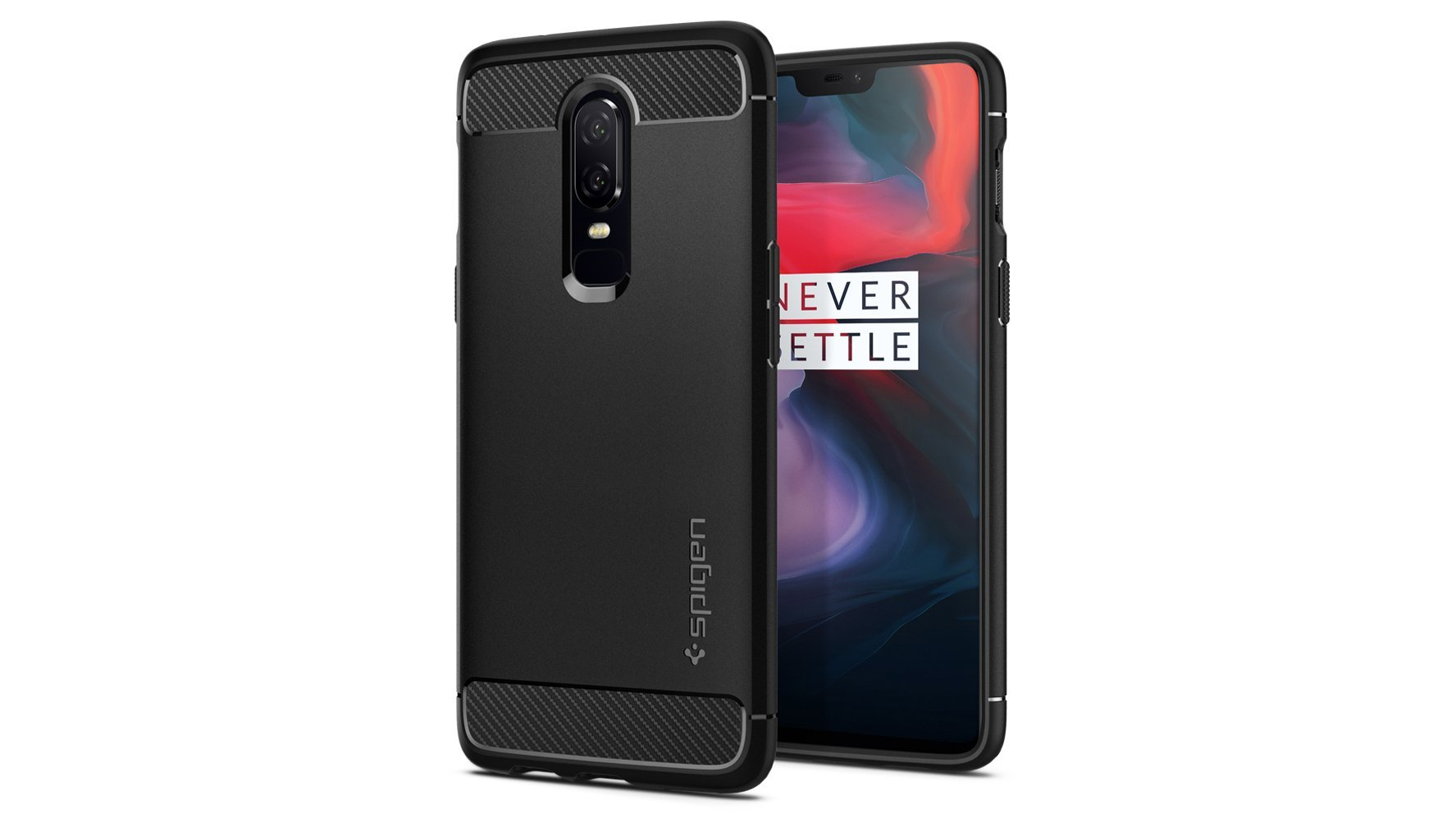 Spigen Rugged Armor case
Spigen's Rugged Armor case is a great combination of protection and affordability. It has a simple one-piece construction using flexible TPU to easily wrap around the phone and protect it from all sides.
Covering the rear, save for a camera and fingerprint scanner cutout, this case will go a long way toward protecting the glass back of the OnePlus 6. Meanwhile, the raised edges can also protect your screen from falls onto flat surfaces.
At $12.99 on Amazon, this is an easy pick for OnePlus 6 owners.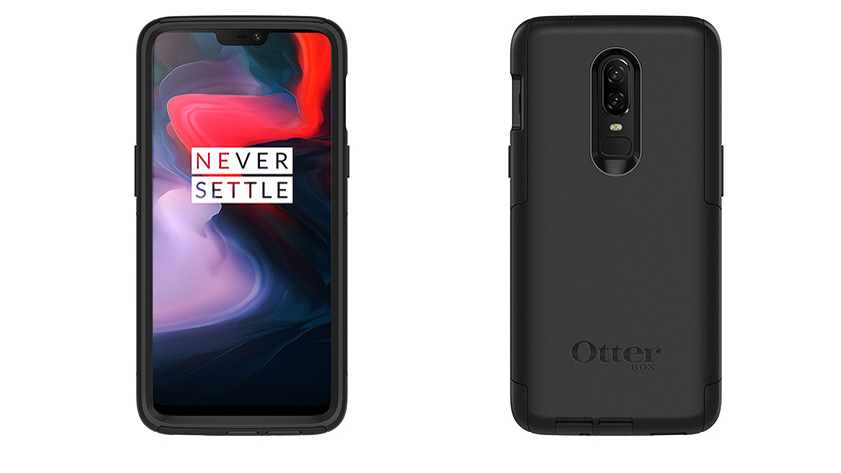 Otterbox Commuter case
Otterbox has a great reputation for making smartphone cases, so it's always refreshing to see one available for a phone like the OnePlus 6. 
The Commuter Case combines a rubber cover that goes around the OnePlus 6 with a hard polycarbonate shell to add extra protection and keep everything in place. The case also has port covers, so when you're not using the ports, you can prevent dust and dirt from getting in.
The Otterbox Commuter case may be expensive at $39.95, but preventing serious damage to your OnePlus 6 is well be worth that cost.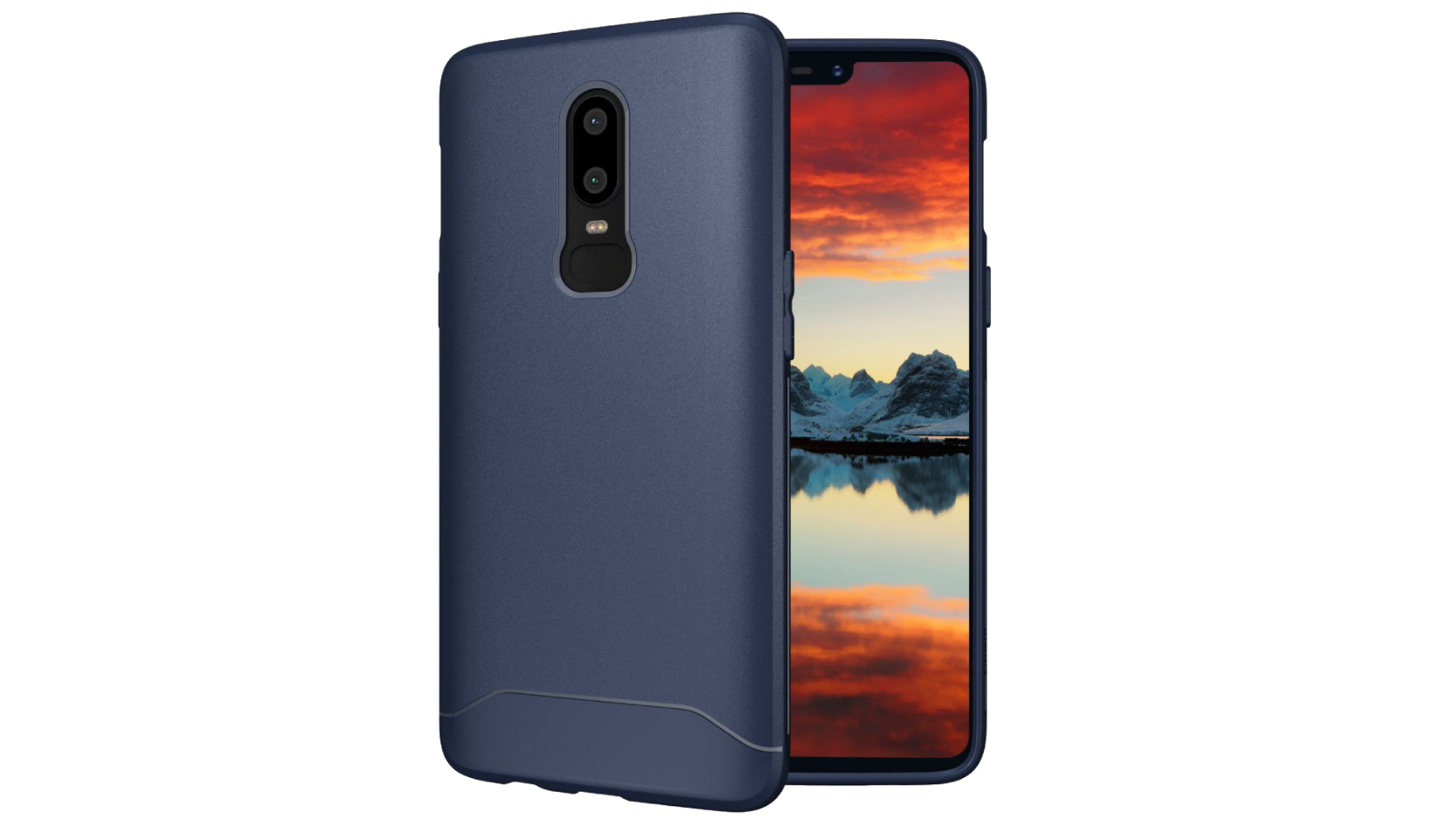 Tudia Arch S case
Likely to maintain its title as the most affordable OnePlus 6 case around, Tudia's Arch S is no slouch in terms of build quality or looks.
This model in particular is extra grippy and fits right around the curves of the phone to avoid any extra bulk that we commonly see with cases. You'll find access to ports and buttons unfettered by this case.
Available in a few different colors, this one won't cost you more than $10, that's with shipping included.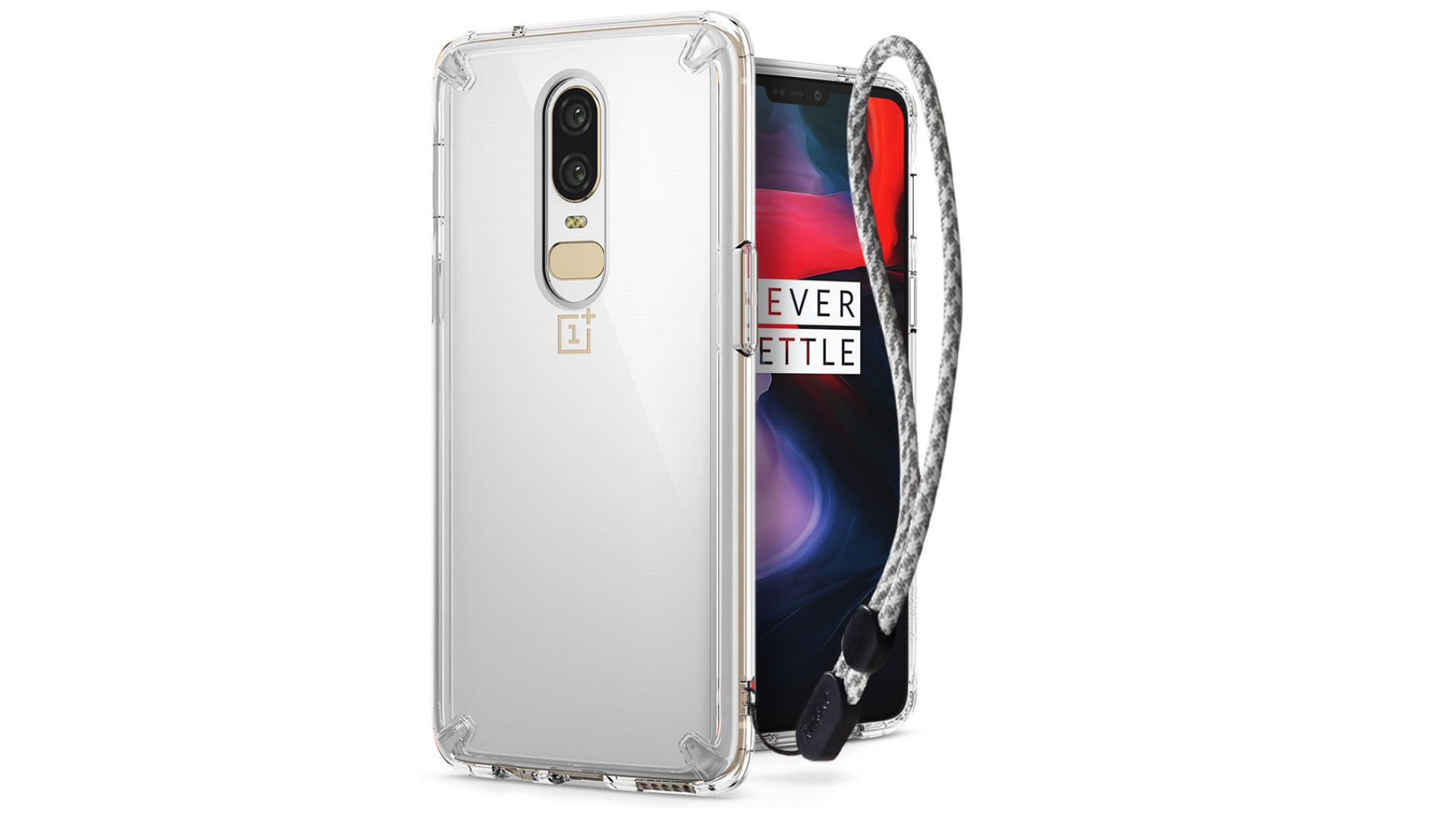 Ringke Fusion case
It's about time that some cheaper OnePlus 6 cases hit the market, and it looks like Ringke heard the call with its Fusion case. This one comes in clear and black color options and provides a minimal, but comprehensive coverage around the latest OnePlus phone.
Despite its minimalist design, it actually adds a bit of buffer space between the corners to protect it better against drops. The case also comes with a wrist strap in case you want to keep it strapped to your wrist but out of your hand.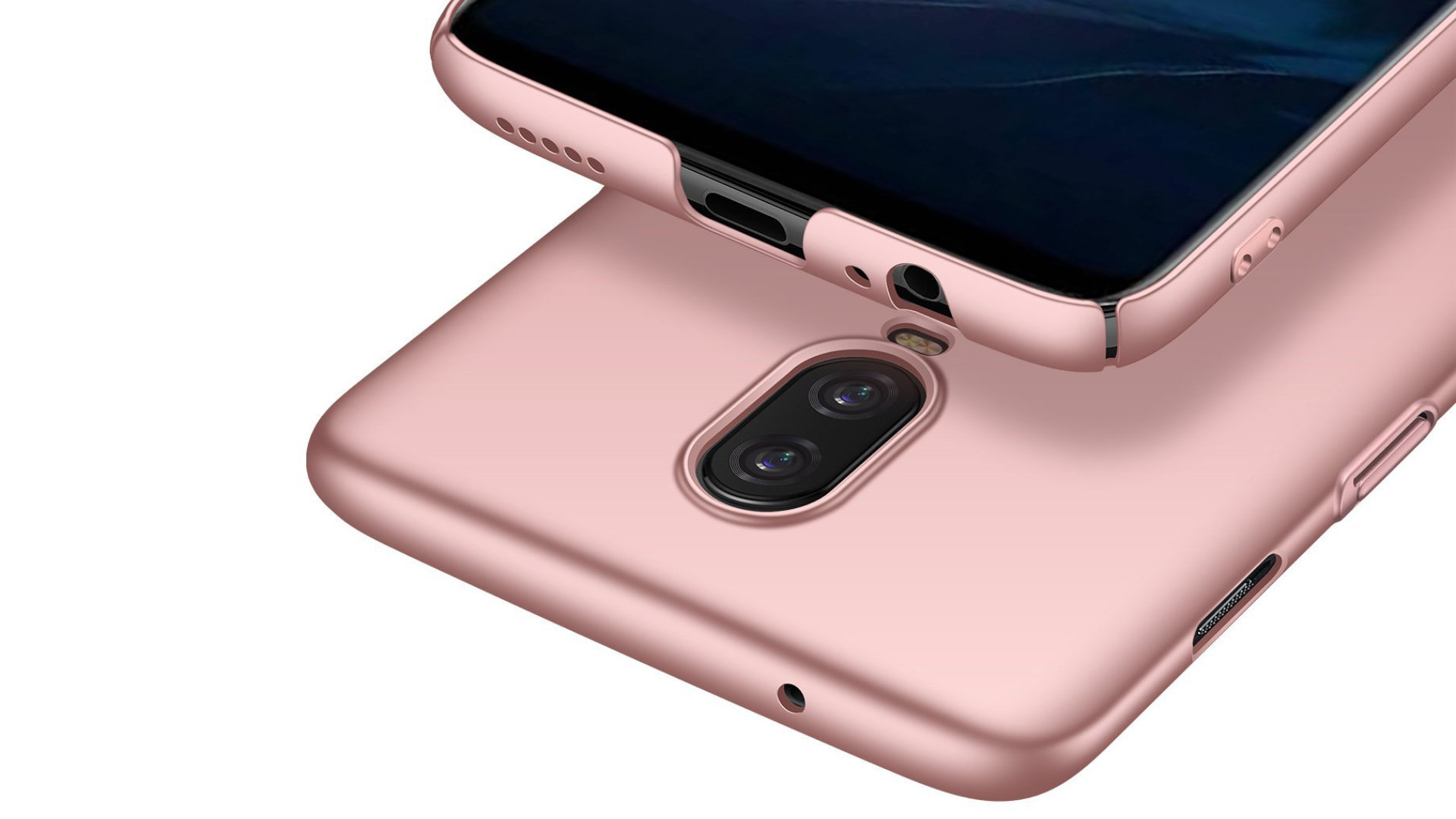 Anccer Slim Fit case
The OnePlus 6 is a dead-serious smartphone that's packed with impressive specs for an appealing price, but Anccer says "lighten up a bit, will ya?" with a nice selection of color options for its Slim Fit case.
From predictable favorites like black and silver, there's also red, rose gold, blue and green to select between, among a few others. This one certainly isn't as protective as a ruggedized option, but if you're looking for a bit more pizzazz for your OnePlus 6, this is a good place to look.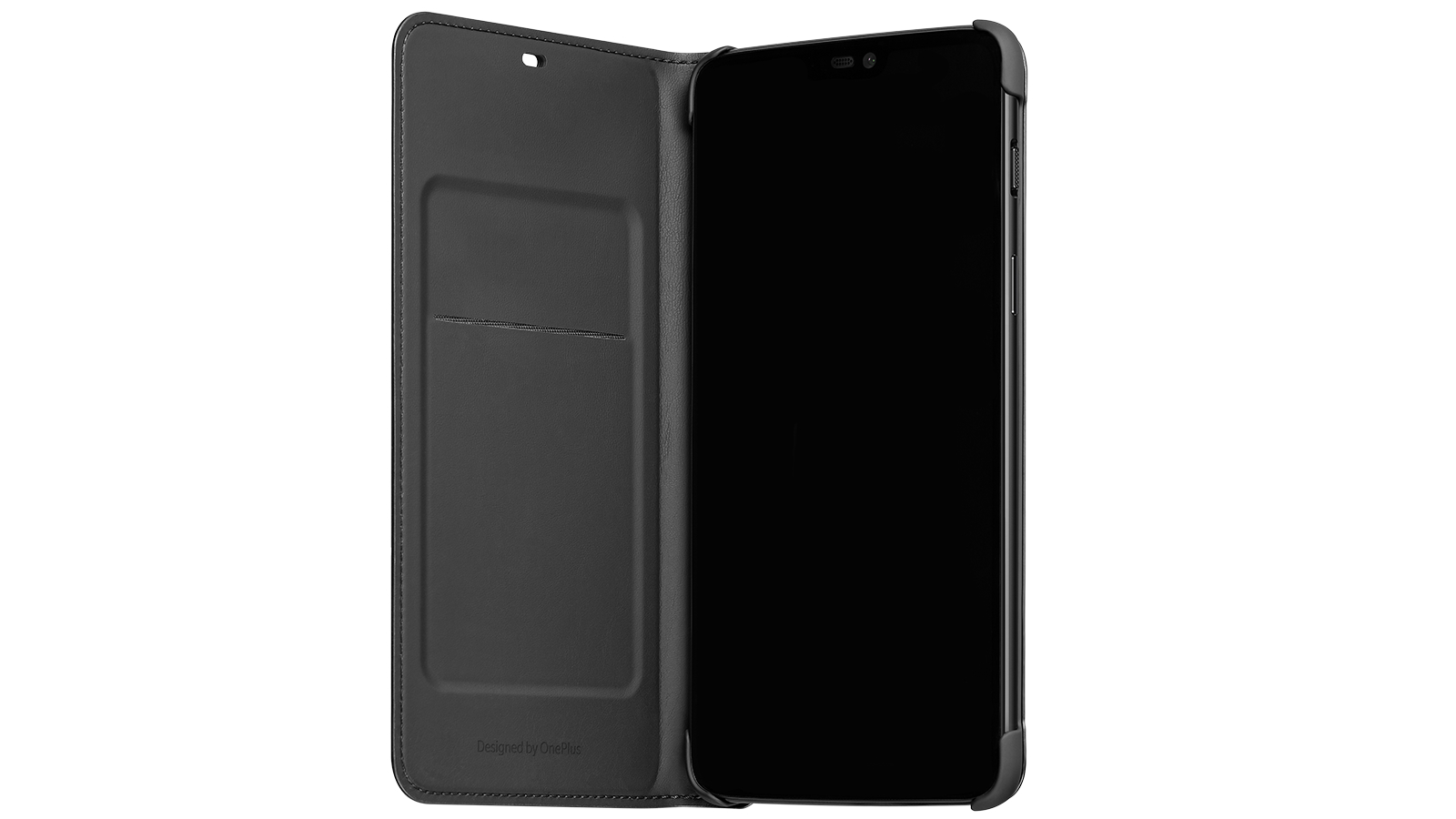 OnePlus Flip Cover case
Looking for a classy add-on for your new OnePlus 6, the flip cover is the way to go. If you take a call, a little cut-out near the top allows you to hear the ear speaker easily while the case is closed.
Flipped open, there's a card slot where you can easily fit a few cards and a little cash. This doesn't look like the most protective option around, but if you're looking for a case that holds form and function in equal regard for $19.95 (£17.95).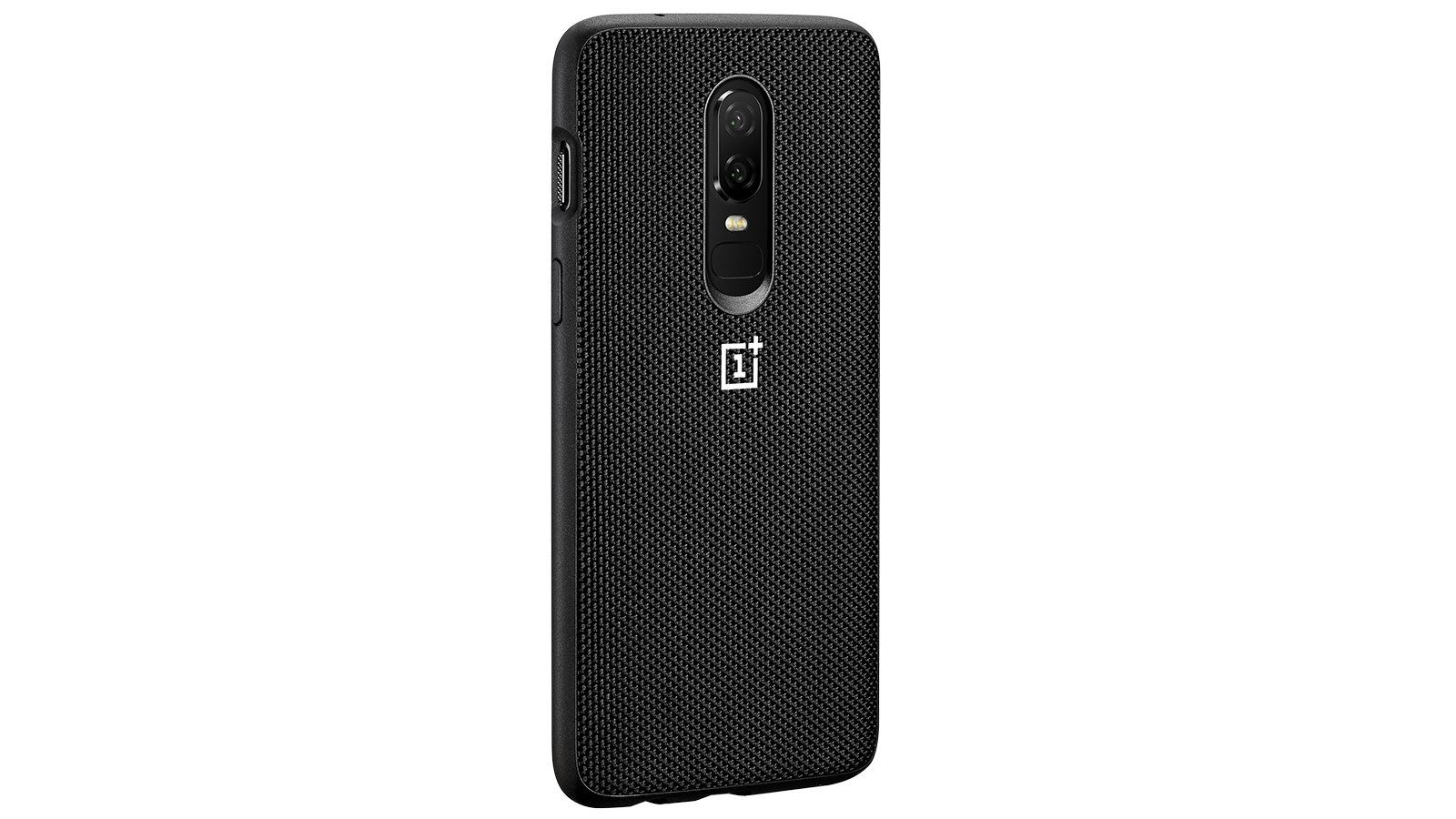 OnePlus Bumper case
The most rugged option available through OnePlus, the Bumper case protects your OnePlus 6 from every angle and is available in a few different colors and build materials.
Most stylish is the nylon, which gives your phone the soft feel of fabric. Ebony wood and Karbon will both appeal to certain crowds.
This one goes for $24.95 (£23.95) and looks to be a worthy investment for your new phone.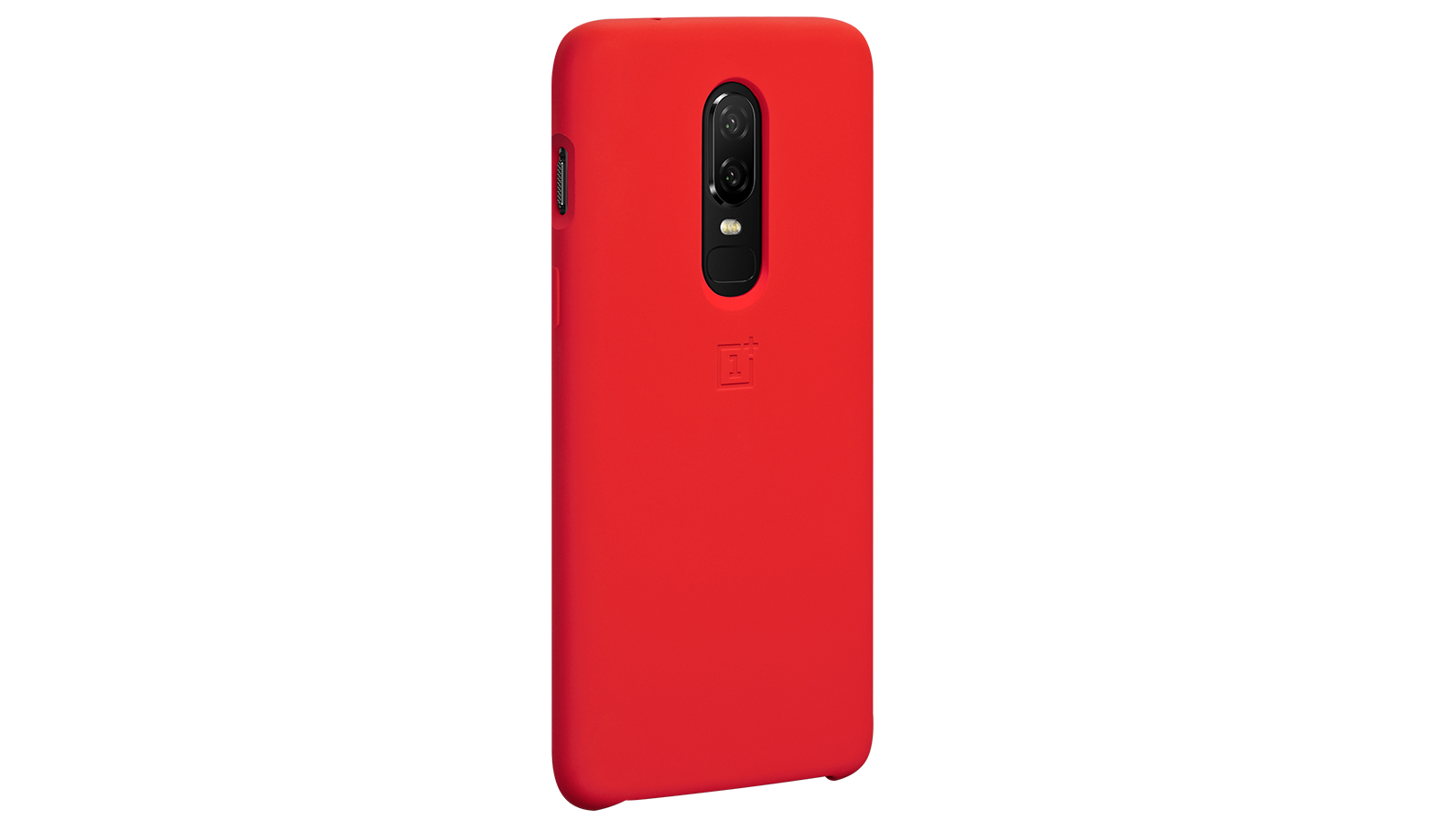 OnePlus Silicone Protective case
Available only in red, the soft silicone case is the perfect option for those who want to protect their phones with something simple in look and feel.
Built to take a beating, silicone keeps your phone in one place on a surface and will likely age well, even if you get it dirty.
This rather basic case offers easy access to all buttons and ports, and will cost you $19.95 (£17.95).
The best games console: PS4, Xbox One, Nintendo Switch and more fight it out
Back in the day, it was easy to figure out which console was the best. Often there were just one or two on the market that were really viable to buy, and the decision was made by which games you wanted to play - Mario fans always went Nintendo and Sonic fans went Sega. Done! 
But these days picking out the best console from the current lot is hard. Sure, there are still exclusives, but 95% of all games that come out are multi-platform. Add to that mid-generation upgrades and technological advancements that promise 4K HDR with some apps and games but not others, and it can be confusing to figure out which console is worth buying.
The good news for gamers is that there are sites (just like the one you're on now) to help you narrow down the options. We don't play favorites and we don't have a preference for one set of titles over another. We're just here to play by the numbers and give you all the details on the best and brightest new hardware.
That said, we have a few questions to get the ball rolling: Do you need or want 4K? Is there a franchise you feel particularly close to? Do you want something you can play on the go? What's your budget? 
Gamers who want 4K should consider the Xbox One X, PS4 Pro and Xbox One S, while HD gamers can stick to the PS4 Slim and Nintendo Switch. If you're a racing or a shooting game fan, Xbox has a lot of first-party titles that cater to that genre while Sony has tons of great action-adventure and RPG titles. Nintendo has a mix of everything, but you should go for Nintendo if you can't live without an annual Pokemon and Mario title in your life.
To help make things a little less complicated, we've compiled this guide to the latest consoles on the market and weighed up their most notable pros and cons. We've also provided links to our other hubs of information in case you want to dive even deeper with your research. 
[Update: While Xbox and PlayStation are still the online gamers' paradise thanks to their stable infrastructure and large pool of players, Nintendo is finally ready to enter the great cloud computer in the sky with its Nintendo Switch Online service that's set to debut in the second-half of September. The online service will allow you to save games to the cloud in case something happens to your local file and offer a rotating selection of downloadable games from the NES era. We'll update this article again when the service goes live, but for now it's definitely worth noting that Nintendo is in the running as an online-ready console competitor.]
PlayStation: the affordable all-rounder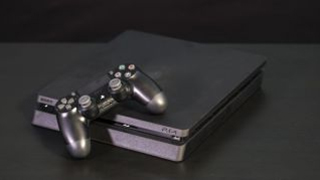 Available in standard or slim versions, the PS4 is the baseline console offering from Sony. 
Since it launched 4 years ago, the PlayStation 4 has been a firm fan favorite, boasting incredible sales figures. 
The console's single biggest strength is its exclusive games - in world of increasingly service-based online titles, PlayStation continues to push narrative-driven single-player titles such as Uncharted, God of War, Horizon Zero Dawn, and The Last of Us. 
It's also the only console at the moment that offers access to virtual reality experiences (though you will have to purchase the PlayStation VR headset separately if you want to take advantage of this capability).
If you're interested in the new 4K resolution everyone's talking about, you won't find that here. While even the budget Xbox One S offers 4K upscaling, the base PS4 is resolutely 1080p. PlayStation also isn't great when it comes to backwards compatibility so if you're hoping you'll be able to play your old PlayStation 3 library with ease, you won't.
If you're looking to enter the latest console generation in the most affordable way possible and you like what games PlayStation has to offer then this is the console to go for. 
Buy this if you want: the latest generation games but don't need 4K, you want PlayStation exclusive games, console VR, and a console for under £250/$250.
Key reads: Make sure you check out our full PlayStation 4 review and our picks of the best PS4 games. Think it's the console for you? These are the best PS4 deals you can get right now.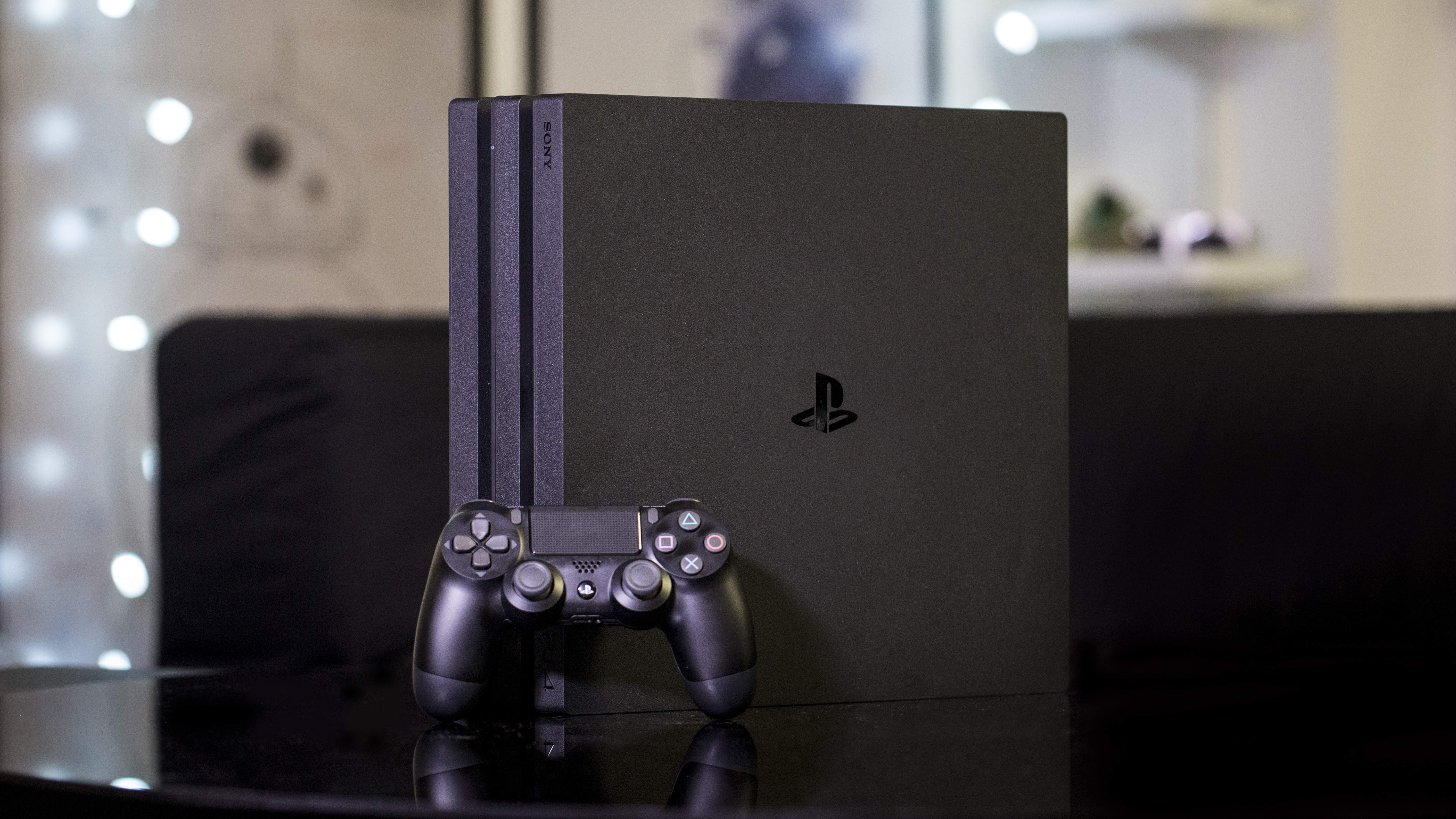 Anything the PlayStation 4 can do, the PlayStation 4 Pro can do slightly better. If you're invested in the 4K resolution revolution and HDR makes you hot under the collar, this is the Sony console for you. 
The PlayStation 4 Pro plays all the same games as the standard PlayStation 4, so if you're upgrading you won't have to start your library afresh and you won't need to pay any more for new 4K games either. You may, however, see an improvement in how they look and perform compared to the standard PS4. 
The PlayStation 4 Pro is the most powerful console in the PlayStation lineup at the moment, capable of outputting native and upscaled 4K in games that have been patched to make that possible. Even games that haven't been specifically patched can make something of this console's greater power – you'll find images look a little sharper and games will overall run more smoothly thanks to the PS4 Pro's Boost Mode. 
Like the standard PS4, this console has an excellent library of games and some fantastic exclusives as well as Playstation VR support. 
Though it's capable, it's not every game that will output native 4K on the PS4 Pro – many of them will be upscaled as the console just doesn't have quite the degree of power required to maintain native 4K resolution and run a large game with consistent frame rates. 
The PS4 Pro also has the same problem as the PS4 in that there isn't good backwards compatibility for previous console generations. There's also no built-in Ultra HD Blu-ray player so if you're looking for a console that will play your physical 4K media, this isn't the one. It will, however, still play standard Blu-rays and DVDs, and can stream in 4K from compatible services. 
If you don't have a 4K HDR TV and super sharp visuals aren't something that will drastically improve your enjoyment of a game then this console might not actually be worth the extra cash you'll splash on it, particularly if you already own a standard PS4 console. 
If you are coming into the new console generation for the first time and a 4K HDR TV is something you're seriously considering purchasing, then the Pro will at the very least future-proof you.
Buy this if you want: Native 4K and HDR gaming, PlayStation exclusives, VR gaming, native 4K for under £350/$400.
Key reads: Check out our full PS4 Pro review as well as our list of the best games for the console. Think you might make the jump to 4K? These are the best PS4 Pro deals at the moment. 
Xbox One: the multimedia monster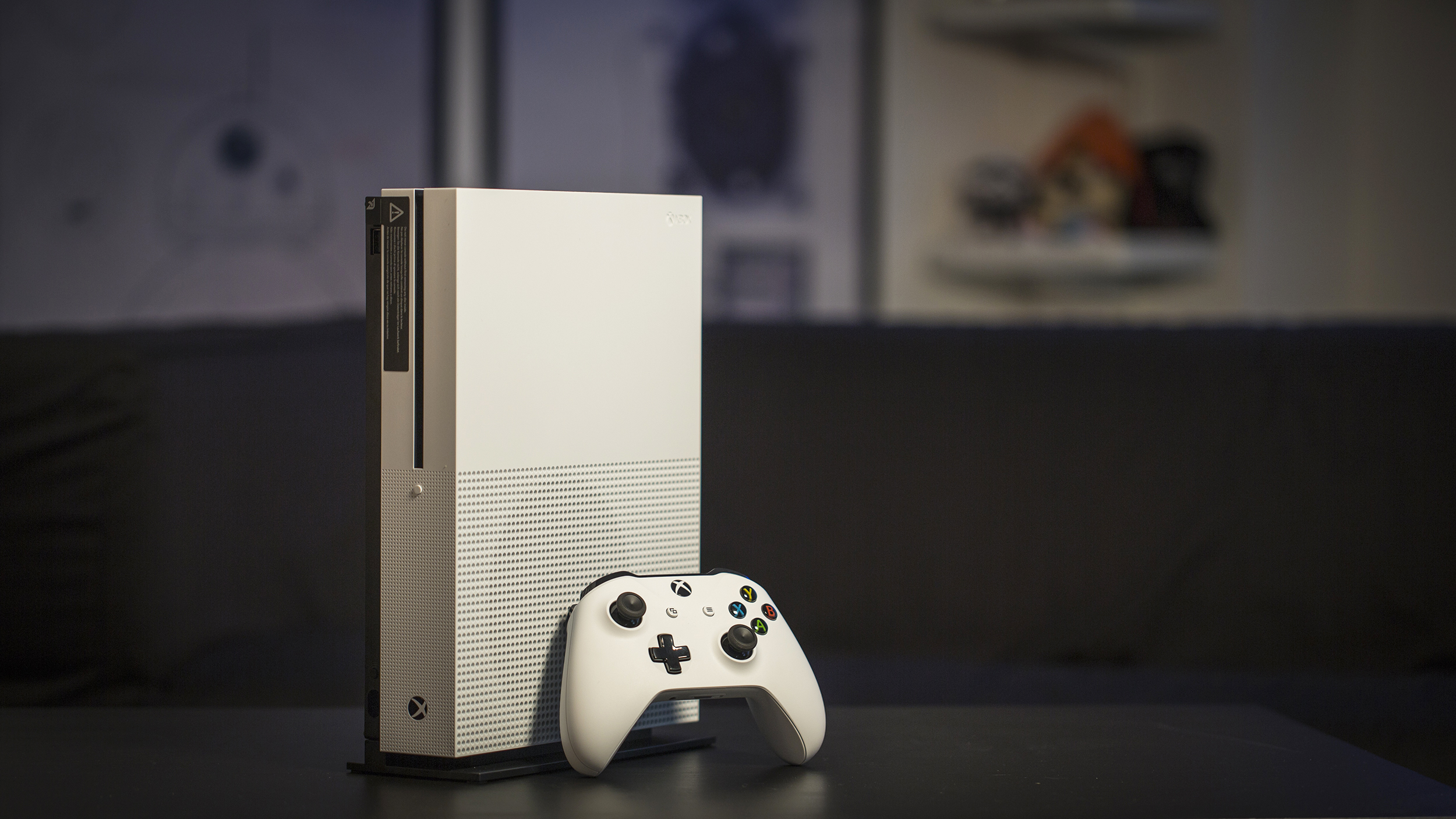 Looking for an entry level console but not interested in what PlayStation has to offer? Why not look at Microsoft's Xbox One S. This console has superseded the original Xbox One for many reasons – it has a much smaller and sleeker design, and it's just that little bit more powerful.
Something this console can do that the standard PS4 console can't is upscaled 4K. The Xbox One S's 4K capabilities aren't at the same level as the PS4 Pro or Xbox One X as the 1080p images are largely just stretched to fit a 4K screen without any clever checkerboarding but this rudimentary upscaling is reasonably impressive in a console with price starting from only £170/$190. 
To make up for a lack of good exclusives, Xbox consoles do have much better backwards compatibility capabilities than PlayStation consoles. On Xbox One S you'll be able to purchase and play original Xbox and Xbox 360 titles, many of which have become key classics. 
If you ever owned an older Xbox console and you still have the games from that, or you really want to catch up on a bunch of excellent titles you missed out on then the Xbox One S is a great way to do this. 
An area where Xbox completely outstrips PlayStation is overall home entertainment – while both consoles are able to stream from a variety of entertainment apps like Netflix and Amazon, the Xbox also has a 4K Blu-ray player built in. 
This is a feature Sony was criticized for not having in the PlayStation 4 Pro, so if you have a large physical Ultra HD Blu-ray collection and it's important to you that you're able to play it then the Xbox One S will definitely win your favor here. If you've been thinking about picking up an Ultra HD Blu-ray player anyway, then this console is one of the cheapest ways to do so. 
One issue Xbox has compared to PlayStation is exclusive games. Where PlayStation has quite a robust collection of exclusives, Xbox is somewhat lacking. Franchises such as Halo, Gears of War and Forza might call this platform home, but their critical reception hasn't quite hit the heights of Horizon: Zero Dawn and Uncharted. 
Though it does offer upscaled 4K, the Xbox One S's upscaling method is far less intelligent than the checkerboard method used by the PlayStation 4 Pro so if you're looking for a truly polished 4K experience, it's best to splash the extra cash on the PlayStation 4 Pro or the next Xbox console in our round up. 
Buy this if you want: Affordable but upscaled 4K, an Ultra HD Blu-ray player, excellent backwards compatibility, a console for under £250/$250.
Key reads: Make sure you read our full Xbox One S review as well as our picks of the best Xbox One games to see what you could be playing. Think this is the console for you? These are the best Xbox One S deals right now.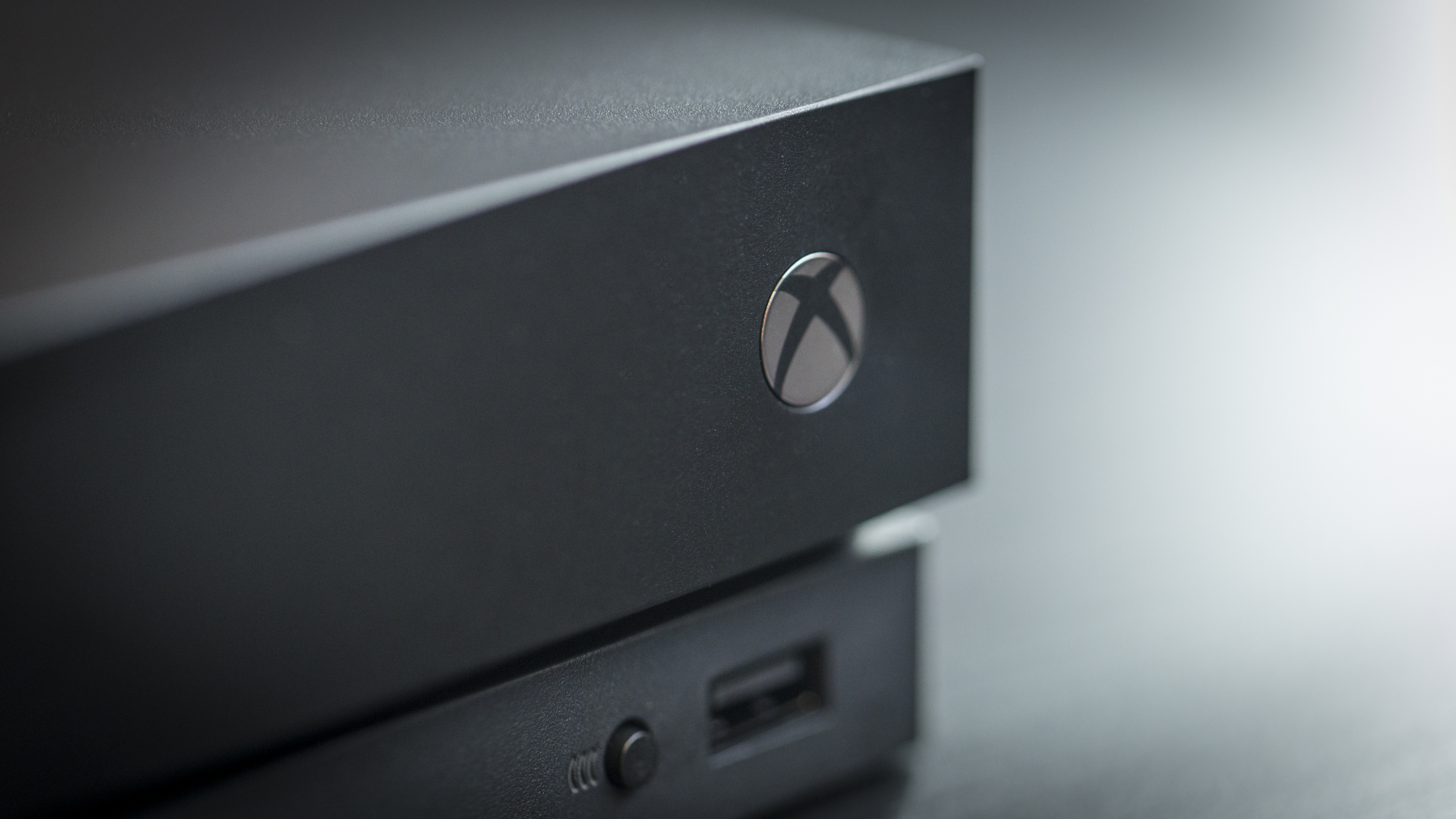 If power is the be all and end all for you, then you won't find a more powerful console than the brand new Xbox One X. Do bear in mind, though, that you also won't find a more expensive console either. 
The Xbox One X is Microsoft's answer to Sony's PS4 Pro and it's safe to say it's a pretty good one. Just like the PS4 Pro this console outputs native and upscaled 4K as well as HDR on games that have been patched to support these features. But because of its much better specs the Xbox One X offers native 4K on many more games than the PS4 Pro. And it's often more consistent in maintaining  a 4K output. If you're looking for the best 4K gaming experience possible on a console, the Xbox One X should be your choice.
Like the Xbox One S, this console has excellent backwards compatibility support as well as a built-in Ultra HD Blu-ray player for your physical media collection. 
However, also like the Xbox One S, it suffers from a lack of console exclusives that really show what it can do. 
It's also the most expensive console on the market by a large amount. As a result, if you don't have the AV set up to do it justice it's hard to justify paying quite so much, particularly as the library of exclusive games is rather thin at the moment.
Something also worth noting is that you may find you have to purchase a sold-separately external hard drive for this console. While its 1TB of built-in storage seems like a lot, 4K game files are large and it'll quickly fill up. 
Buy this if you want: Native 4K and HDR support, Ultra HD Blu-ray player, future-proofed gaming, the highest specs around.
Key reads: Read our full Xbox One X review to dig into the details and peruse our list of games that take advantage of the console's power. Think the king of consoles is the one for you? These are the best Xbox One X deals right now. 
Nintendo: the portable paragon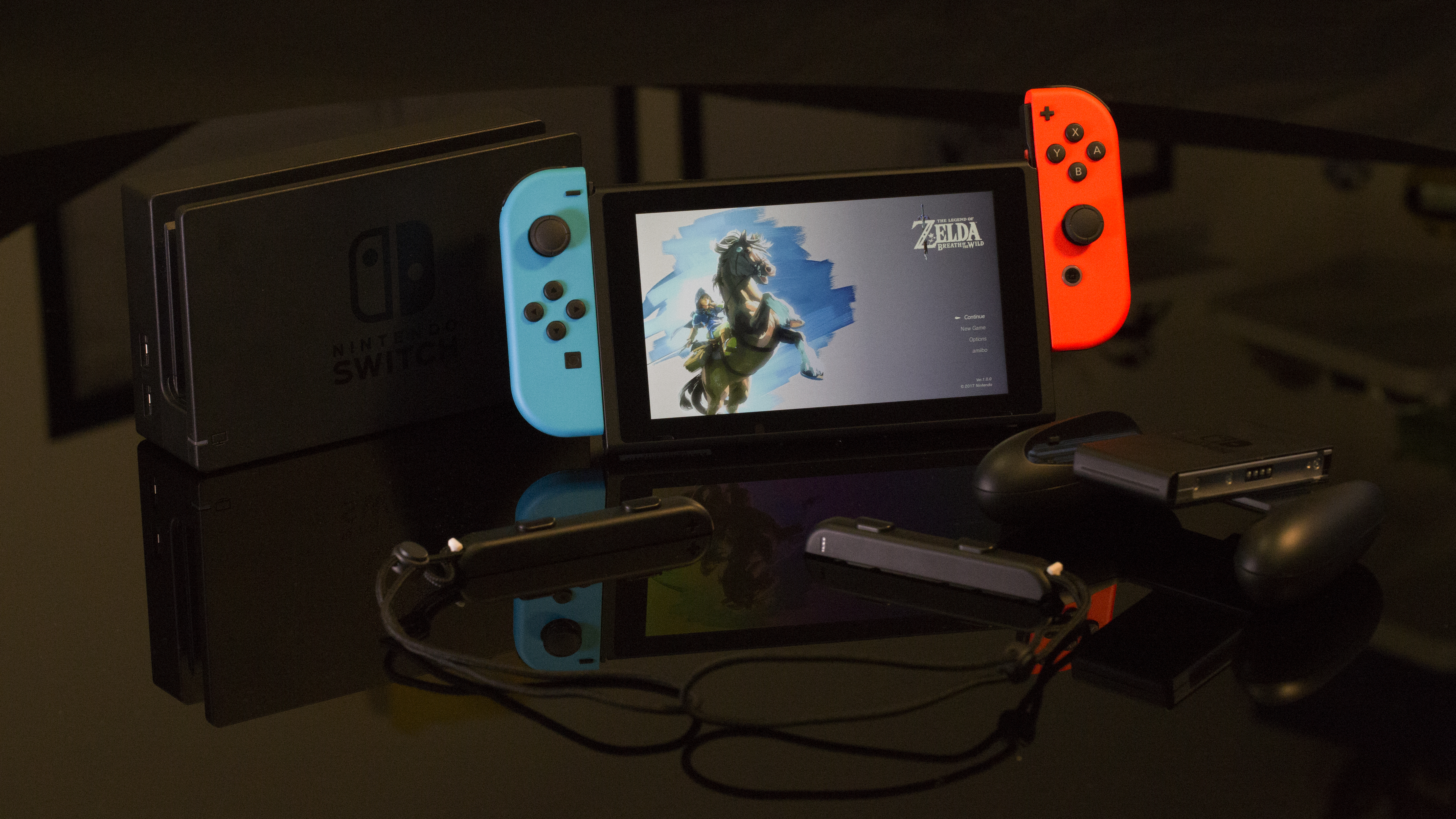 The Nintendo Switch is the new kid on the console block now more than a year old, it's still proving to be very popular. 
This is the most unique option on the market at the moment as you can use it both as a handheld and home TV console. 
On Switch you'll find a quickly growing library of games that's the most diverse offering from Nintendo in years. From thrilling exclusives like Super Mario Odyssey to essential indies like Stardew Valley, Nintendo's Switch offers all kinds of experiences.
It doesn't have nearly the same power as the standard PlayStation 4 and Xbox consoles and it certainly won't play games in 4K or support HDR (in fact its screen is a pretty low-res 720p) so if you're looking for a console that will win the spec wars you won't find it here.
You're also less likely to find the latest and greatest third-party games on this console. While it now has titles such as Doom, Skyrim and LA Noire, many of these have been available on other platforms for months, if not years. We're slowly watching that change but the latest and greatest releases may still not make it here purely due to a lack of power. 
Of course, where PlayStation offers VR, Nintendo has its very own something special in the form of Nintendo Labo. This cardboard peripheral is one of the most innovative things we've seen in years and it has the potential to be great. 
It's also worth being aware that you're likely to need to purchase a separate microSD card for this console at some point as its internal memory is restrictive. 
Buy this if you want: a console that can be played on your home TV and taken on the go, access to Nintendo exclusive games, and you don't need the highest resolution and the most powerful specs.
Key reads: Looking to know more about the console? This is our full Nintendo Switch review. We also have a list of the best games the console has to offer. Think you're ready to Switch it up? These are the best Nintendo Switch deals at the moment.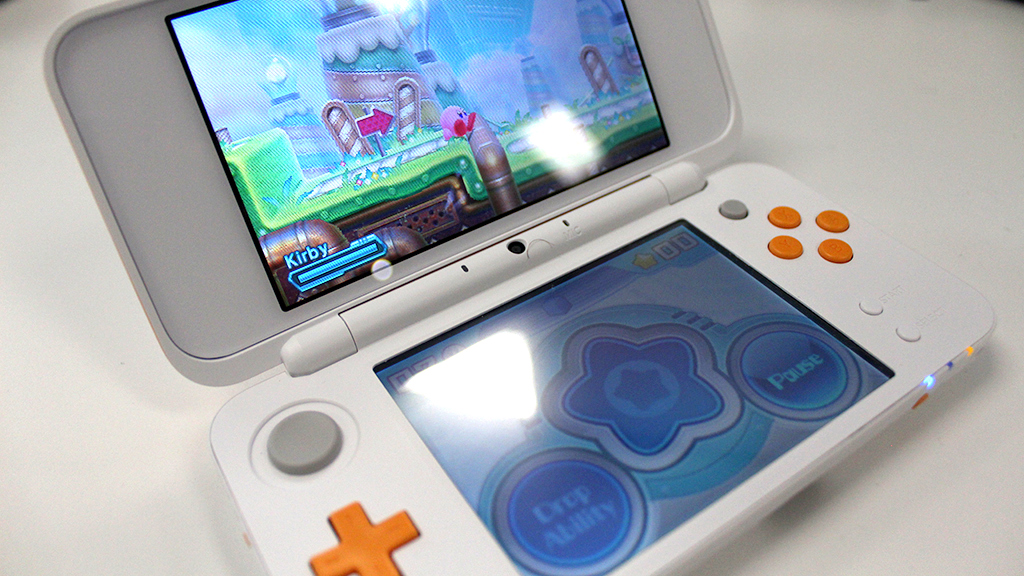 While the Switch is by far the most powerful and multifunctional Nintendo console on the market at the moment, the 3DS and 2DS XL are still excellent handheld-only options. 
Their lightness and portability make them perfect for the busy commuter but if you're buying a console for a slightly younger gamer then the 3DS and 2DS XL are also great choices. 
They have an extremely large and diverse library of games to play and they're more affordable than ever. In addition to this, they're probably the most sturdy option – dropping your Switch would be a catastrophe but dropping the clamshell DS is less likely to end in a cracked screen.
These are definitely the least powerful options on the market right now and you certainly won't find the latest games on this platform. 
Though Nintendo has vowed to continue to support these consoles, it's worth noting that their age and increasingly inadequate power means developers are likely to stop releasing their latest games on them. 
The Pokemon series, for example, which has always been exclusively on Nintendo's handhelds will no longer be released on the DS platform and will move to the Switch for the next release. 
Buy this if you want: a sturdy console for younger gamers, a portable handheld, some of the best Nintendo exclusive games, a console for under £150/$150.
Key reads: Make sure you check out our full 2DS XL and 3DS reviews and scan through the best games for both consoles. Positive about the portable? These are the best deals right now. 
The best Google Pixel 2 cases
The Google Pixel 2 and Google Pixel 2 XL should be put in cases because of their top-tier price alone, but at least Google bucked the trend of recent flagships using tons of glass in the design. The Google Pixel 2 and Pixel 2 XL both have partially metal backs.
If you like the dual-tone design of your Pixel 2 or Pixel 2 XL, there are clear cases that'll let you keep showing off the style. On the other hand, if your favorite part about the phones is their performance, cameras, and access to plenty of Android updates, then you'll enjoy a great Pixel 2 case that can keep your phone safe from damage for years to come.
Whichever type of Pixel 2 or Pixel 2 XL case you're looking for, we've got a recommendation that will fit. While we've personally used most of the following cases, some of these options are untested. Nevertheless, we're confident that each entry is a cut above the rest due to their value and design.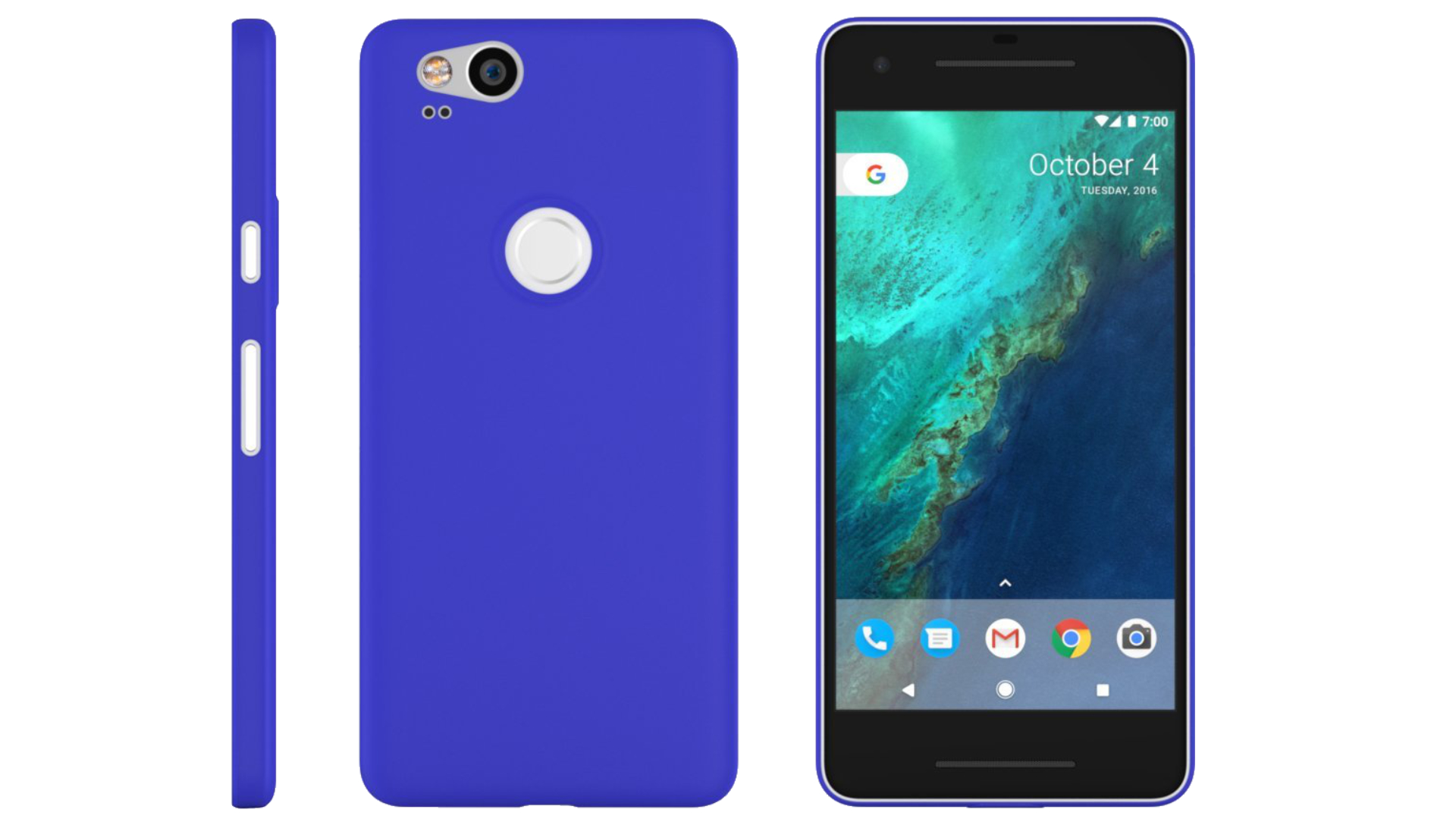 Thin case from MNML
There's a more affordable ultra-thin case that we recommend from MNML. Available in multiple colors for both Pixel 2 sizes, these cases fit Google's phone nice and snug.
Despite its good looks, it's not a case that you want to put through much turmoil. It prevents micro-scratches, but it likely won't prevent damage from a drop, and in the case of the Pixel 2 XL, its curved glass isn't protected in the slightest.
These are cheap enough that you can buy multiple colors to suit your outfit or mood.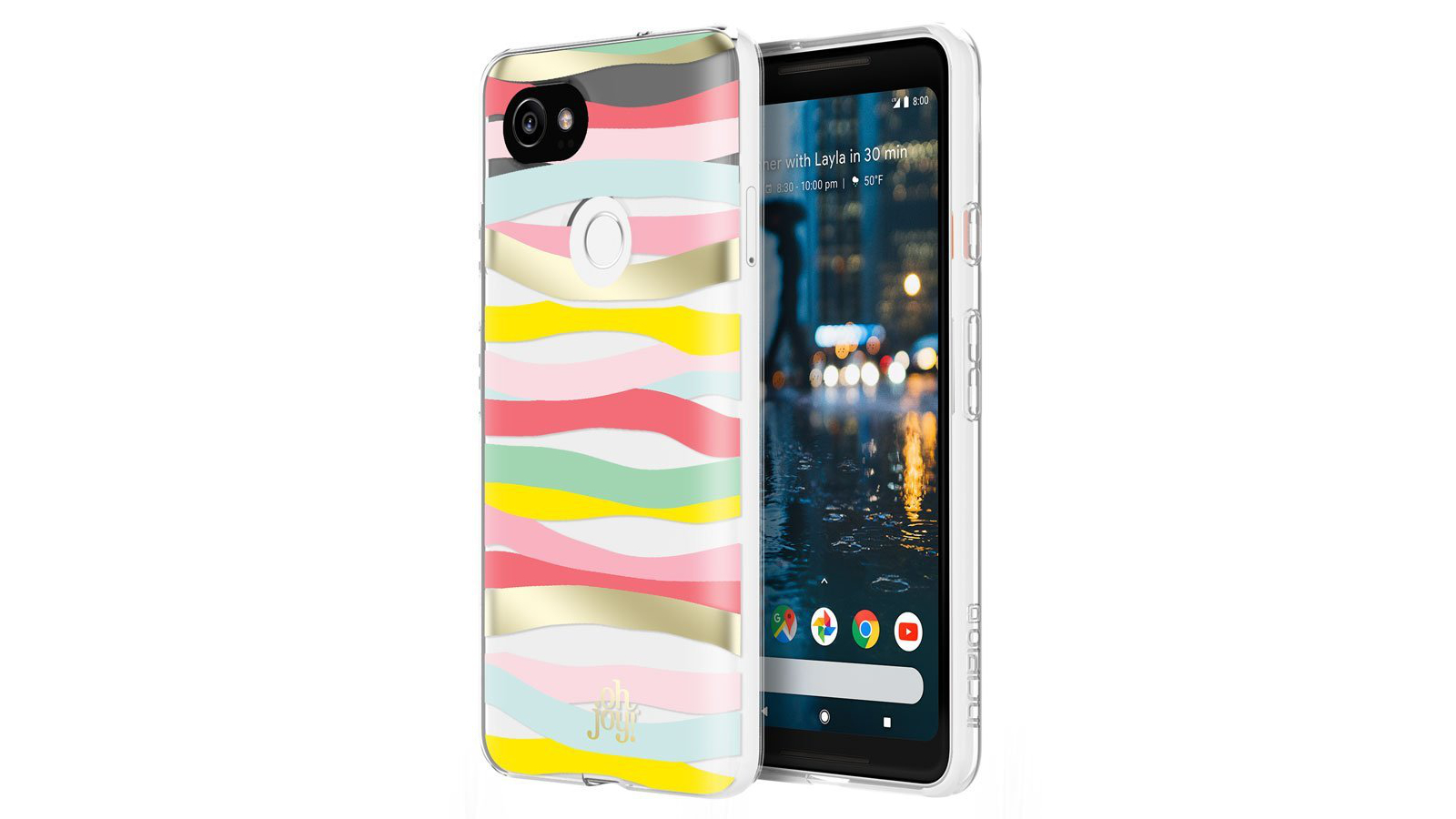 Incipio Multi Stripes case
It's surprisingly hard to find a Pixel 2 case that adds some wild flair, but Incipio's fits the bill, but for more than just being vibrant.
At its affordable asking price, it cradles Google's phone real close – even providing a lip over the screen to prevent scratches or cracks from accidentally sliding it on the table face-first.
Let's be honest, the best thing about this case is that it just looks nice. Most of us here consider the Pixel 2 to be a good-looking phone, but if you've got to protect it, you might as well add some style.
Fabric Phone Case from Google
Google's own case for Pixel 2 and Pixel 2 XL does well at maintaining the slim look and feel of the phones. Unlike the other options on this list, this one adds microfiber material to the list, giving it a classy look that enhances the grippiness in hand.
We like this case for several reasons. Its price is tolerable, it's available in a few different colors (Carbon is pictured, but Cement, Midnight and Coral are for sale) and it makes all of the Pixel 2's features easily accessible. The buttons are effortless to push, making it feel like there's no case on at all. It also raises the phone's front so that the glass display isn't grazing any surfaces.
The only downside in our experience is that fuzz from your pocket gets into the grooves near the screen. Simply wiping it away cleans things up, but it's annoying to have to do that each and every time you pull it out. Also, the bottom of the phone near the charging port isn't protected on the front, which subjects it to scratching.
This one's currently available on Amazon in a few different color varieties, but if you can't find it, head to the links below.
Live Case from Google
It should be no surprise that Google's cases don't fuss with their phones' design too much. The Live Case is a more durable option over the Fabric Case, giving it two levels of protection. To pop it on, there's a silicon case that's protected by a tough shell that has the design of your choice on it.
Every angle of the Pixel 2 is protected here, including the camera and screen. The buttons feel nice to press and better yet, the Live Case functionality is interesting. Your phone's wallpaper can match the look of the case by downloading the Live Case app and putting in the code that's printed on its inside.
Removing and reapplying the Live Case takes a bit of practice, though we never felt like it was close to breaking. All in all, this case is best if making something custom is a high-priority for you.
You should be able to find a nice variety of pre-designed Live Cases on discount through Amazon, but should you want to customize, head to the links below.

Evo Check Case from Tech21
While not the most rugged case in its design, the Evo Check case by Tech21 is taking us into options that add a fair amount of bulk to the Pixel 2.
This case fits the Pixel 2 snugly, adding on the company's FlexShock barrier to make it drop-friendly from distances up to 10 feet. Overall, it strikes a nice balance between form and function, showing off the Pixel 2's design highlights while making sure to protect it from all sides.
Google's cases on this list provide better button feedback. Here, the phone's buttons felt a little too difficult to push in, though it's possible that they might loosen up over time. But we're a fan of this case's added grip factor and the mesh design.
Presidio Clear Case from Speck
This clear case from Speck is durable, yet simplistic in design – an impressive feat given how robust of a protector it is. If you're after a rugged case that has hints of a slimline look and feel, this is one to look out for.
Once the Pixel 2 is slid into the Presidio Clear, it's protected from dropping from up to eight feet. Sure, it's less than the 10 feet guaranteed by Tech21's option, but Speck's case shows off the design of the phone a bit better.
Some complain that this case makes holding the phone a more slippery affair, however, we haven't noticed this yet in our testing. This sort of thing certainly depends on how oily the case becomes, either through body oils or from touching it after eating.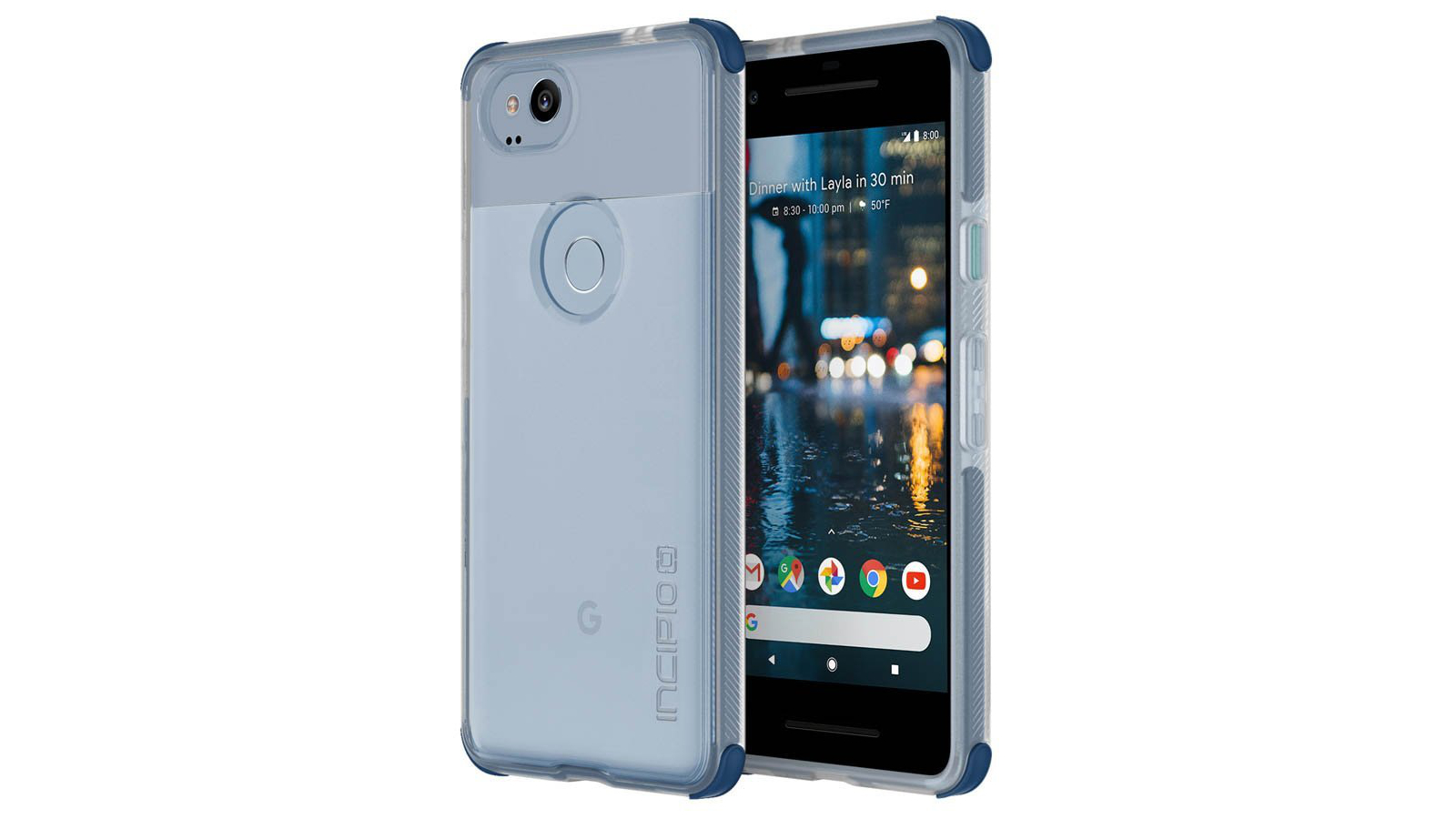 Incipio Reprieve Sport 2.0 case
The low-profile build of a slimline case combined with a textured rim and bumper-packed corners describes the look and feel of the Incipio Reprieve Sport 2.0.
It's not the cheapest case around, but unlike slimmer options, this one will offer protection from every angle without masking the Pixel 2's look.
We always appreciate when a rugged case yields responsive buttons and easy access to ports, and to that end, this one is worth checking out in your favorite color.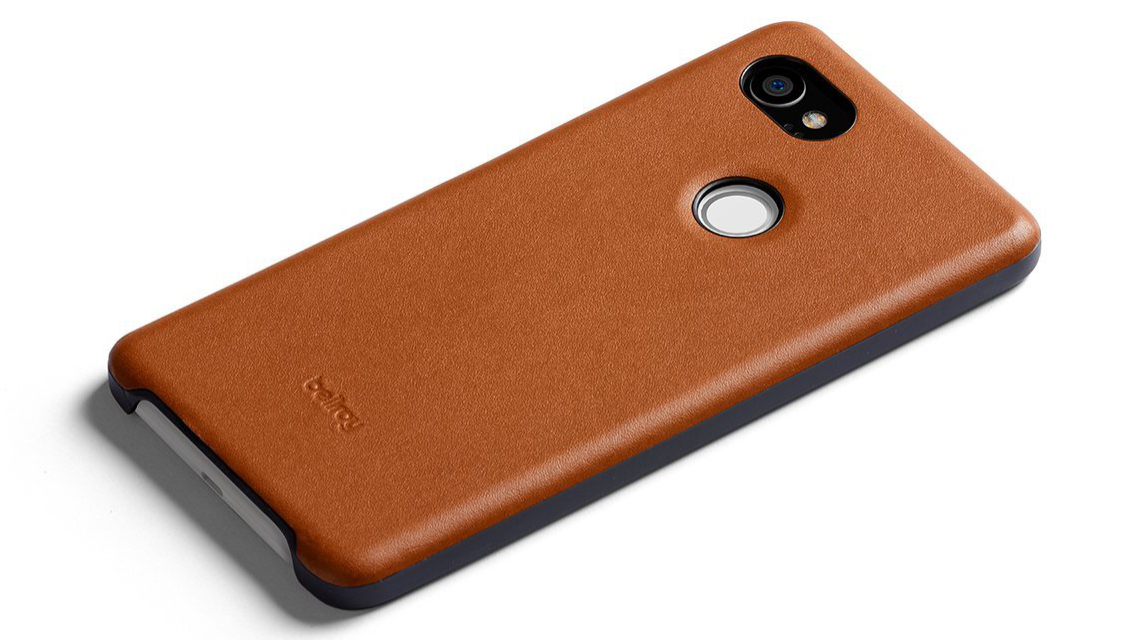 Bellroy Leather case
Google has partnered up with Bellroy as one of its premium 'Made for Google' providers, and the fruits are stunning.
The Bellroy Leather case comes in a variety of color options for both the Pixel 2 and Pixel 2 XL, and doesn't really cost as much you might think.
The leather on its back is supple and smooth, transitioning into matte plastic running around the trim of your device. Bellroy's case doesn't provide button extenders, but pushing them in doesn't require any additional effort.
This case gives off a really high-end look and those looking to suit the Pixel 2 up as nice as you dress yourself, you'll be pleased with Bellroy's latest.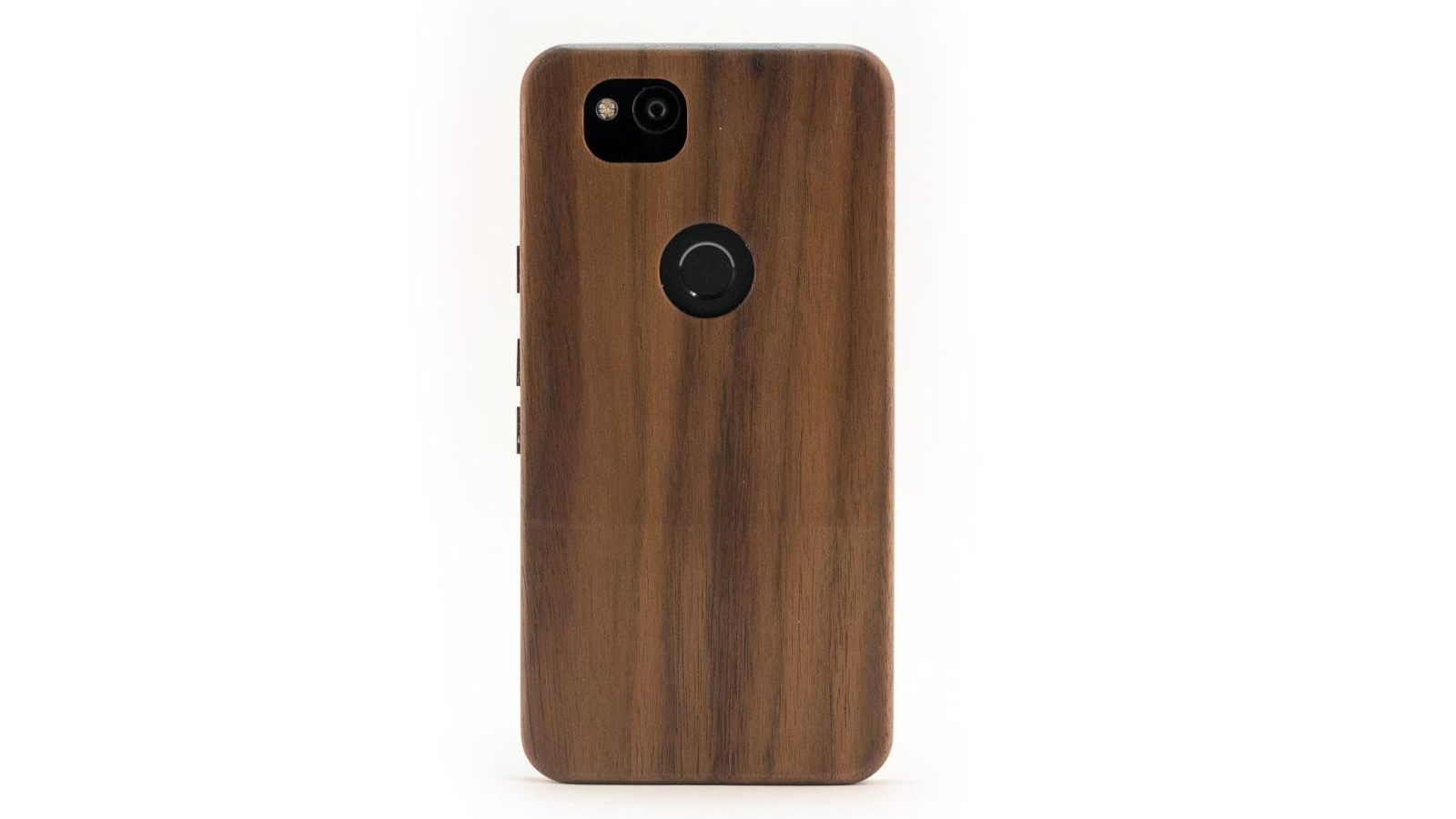 Kerf wood case
There's something that your Pixel 2 or Pixel 2 XL is missing. It's wood, yep wood. Kerf makes its own phone cases by hand, complete with a flattering design, and backs it with a lifetime warranty.
Not just any regular wooden case would impress us, but this one – even at the low-end $69 walnut option – is a top option if you want to protect your Pixel 2.
The buttons are responsive, the suede inside cradles the form factor perfectly and heck, it just smells good. When have you ever bought a case that you enjoy smelling?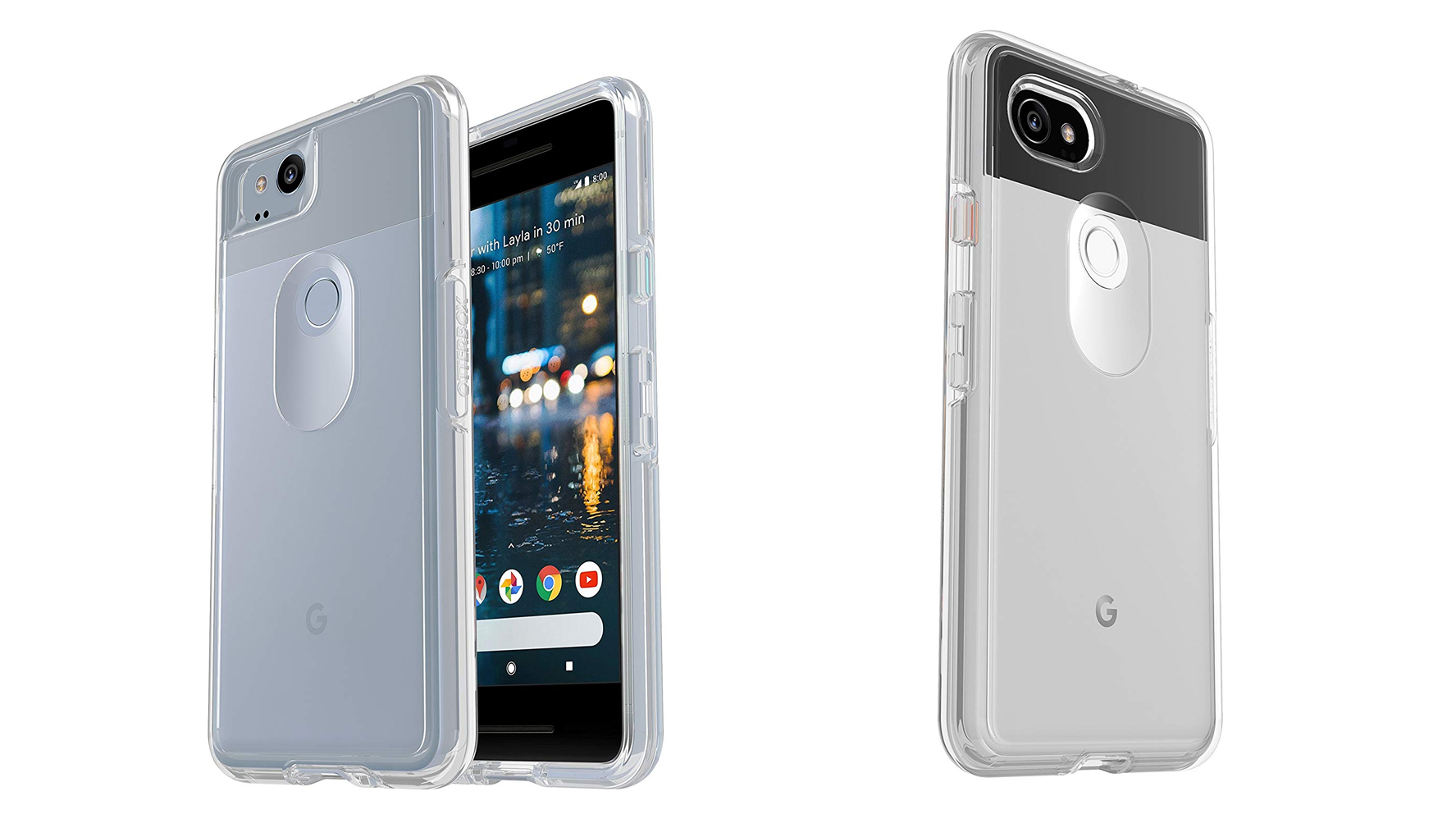 Otterbox Symmetry case
Whether or not you want to show off your Pixel 2 or Pixel 2 XL's two-tone finish, you've got a good and affordable option in the Otterbox Symmetry series of cases.
The Symmetry case adds cushion around the back and sides of your Pixel 2 while also raising the edges above the level of the screen, so you can drop your phone flat on the ground and the screen won't make contact.
The design is simple, and there are both opaque and see-through options, so you can hide the Pixel 2's style, or you can leave it showing. If you like changing up cases, this is also an easy one to take on and off.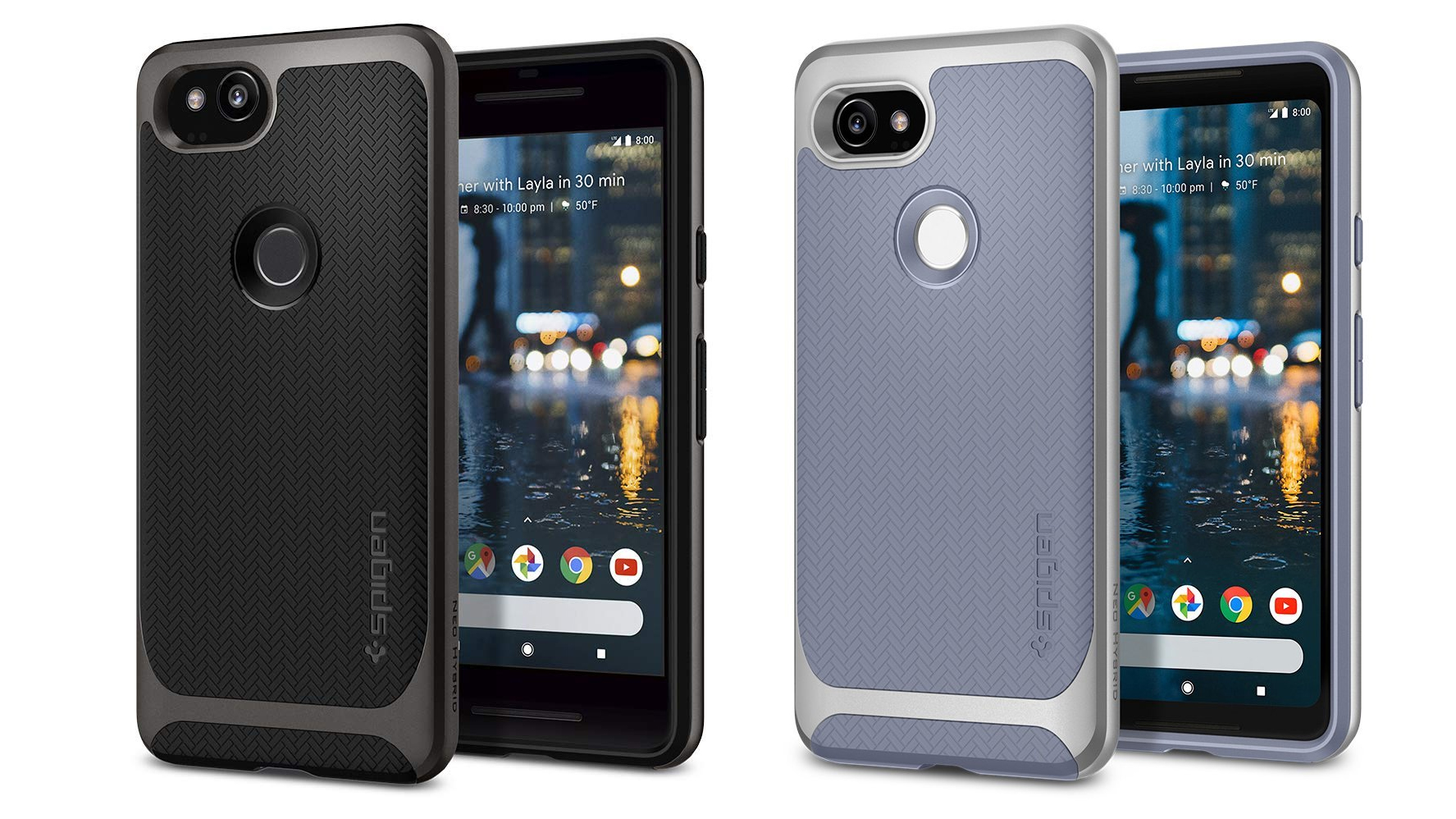 Spigen Neo Hybrid Herringbone case
Spigen's Neo Hybrid Herringbone series of cases offers nice, two-part protection for the Pixel 2 and Pixel 2 XL. At the same time, it adds its own two-tone design. The soft shock-absorbing TPU layer has a herringbone pattern and it's one color, while the harder PC bumper frame gives the case a second color. 
So, even though you're covering up your Pixel 2's design, you'll still be keeping that two-tone aesthetic. And, on top of giving your phone new look, you'll be ensuring your Pixel 2 or Pixel 2 XL doesn't end up with a broken look from a simple fall. 
Spigen claims the case offers military-grade drop protection. All the more impressive is that the price is still low.
The best new games of 2018: everything you should play this year
It feels like just yesterday we were waiting with baited breath for E3 2018, the tradeshow that promises to illuminate the release calendar for years to come. It came and went like a whirlwind but in its wake, thankfully, we now have release dates for some of the biggest upcoming games of the year. 
Of course, while we love to look forward to the big titles coming down the pipe around the holidays, you might be here because you want something to play right now that's hot off the presses. Don't worry, we've got plenty of fresh new games on the following pages to keep you gaming well into 2019. 
Whatever brings you here, we're not here to judge - we too are constantly on the look out for the next big game and it's a problem we're not dealing with. Are our backlogs miles long already? Yes. Will that stop us from looking at the best new games coming out this month? Absolutely not. 
In light of our struggles and to help you stay up to date on the latest and greatest games we've got spinning inside our consoles, we've put together this little guide that will point out the most unmissable titles coming this year - including the biggest PC, PS4, Xbox One or Nintendo Switch games. (Sorry mobile!)
While we've done our best to nail down specific release dates for each and every game you see on the list, understand that not every game you'll see has a firm release date - well, at least publicly. We'll do our best to keep this page updated when new release dates are announced, but feel free to reach out if there's any egregiously outdated info that needs to be fixed.
When's it out? Now! (Released January 26, 2018)
What can I play it on? PS4, Xbox One and PC
Monster Hunter is a franchise that's been going for a long time but for the first time in seven years we're seeing it released on consoles. A global release that unties its fanbases in all markets, this is a game that will appeal to newcomers and veteran players alike. 
In our Monster Hunter World review, we called the game a "bold and confident new chapter" for the franchise and it's our first "must-have" game of 2018.  We also have a tips and tricks guide that will help you to make your mark on the New World. 
What can I play it on? Xbox One and PC
When can I play it? Now! (Released March 20, 2018)
The Xbox One doesn't have a large number of exclusives lined up for 2018 but this is one of the big ones. It's been a while since we've seen something big and new from development studio Rare and we really can't wait to dive back into a charming world with a distinct sense of humor. 
This is an online co-op extravaganza that will see you create your very own pirate, form a crew with your friends and go on wild adventures across a wide open world.
What can I play it on? PS4, Xbox One, PC
When can I play it? Now! (Released March 27, 2018)
Far Cry 5 has caused some controversy before it's even been released thanks to its close-to-home setting of Montana, America. When the small town of Hope County is taken over by a violent doomsday cult known as Project at Eden's Gate, it'll be up to you the player to become the new Deputy Sheriff and take them out. Expect violence, chaos and a whole lot of fun from this one. 
What can I play it on? PS4
When can I play it? Now! (Released April 20, 2018)
The PlayStation exclusive God of War franchise is returning and this time it's moving away from the Greek myths to the Norse and turning the legendary lone wolf Kratos into something of a father figure. When it's released, this revamped God of War will have more of a focus on narrative than anything we've seen from the series but the hack and slash god fighting will still remain.
What can I play it on? Nintendo Switch
When can I play it? now! (Released April 27, 2018)
It's a concept that's so utterly Nintendo, we're pretty sure no other company could pull it off. Nintendo Labo was first announced in early 2018 and it's captured the imagination of kids and grown-up kids alike. Nintendo Labo is a collection of DIY cardboard kits which can be used with the Nintendo Switch to create an entirely new kind of play. 
Players will be able to play cardboard pianos, use cardboard handles to control an on-screen motorbike, and step into the cardboard shoes of a giant robot. The potential seems endless and if the idea works it could make the Switch the most individual console on the market and a must-have for families. 
Don't miss our full Nintendo Labo review!
What can I play it on? PS4
When can I play it? Now! (Released May 25, 2018)
The latest PS4 exclusive game from writer David Cage, this is a game that looks set to court some controversy with its themes. The script took two years to write and hundreds of actors have lent their faces for motion capture so we're interested to see how this multi-choice narrative adventure plays out. 
What can I play it on? Nintendo Switch
When can I play it? Now! (Released June 22, 2018)
Mario Tennis Aces for the Nintendo Switch is a flashy arcade tennis game with plenty of special moves to master, and playing against someone that's the same skill level as you is one of the most tense, frantic multiplayer battles you'll have all year. 
If you can regularly get a few friends round—or sort out a time to play together online—then you won't regret buying Mario Tennis Aces, because the moment-to-moment play is the perfect platform for fast, competitive matches.    
What can I play it on? PS4, Xbox One, PC
When can I play it? Now! (Released August 10, 2018)
Yes, yes, Madden comes out EVERY SINGLE YEAR but that doesn't make this year's gridiron sim any less special, as it's one of the series' best in the last decade. Changes to the passing game make it just as easy to throw a game-winning touchdown as it is to throw a pick, making defense more fun to play than ever. 
On top of the basic franchise and MUT versus modes, the addition of new solo challenges provides a fun new stream of content, enabling you to compete against teams put together by celebrities, athletes and the developers themselves.
Some of the commentary tracks have been carried over from last year and some of the best branching story decisions from Longshot have been cut, but overall this the football game both veterans and rookies alike can appreciate.
What can I play it on? PS4
When can I play it? September 7 2018
Yet another enticing PS4 exclusive for 2018 is Spider-Man, created by the studio behind Spyro and Ratchet and Clank. Don't worry if you're not invested in the latest movie reboot yet – this game stands completely seperate to that with an older more experienced Peter Parker and its very own story. 
There are few things more enjoyable than getting to swing around New York City as Spider-Man and we really can't wait to do it on the latest generation of consoles.
What can I play it on? PS4, Xbox One and PC
When can I play it? September 14 2018
We all kind of knew that there was going to be another Tomb Raider coming in 2018 after a host of leaks. But now Square Enix has confirmed that the game will be called Shadow of the Tomb Raider and that it's going to be released on September 14 2018. 
At the moment on what the game will be about but the tagline's statement that this will be the "climactic finale" in Lara's origin story suggests something dramatic. We also saw glimpses of what looked like Mayan pyramids in the short teaser trailer released in March 2018 so we could be in for a trip to South America. 
Make sure you check out our first hands-on impressions of the game. 
What can I play it on? PS4, Xbox One and Nintendo Switch
When can I play it? September 28 2018
At EA Play, which has kicked off E3 in LA this year, we got confirmation of a number of EA Sports titles, including FIFA 19. Sticking to the usual schedule of September release dates for FIFA titles, FIFA 19 will launch on September 28, 2018.
After it was confirmed that Pro Evolution Soccer developer, Konami, is reaching the end of its 10-year deal with UEFA and will not be renewing it a Dutch commentator who has done voice work for FIFA seemed to have leaked that EA Sports has picked up the contract for FIFA 19. The moment was captured on video. And, as EA has made clear at this year's E3, it turns out to be true. FIFA 19 will include the Champions League gameplay which Pro Evo had for so long. 
What can I play it on? Xbox One and PC
When can I play it? October 2 2018
Since the release of the first Forza Horizon game in 2012, Microsoft has established something of a pattern with its Forza releases. When one year sees the release of a Forza Motorsport game, the next will welcome a new Forza Horizon game. Still, it was a welcome but unsurprising announcement during E3 2018 that Forza Horizon 4 will be coming to Xbox One and Game Pass in 2018 and that the game will be set across the United Kingdom.  
It was confirmed that the game will have a shared open world where co-op will be integrated into the main game, though there will be multiplayer and the option to play solo too. In the game's online shared open world there will be changing seasons which affect all players in the same way. As the seasons change, the weather changes and that means the driving conditions and tracks change too. We were shown an example of a lake freezing over in winter and players being able to drive across it when they couldn't during the summer. 
What can I play it on? Xbox One, PS4 and PC
When can I play it? October 12 2018
It's not massively surprising given the success of Call of Duty WW2, but Activision has now confirmed that we'll see a new Call of Duty game in 2018. This time it's being developed by Treyarch and, as you'd expect, it's another addition to the Black Ops series.
We now know that Call of Duty: Black Ops 4 will be released on October 12 2018 and a community event held in May 2018 revealed that it'll be dropping its single-player campaign and adding a brand new battle royale mode called Blackout.
What can I play it on? Xbox, PS4, PC
When can I play it? October 19 2018
After taking  a year out in 2017, Battlefield is making a return in 2018 with Battlefield V (or 5), set in World War 2. 
The game will see the return of War Stories, with some brand new multiplayer modes and the introduction of a live service element which will keep the game fresh long beyond its release. We know we're going to see and hear more about the game during EA Play which takes place just before E3 in June 2018.
What can I play it on? PS4 and Xbox One
When can I play it? October 26 2018
Voted TechRadar's most highly-anticipated game of 2018, Rockstar's latest outing looks set to be one of the biggest releases of the year. Jumping back into the Wild West, this is the third Red Dead game but the first Rockstar game created from the ground up for the latest generation of consoles. 
We can't wait to meet the brand new protagonist Arthur Morgan and rob and pillage our way across the wide open American heartland.
What can I play it on? Nintendo Switch
When can I play it? November 16 2018
Pokemon Let's Go is a set of spin-off Pokemon games which will launch on Nintendo Switch in November 2018. These games will integrate Pokemon RPG gameplay with mechanics from the mobile game Pokemon Go to create an adventure that's accessible for new and younger fans. 
Players will return to the Kanto region where they'll be able to catch and battle Pokemon alone or with a friend in co-op mode. There are a lot of new ways to play Pokemon in these releases and you can read more about them here. 
What can I play it on? Nintendo Switch
When can I play it? December 7 2018
During its March Direct, Nintendo confirmed that a Super Smash Bros game will be coming to the Switch in 2018. The game will include every character ever released in a Super Smash Bros game, as well as every stage, too. (SNAAAAAAKE!) New characters will also be included in the line-up (Ridley and Inkling) but the game's director says there may not be as many considering how many characters are returning from past games.
What can I play it on? PS4 and Xbox One
When can I play it? January 25 2019
Given it's been 12 years since Kingdom Hearts 2 was released, it's safe to say Kingdom Hearts 3 is one of the more highly anticipated titles for 2018. Once more players will take up the role of Sora as he travels with his closest friends Donald and Goofy across a variety of world themed around and populated by a host of famous Disney and Final Fantasy characters. 
There's going to be plenty of familiar sights and faces but we're really excited to see the brand new Toy Story world. 
What can I play it on? PS4
When can I play it? 2019
Considering the first game has been continually hailed as a masterpiece thanks to its excellent, emotional story and engaging life-like characters, the decision to develop The Last of Us Part 2 isn't actually all that surprising. This time around Ellie takes up the starring role and we're being promised a much darker game with an even bigger story.
What can I play it on? Xbox One and PC
When can I play it? February 2019
It was supposed to be one of the key launch titles for the Xbox One X in November 2017 but Crackdown 3 will now be a big 2018 exclusive for the console. The main selling point of the Crackdown franchise is destruction and in this game's online multiplayer mode every part of the game's city is open to destruction thanks to a cloud-based physics calculations system. 
What can I play it on? PS4, Xbox One and PC 
When can I play it? 2019 or 2020
Revealed at E3 2017, this game was basically pitched as Assassin's Creed Black Flag with the assassin bits removed. That leaves the naval warfare and in Skull and Bones you'll find yourself engaging in single-player and online multiplayer seafaring adventures. Think Sea of Thieves but a bit more geared towards gritty realism.
Though it was originally slated for a 2018 release, it was pushed back in May 2018 to Ubisoft's next financial year which means it could be launched anytime between April 2019 and March 2020. 
There are some games to which no solid release date has been tied but we know we're going to hear more about them this year, whether that's at E3 2018 or Gamescom or just through another avenue. These are the titles we're can't wait to find out more about. Namely, a release date.
Best iPhone SE cases
Despite its age, the iPhone SE is still kicking, and Apple has even supported it with the latest release of iOS 12. If you've been enjoying your iPhone SE for a few years and want to keep enjoying, it's a good idea to make sure it's safe in a case.
Luckily, plenty of cases have come out for the iPhone SE, and finding good ones is even easier because iPhone 5 and iPhone 5S cases will also fit the iPhone SE (just make sure they're not for a Plus model).
With a good iPhone SE case and proper care, you'll be able to make sure your phone's screen and body last as long as the battery does. You could even pick up a case that extends the battery.
While some of these options are untested, they are each a cut above the rest due to their value and design, and are backed by positive consumer feedback.
Note: we've ranked these from cheapest to most expensive according to prices at time of writing.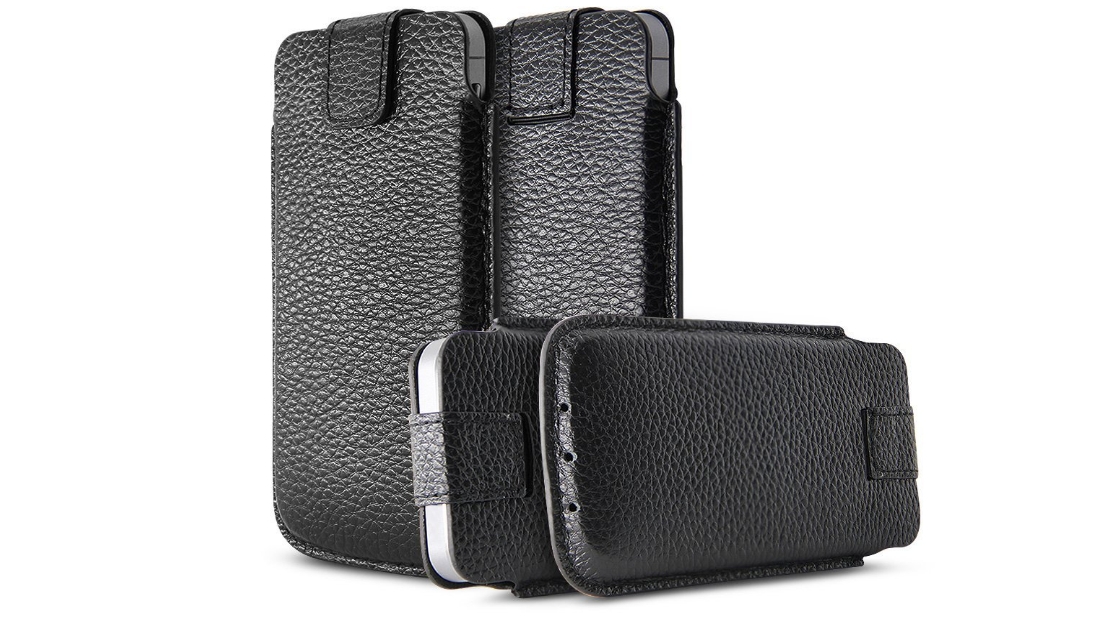 No case is likely to come close to looking as good as the iPhone SE itself does, which is why you might want to consider a sleeve instead, such as this one from Belk.
With full body coverage it provides more protection than many cases when in use, but shows off your phone in full when you take the handset out.
Of course, you also lose all of its protective qualities at that point, but it's a safer option than not having a case at all.
While there are any number of iPhone SE sleeves, the Belk Leather Sleeve stands out with an attractive synthetic leather finish, a magnetic flap to keep your iPhone securely in place, a pull tab to help you easily remove it and a few holes drilled to ensure you can still hear your phone when it rings. All that and it's slim too.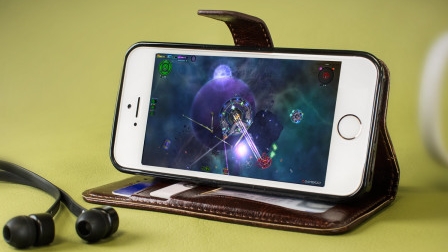 You don't need real leather to get a leather look, and this Olixar case comes in a lot cheaper than similarly styled rivals, thanks to its use of faux-leather.
It's a convincing effect, and the wallet design means you also have slots for your cards and money, plus the case can be folded out into a stand for viewing media.
The slim, lightweight design won't add unnecessary bulk to your iPhone SE, and the overall appearance is almost as good as the far pricier (and real leather) Twelve South BookBook, found further down this list.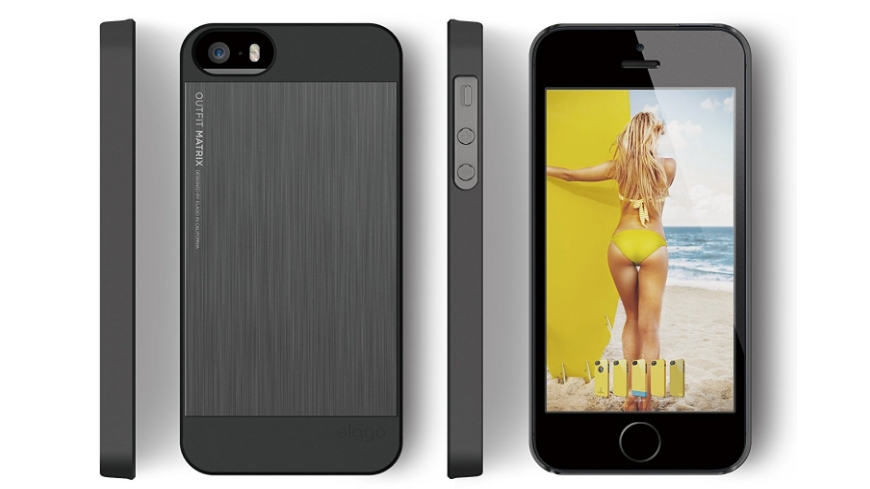 Most cases are plastic, or if you spend a bit more leather, but even that seems a bit of a shame to use when your phone is metal.
But there are options, including this case from Elago, which while not completely metal fuses aluminum and polycarbonate, to attractive effect.
It's a reasonably slim case too, and well thought out, with a camera cut-out that's designed to ensure the camera and flash can be used without any interference from the case. It's also available in a wide range of colors, so you can choose one to match or contrast your phone.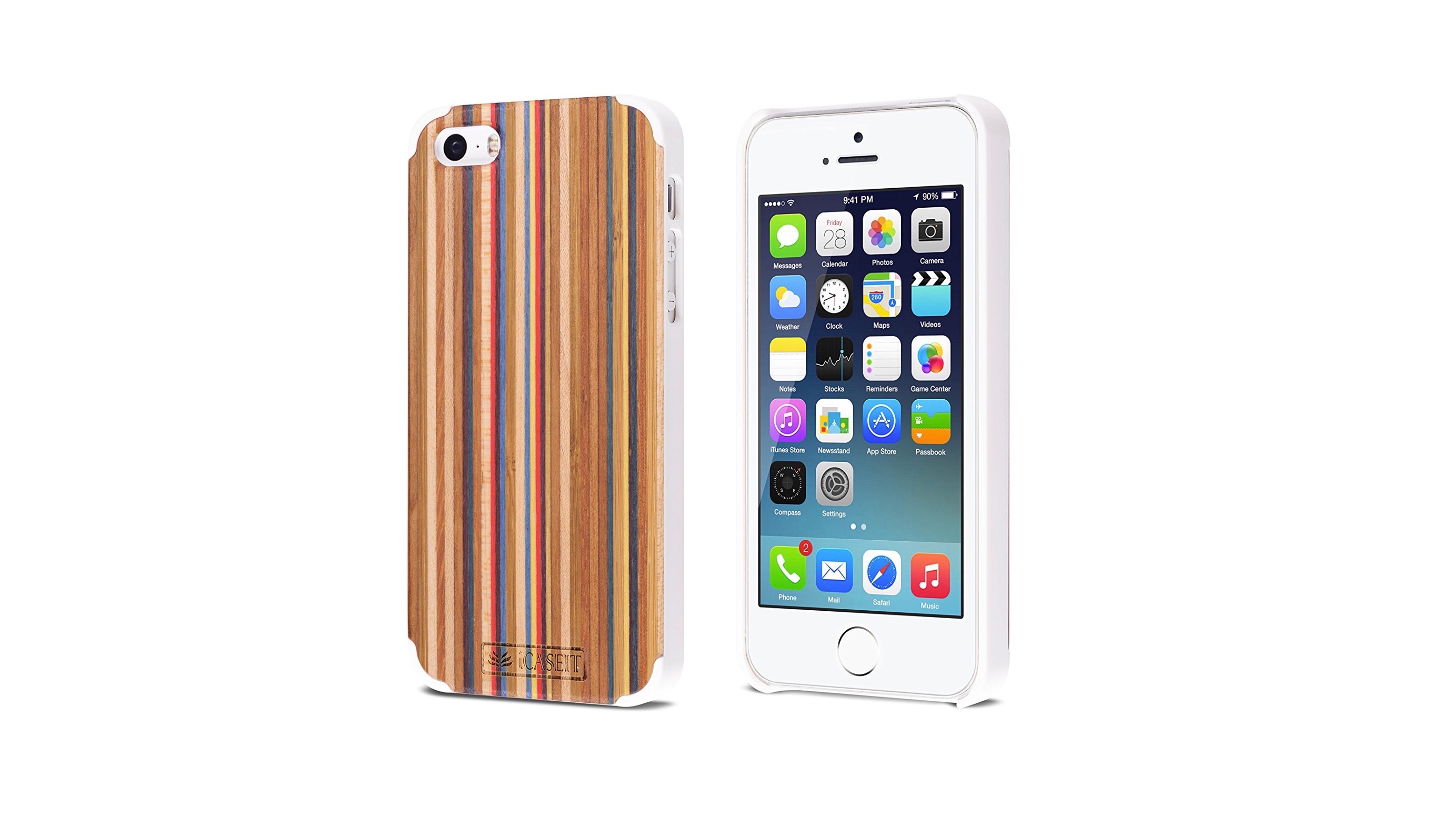 If elegance and style are top priorities when accessorizing your iPhone SE, consider this cleanly milled, snug-fitting case from iCASEIT. The port cut-outs and button holes are beautifully precise, and the outside is only slightly rubberized to retain the slick look of the wood.
Also, the use of natural grained wood as a cover for the snap-on polycarbonate shell ensures that no two cases are the same – the Rainbow option has a unique finish, too. At just 3mm thin, it lacks the ruggedness of, say, an OtterBox case, but the combination of materials ensures at least a fair level of durability.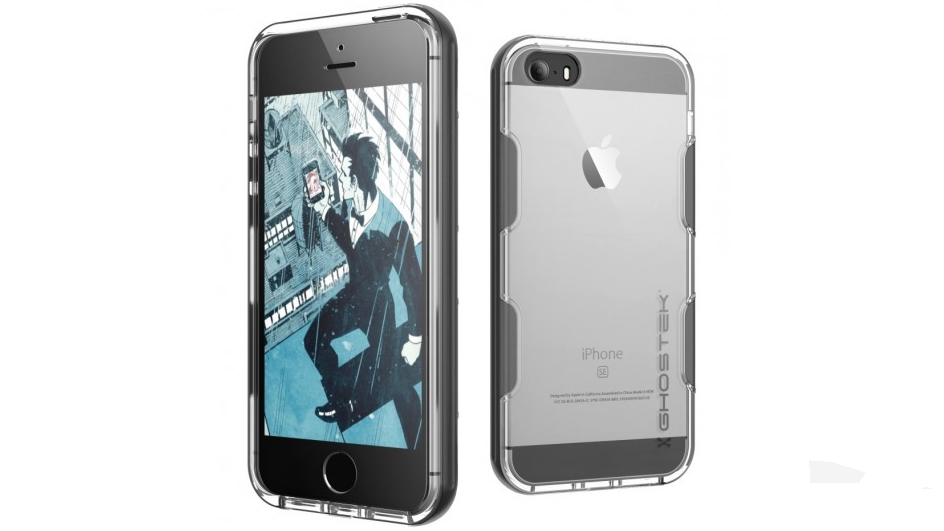 Even if you want a premium material you don't have to spend a fortune, as the Ghostek Cloak case proves.
Granted, the back is made of plastic, but there's an aluminum bumper for a stylish and high-end finish, and the plastic part is transparent, so the metal of your iPhone SE can shine through.
The design is fairly slim too and there's a screen protector bundled with the case, so you can give your phone all-round protection.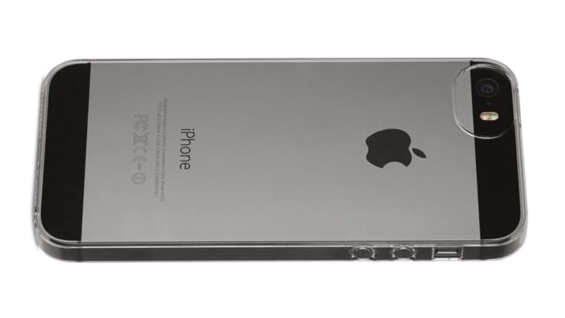 The great shame of cases is that they cover up a phone, that often, as in the iPhone SE's case, has a premium design that you'd rather show off, but the Power Support Air Jacket does its best not to hide your device.
The case is incredibly slim at just 1.2mm thick, and it's totally transparent, making it almost invisible. In fact, viewed at a distance you might not even realize the iPhone SE is in a case at all.
The downside to this minimalist design is that it doesn't provide a huge amount of protection, but it should keep your phone safe from minor bumps and scratches.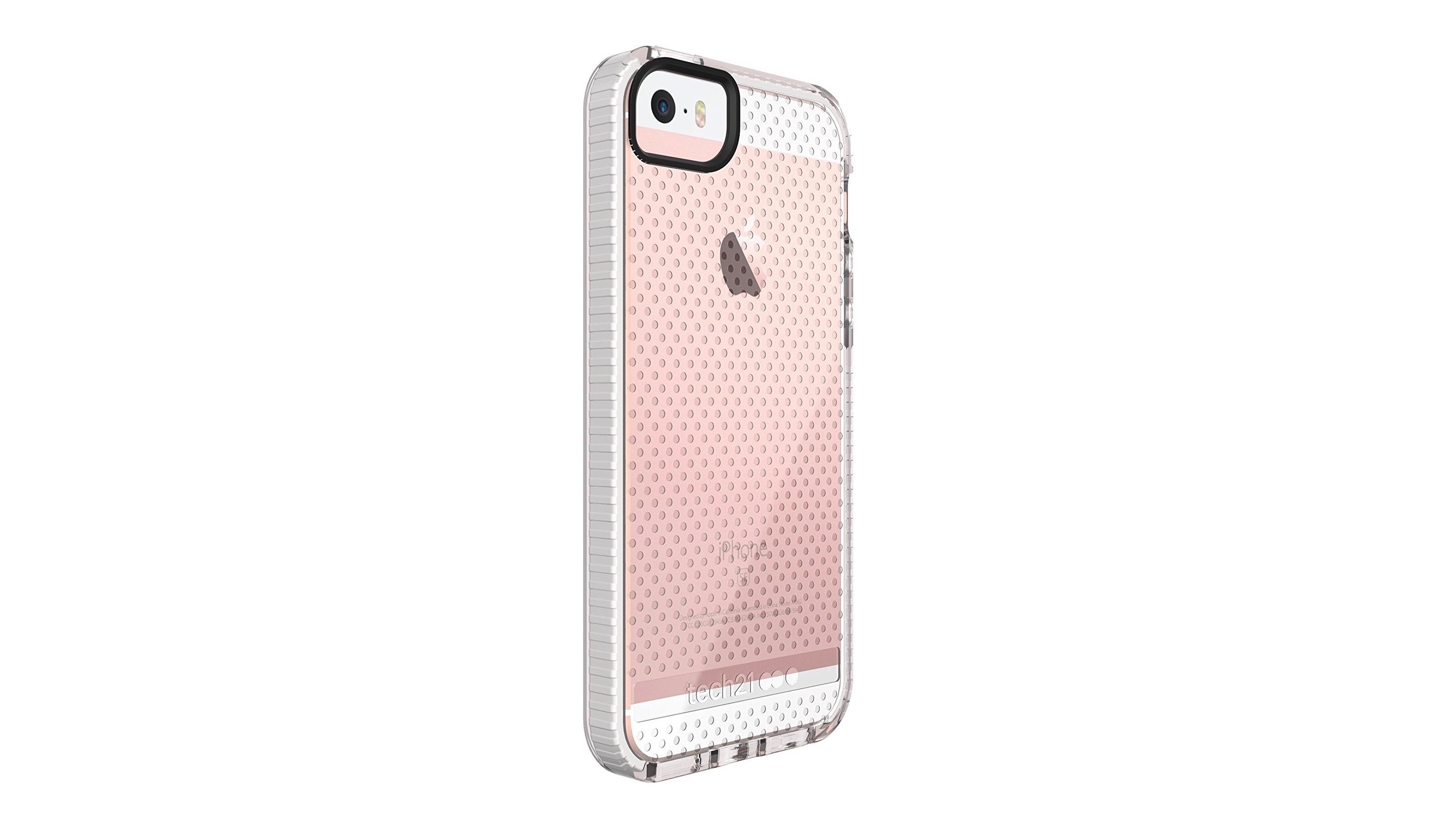 Tech21 has a proven track record when it comes to protective cases, thanks to the company's patented FlexShock system. The rubbery bumper on the Evo Mesh Case provides a solid defense against drops of up to 2 meters, yet the button covers are nice and flexible.
The rubbery mesh back has plenty of grip and keeps the rear of your phone stylishly guarded but clearly visible, plus it steers well clear of the camera and flash. Best of all, the case remains slender and super-lightweight, so you won't even know it's there.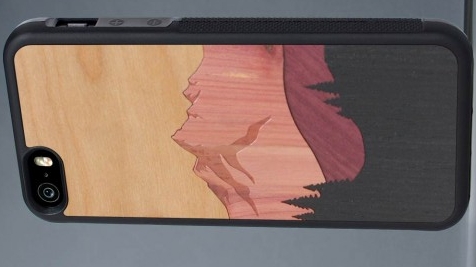 The Carved Traveler series is a gorgeous selection of cases, made from real wood with artworks carved into them.
Both the material and the designs make them different to most other cases out there and they're certainly eye-catching.
The rubber frame detracts from the look a little, but it adds extra drop protection and makes it easier to firmly grip the case, and the phone it's protecting.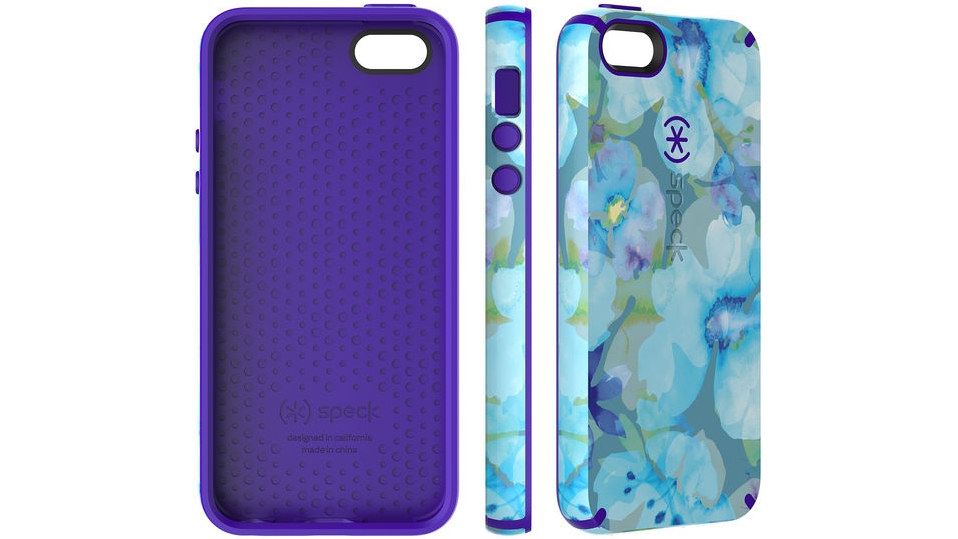 Don't think your iPhone is colorful enough? It will be if you stick it in one of these cases. Speck's CandyShell Inked case comes in three different designs, all of which are almost blindingly bright in color.
They won't be for everyone, but if any of the designs appeal and you want to stand out in a crowd this is the case for you.
The case also offers a lot of protection, with shock absorbing and impact dispersing properties, which meet or exceed military drop test standards.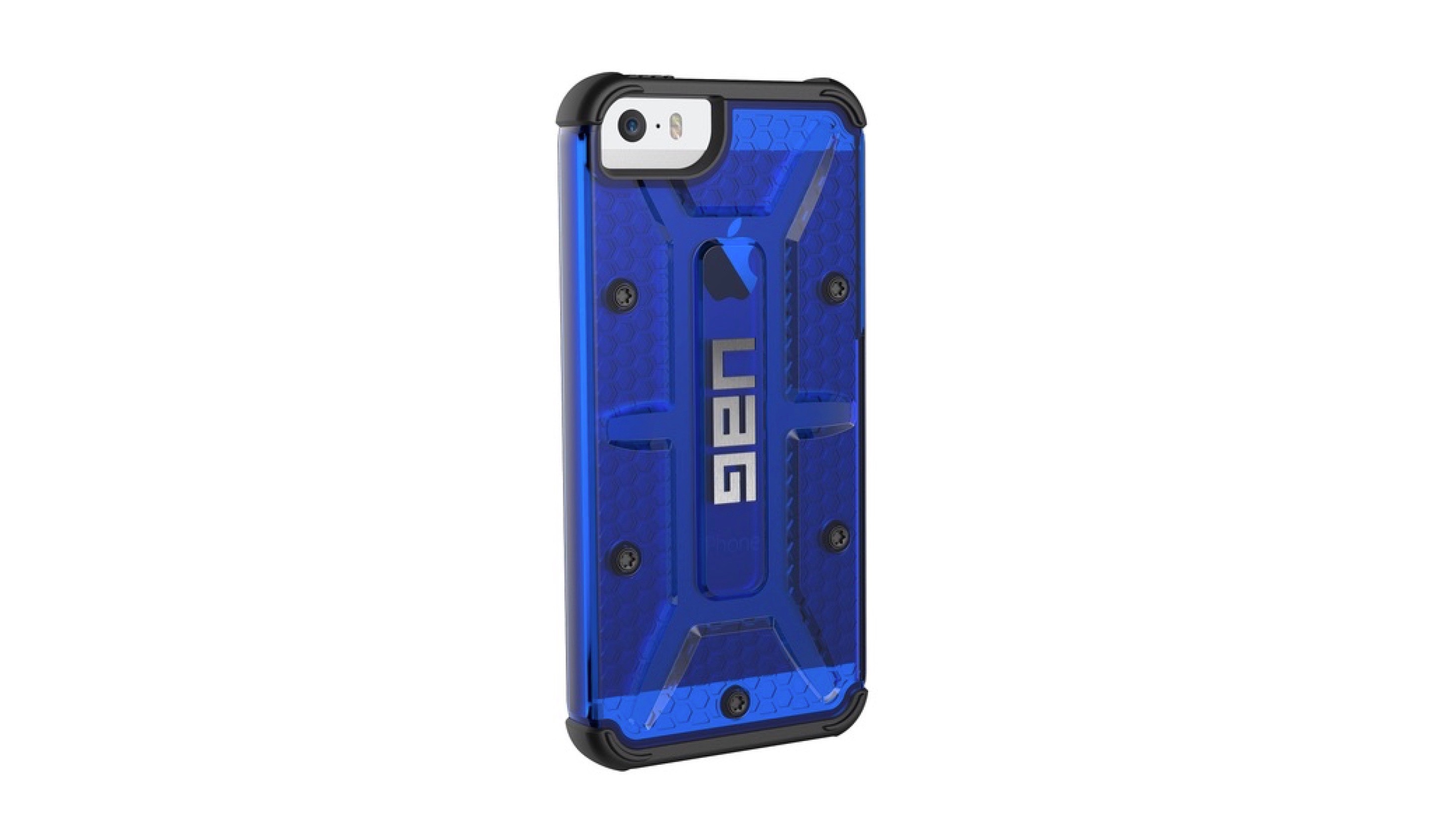 This standard issue case from UAG boasts a soft rubberized screen bumper and rear skid pads for all-round protection from scratches and scuffs. The soft impact-resistant core is fused with a hard outer shell, offering decent structural integrity and a confident heft.
Oversized tactile buttons lend the overall design a 'Robocop' feel, but generous port access and accurate button cut-outs keep things as low-profile as you can expect, and it's surprisingly lightweight, too.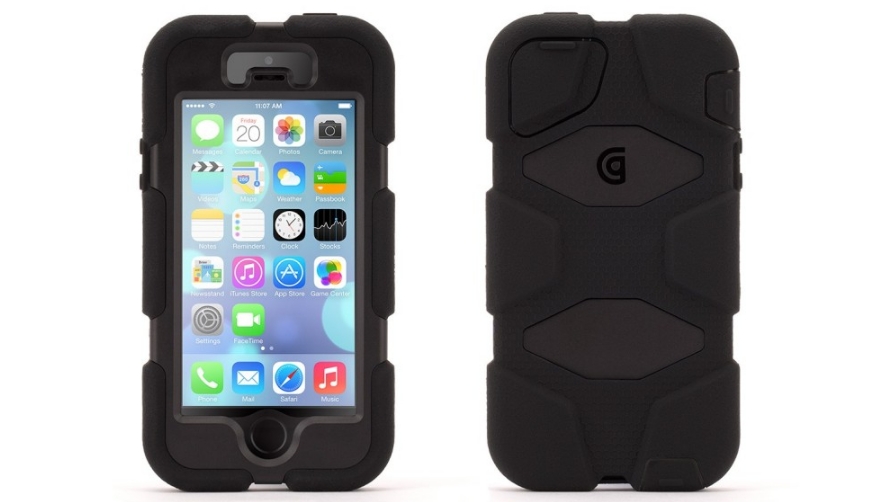 If protection is your first, last and only priority then you can't do much better than the Griffin Survivor All-Terrain.
This polycarbonate and silicone case is every bit as bulky as it looks in pictures, but it's shatter-resistant, shock-absorbent, keeps dust and dirt out with hinged plugs, and of course it meets military drop test standards.
The size means it won't comfortably fit in smaller pockets, but that needn't be a problem as it also comes with a detachable heavy-duty clip, to attach the phone to your bag or belt.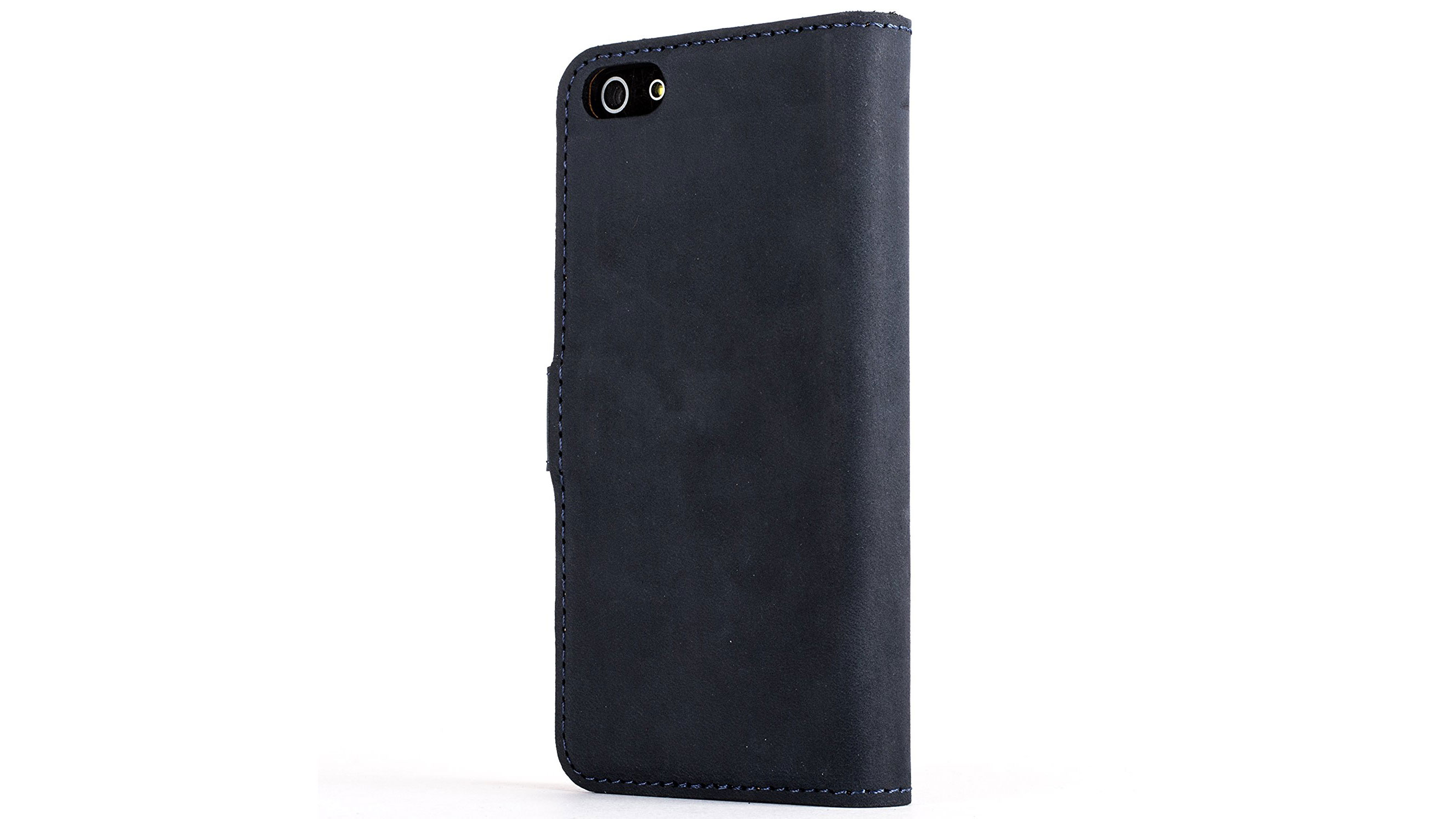 Snakehive provide leather cases for your devices and its iPhone SE case is a great choice if you're after a premium feel on your phone.
You've got lots of color choices with the iPhone SE case option and it has enough room for three credit cards as well as a slot for notes too.
It's even embossed with the lovely looking Snakehive logo as well giving it a different look to anything else on this list.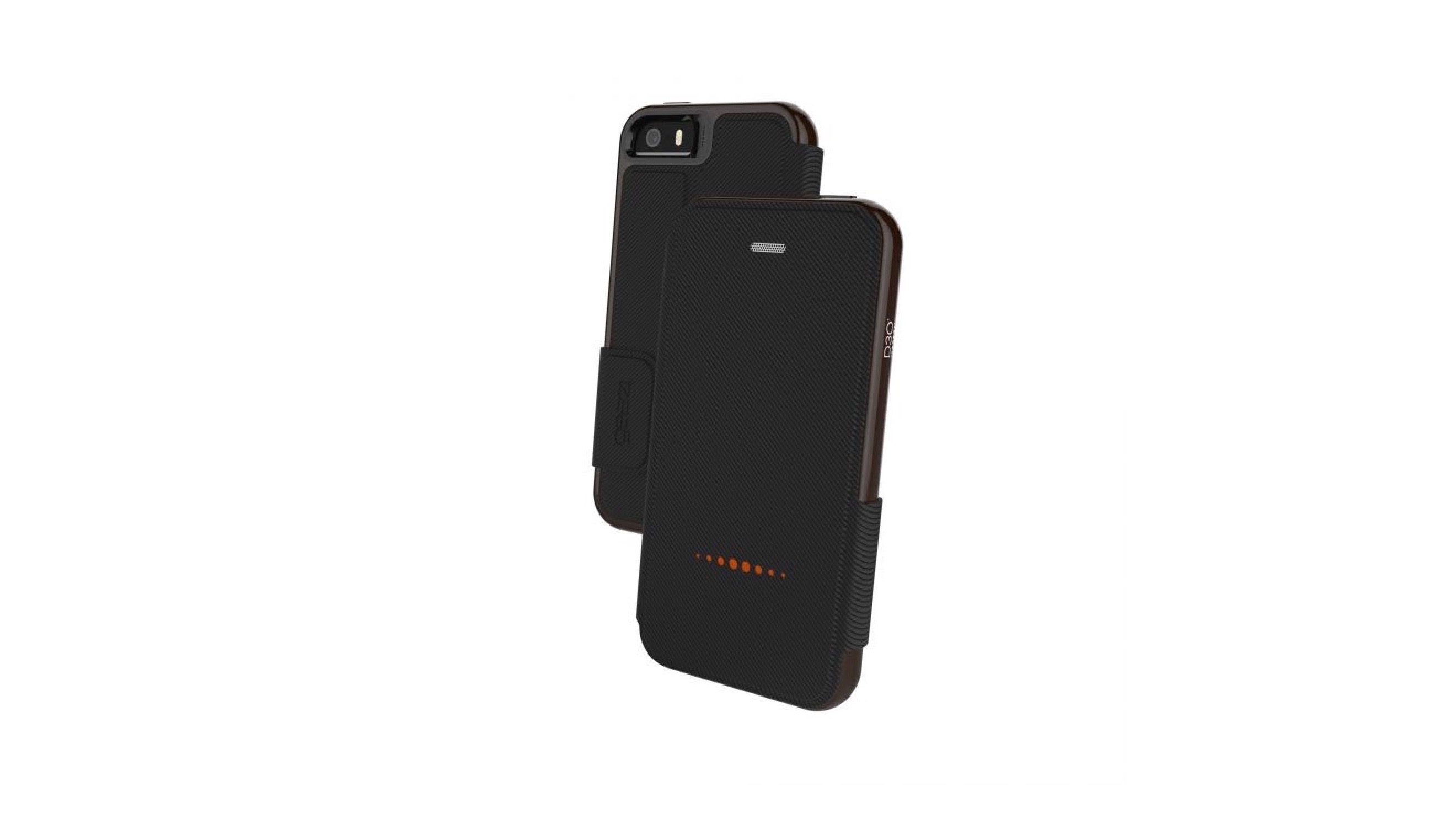 There are dozens of flip-cover cases on the market, but few of them can claim to feature a patented smart material designed to keep your phone protected from shocks. The molecules that make up the D3O material lock together on impact to absorb and disperse energy, before returning to their flexible state.
Apart from the integrated D3O, the Oxford case can stand up your phone in landscape orientation for watching videos, plus there's a handy credit card slot in the inside screen cover, which also sports a firm magnetic closure.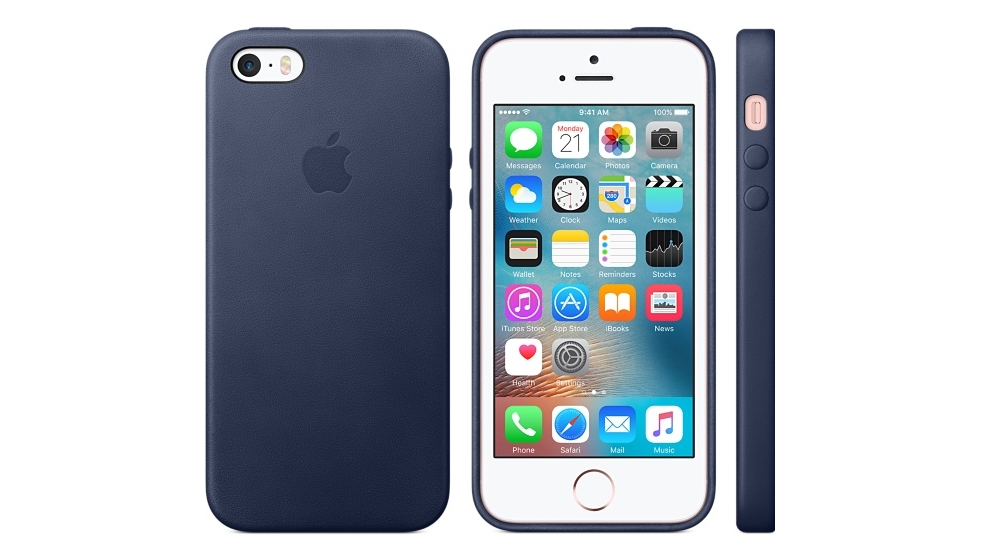 Most leather cases tend to imitate wallets, but if you want a more conventional snap-on case that doesn't cover the screen, Apple itself has a stylish option in black, red or blue.
As it's made by Apple, you can be confident that this is a quality leather case, with a snug, slim fit. You can also be confident that your iPhone SE will be taken care of, thanks to a soft microfiber lining that helps protect it.
Even so, this doesn't offer as much protection as some alternatives, including the aforementioned wallet-style cases, but it's slim, stylish and leaves the screen instantly accessible and the iPhone SE looking every bit as good as it does without a case.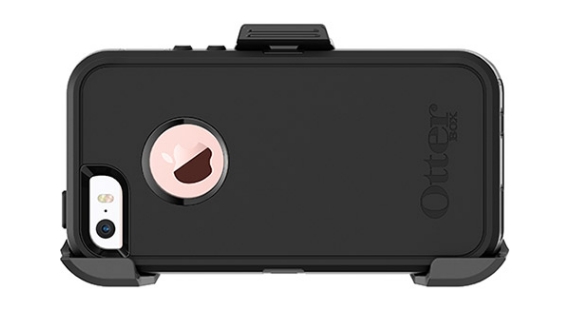 OtterBox is famed for its rugged smartphone cases and with good reason, as for years they've been keeping phones safe from scrapes and falls.
Of its range, the Defender is perhaps the best, wrapping the iPhone SE in three layers of protection, including a two-piece internal shell, foam padding to cushion the handset, and a rubber slipcover to absorb the impact from drops and bumps.
But it doesn't stop there. The OtterBox Defender also has an integrated screen protector, port covers to defend against dust, and even a holster, which can be used to clip the phone to a belt or bag, or to prop it up, by acting as a kickstand.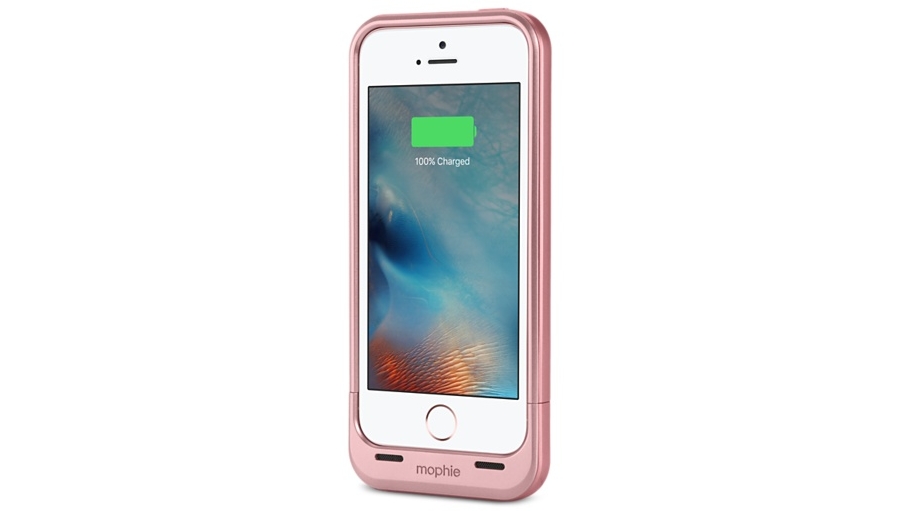 Battery life is one of the biggest problems faced by smartphones, and the Mophie Juice Pack Air aims to solve that, by building a battery into the case.
It's cleverly designed, with the iPhone always draining the case's battery first, and with a switch allowing you to choose between charging and standby, plus a four-light LED status indicator to tell you how much battery is left.
While somewhat chunky, the case is actually quite slim given that there's a battery built in, and it promises to almost double the life of your phone.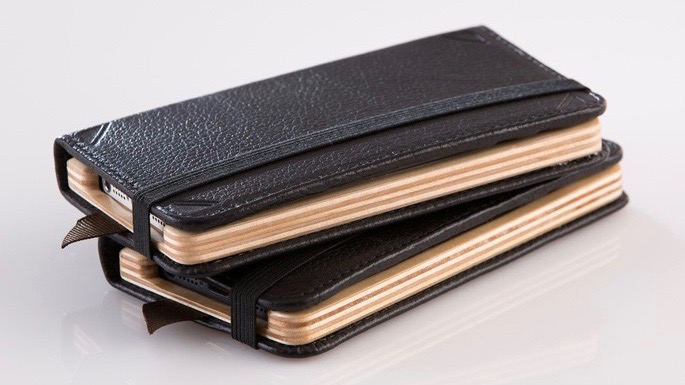 Pad & Quill has combined two daily essentials - iPhone and wallet - into a lovely hand-crafted wallet case that has space inside for multiple credit cards, ID's, and even cash.
The wallet opens like a leather-bound book, revealing a birch wood frame that cradles the Apple smartphone via its grippy corners and provides decent protection from drops. The grain leather interior features four card/money pockets with precise stitching, while an elastic closure ribbon keeps the contents securely inside.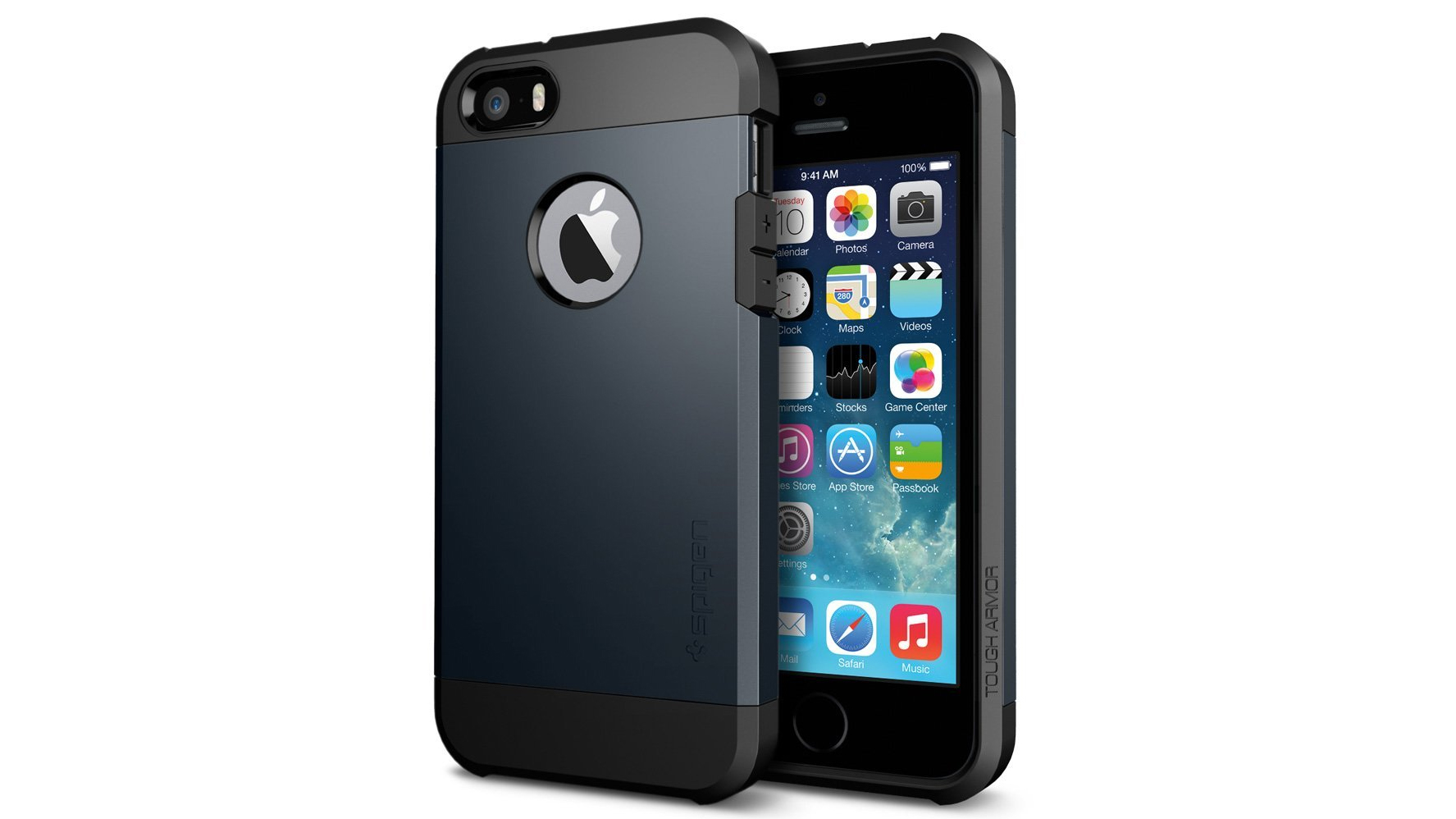 A nice dual-layer case is a good way to enhance the durability of your iPhone SE. Spigen's Tough Armor case is just that, with a soft TPU layer that goes around the back and all four edges of the iPhone SE, and a hard polycarbonate section that wraps around the back. This gives you a lot better odds of dropping your phone without breaking the screen.
See the Spigen Tough Armor case at Amazon here.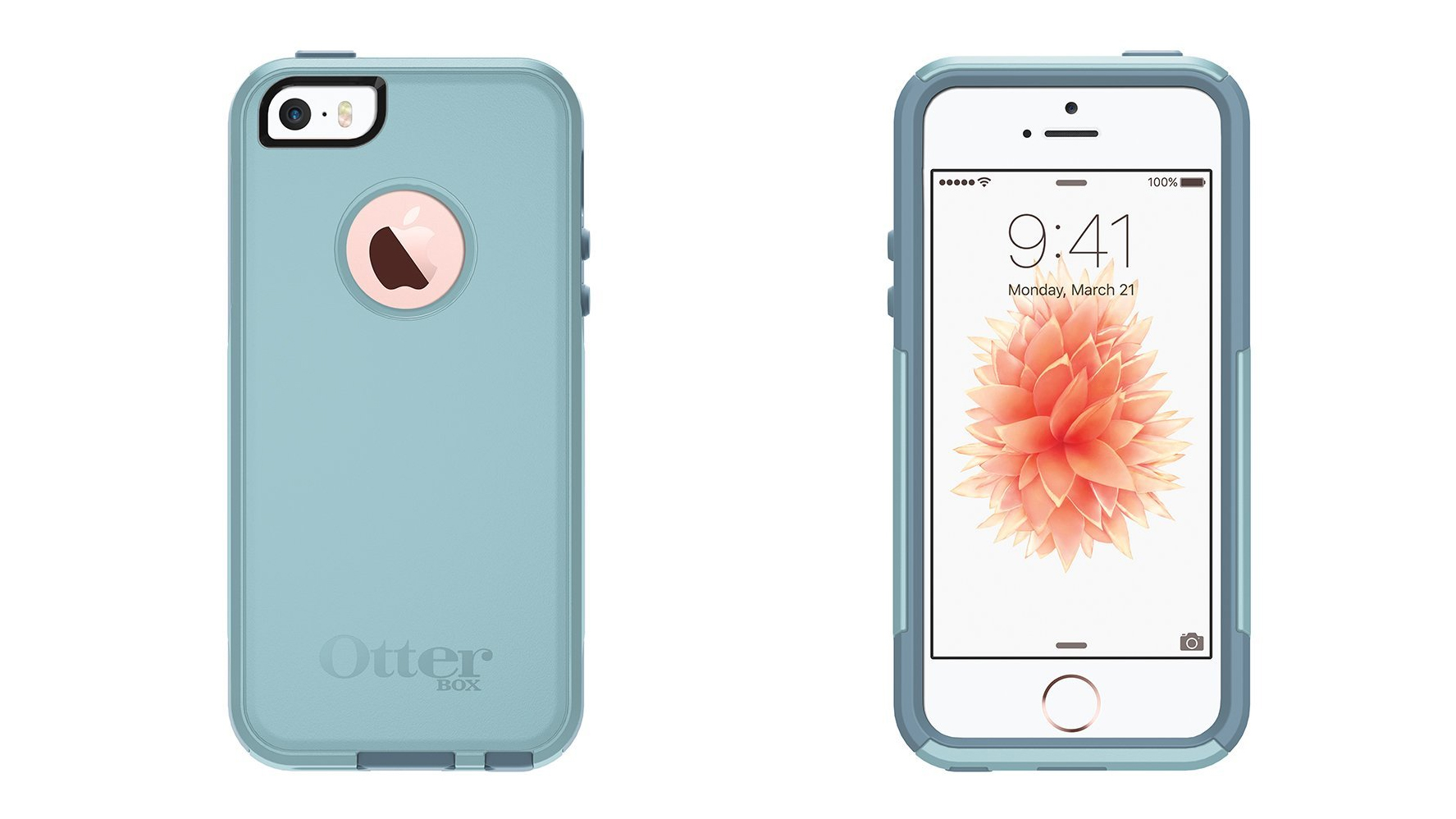 If there's a popular phone, odds are good Otterbox has made a case for it, and it's no surprise that the company has several for the iPhone SE. The Commuter series is a simple two-part case, with a soft rubber inside and hard outer shell to defend your iPhone SE from all sorts of accidents. It even comes with a screen protector and one-year case warranty. 
See the Otterbox Commuter case on Amazon here.
Back to School 2018 sales: the best deals for tech supplies
School will be starting before you know it (if it hasn't already), so if you haven't stocked up on all the essentials, the best Back to School sales in the US could save you a ton of cash on laptops, tablets, software and even backpacks. Don't pay full price on these tech supplies – tuition is expensive enough, already.
However, finding the best Back to School deals on what you'll need for your (or your kid's) upcoming school year isn't always easy. That's why we're here.
TechRadar's review experts have created an official Back to School guide – updated daily – that shows the best discounts to propel you over the next few semesters.
Update: We've found even more deals, including the Acer Chromebook 13 for just $209, so you can get a ton of work done, without paying a premium price. More Back to School deals are below.
It focuses on the top picks from US stores like Apple, Walmart, Amazon and Best Buy. We even included a ton of fun tech ideas here, too, to help your dorm feel like home.
Here are the best Back to School sales we've seen today and the lowest prices, based on our expertise and product testing.
Back to School store quick links
Best Back to School sales for laptops and tablets
More Back to School guides
Dorm ideas with Back to School sales
Best phones with Back to School sales
The best free blogging site of 2018
Free blogging sites have come a long way in recent years, and it's now easier than ever to create a professional-looking blog to share a hobby with likeminded people, express your opinions, and establish an online presence.
These free blogging sites are aimed at hobbyist bloggers – blogs are created and managed online, and hosted on the blogging platform's own servers. If you want to create a self-hosted blog, the downloadable version of WordPress is an excellent option, with total flexibility, support for third-party plugins, and as much storage as your hosting plan allows.
If you're interested in making a static website rather than an online journal, take a look at our guide to the best free website builders.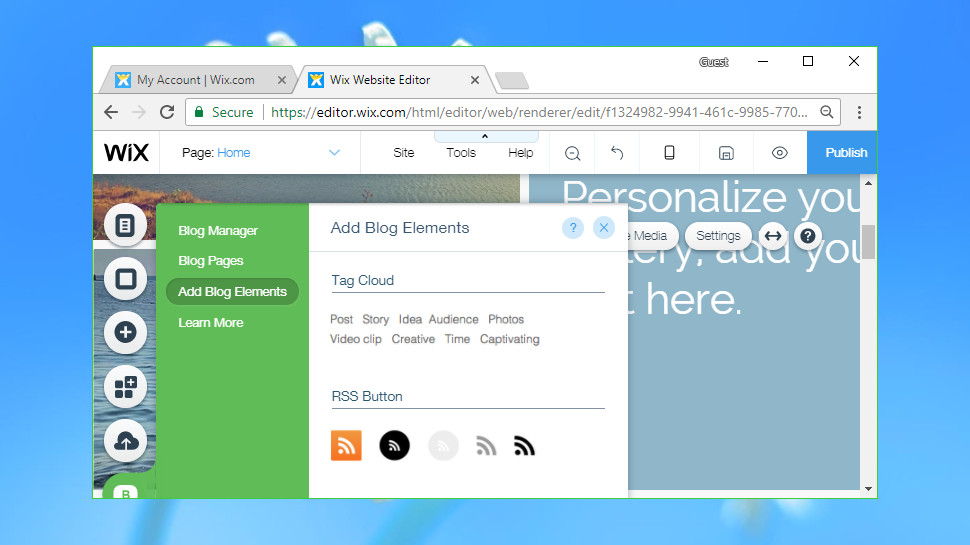 Wix has a range of paid-for subscription plans, but also a free offering, although it's best to note upfront that this has some caveats. With the free product, your site will have Wix branding, and you'll be limited to 500MB of data transfer per month, so it's not for heavily trafficked sites. You also only get 500MB storage, too, so bear that in mind.
You are, however, free to build a blog with an unlimited number of pages, and where Wix really shines is with its powerful blog functionality. The editor may be simple, but you get access to all the stuff you need – from image galleries through to videos and music – and there are a ton of ways to customize a post.
There's also a lot of flexibility in the way you can schedule posts, and neat touches like being able to set things up so that posts are automatically pushed to Facebook when they're published.
And what makes Wix truly compelling is on top of this, you get the run of the rest of what this website builder offers aside from blog support. That includes using Wix's ADI (Artificial Design Intelligence) editor to make building your site a snap even for novices, plus impressively diverse support for various different types of media, and quality customer support to boot (yes, even on the free plan).
When you consider what you're getting for nothing, the bandwidth and data limits don't seem like such a heavy set of shackles. And you can always upgrade at a later date if you want to break free of them in the longer run.
Try it online: Wix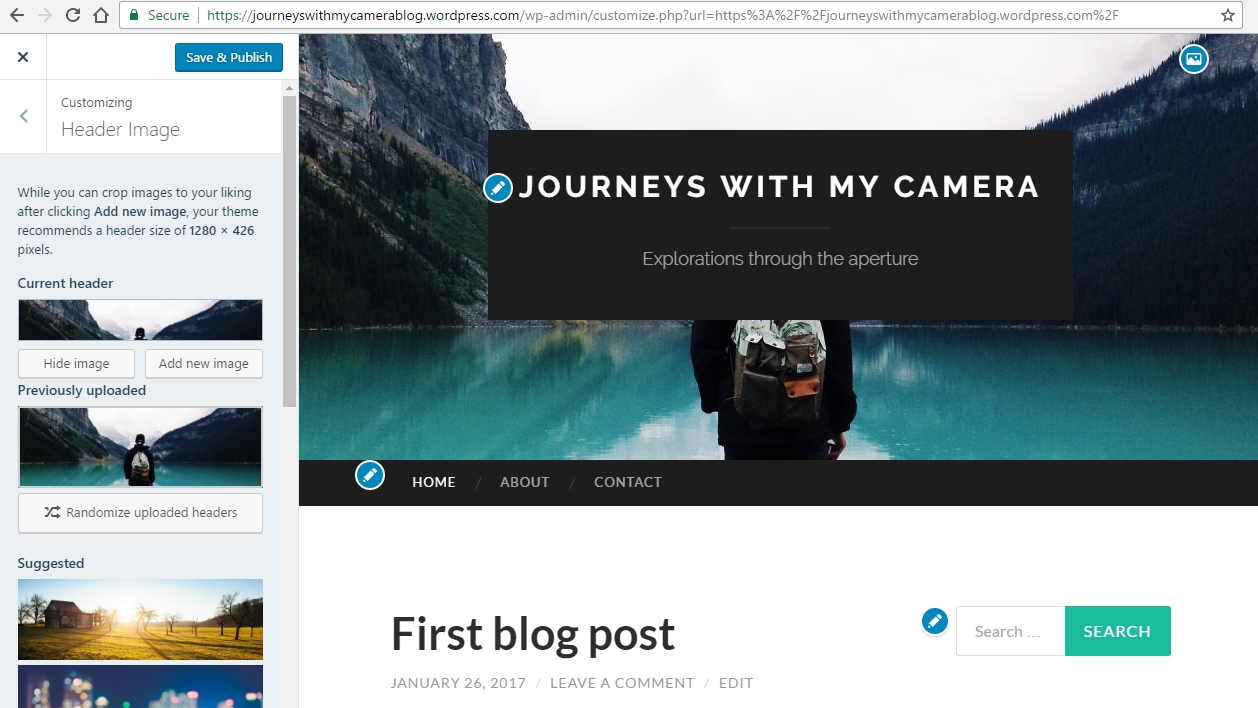 Powerful and highly customizable, WordPress is a brilliant platform for blogs of any size, and bloggers of any level of experience.
Creating your first blog is very straightforward, with a simple wizard that guides you through the process of choosing a name and suitable theme. You can leave it there and begin writing posts immediately, but the real fun lies in the more advanced editor, which lets you customize virtually every aspect of your blog's appearance.
Unlike some blogging sites, WordPress isn't a drag-and-drop affair, and you'll have to familiarize yourself with its system of menus. It's well worth the effort, though, and enables you to create something truly personal. The editor also lets you create static pages – like a writer's biography, for example.
The post-writing interface is much like an ordinary desktop word processor (though some options are presented in a toolbar at the top, while others are in a menu at the side, which can be a little confusing at first). Again, time spent getting to know the interface is rewarded with advanced features like customizable social media sharing buttons, geotagging, and the ability to pick a custom style for individual posts.
Sometimes you might want to create a photo gallery, for example, and other times a more text-focused style would be more appropriate. You can also view and edit the HTML source.
As your blog grows, WordPress lets you track its stats, including page views, visitors, likes and comments over time. You can also see how readers reach your site, which content they viewed, and where they are in the world, so you can tailor your content accordingly.
Your site is hosted on WordPress servers, with an address in the format yoursite.wordpress.com. Users of the free service don't get email or live chat support, but the WordPress community forums are very active and questions are usually answered within a few minutes. 
WordPress displays ads on free blogs, but provided you can live with that, it's a top-notch solution for a free blogging site.
Try it online: WordPress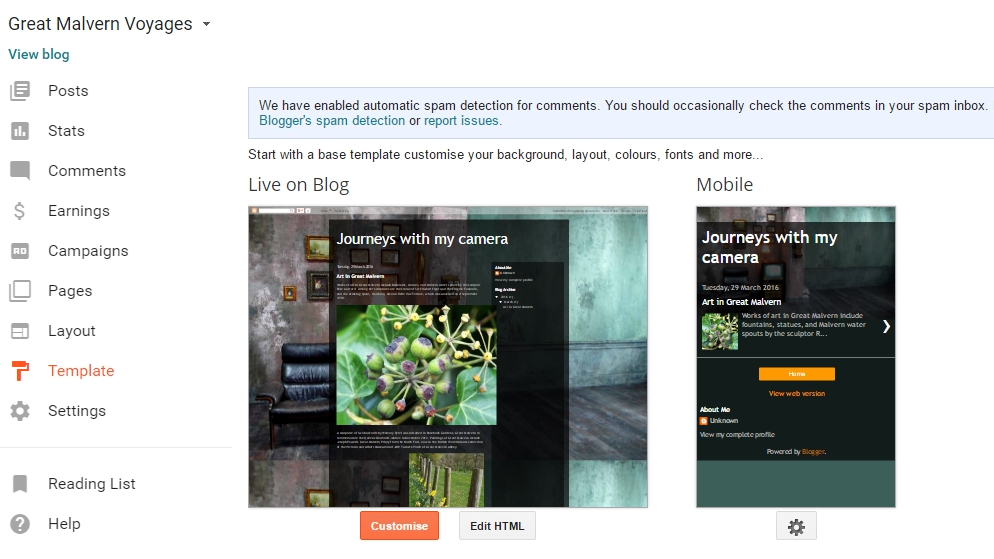 Blogger is another superb blogging platform. It's not quite as powerful as WordPress, but more accessible for new users, which comes as no surprise when you learn that it's owned by Google.
Blogger offers an excellent selection of templates, all of which include mobile versions optimized for smaller screens – a very sensible addition with so many people accessing online content through smartphones. 
Blogger's post-editing tool is much like WordPress, but offers fewer options. As a result, its toolbars are less confusing – a trade-off between power and usability.
One of Blogger's best features is its integration with other Google apps and services. For example, it uses your Google Drive account to store images and other files for your blog. Google Drive gives you 15GB of space free, so Blogger is a good choice if you're planning to share a lot of high-res photos.
Spam comments are a big problem on blogs, so Blogger's automatic spam filter can help save your sanity. You can monitor comments via Blogger's dashboard, which also lets you see visitor stats. There are some handy visualizations here, including a world map to show the global distribution of your readers.
Your blog will have an address in the format yoursite.blogger.com, and, like all Google services, will include ads. Support is available through the Blogger user forum, which is very active but has a strange layout that can be a little off-putting.
In all other respects, Blogger is brilliant – one of the best free blogging sites if you prioritize ease of use over flexibility and are a fan of the Google ecosystem.
Try it online: Blogger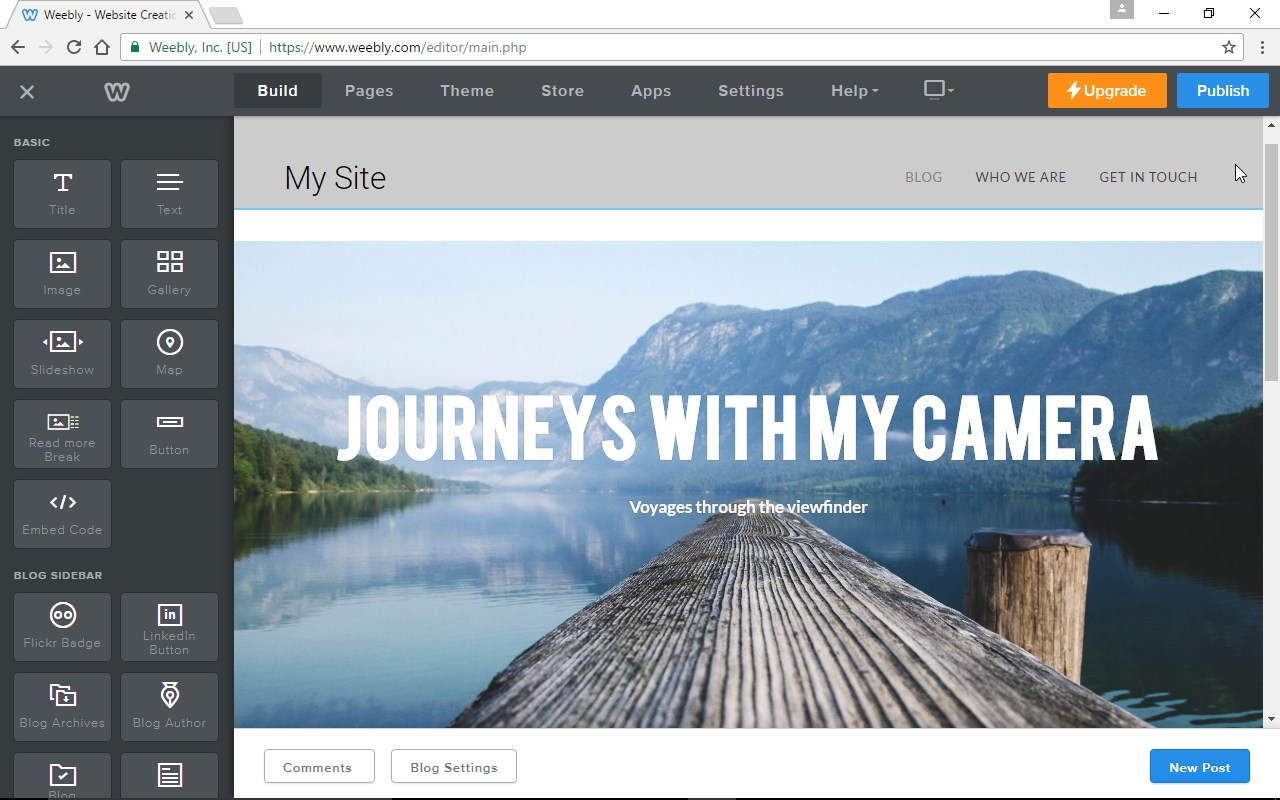 Weebly takes a modular approach to blog building, with a drag-and-drop editor that lets you choose which elements to add to your site, and where. 
Pick a basic template, then plonk various types of content onto the page, including social media links, text, images, maps, and sections of code. It's a refreshingly simple way to build a blog that feels unique to you, but doesn't require any messing about with menus.
It's worth noting, however, that certain content blocks can only be positioned in certain areas; it isn't a total free-for-all. This makes sense – forcing you to stick within the confines of your chosen template stops the page looking messy – but you might find it limiting. 
Blog posts are made in the same way: drag text boxes, picture frames, buttons and page breaks into position, then click to edit them. One particularly nice feature is the 'secret draft link', which lets you preview your unpublished post, and even share it with others via email before releasing it into the wild. 
Weebly has some other interesting tricks up its sleeve too, including an area for pasting in Google Analytics tracking code (though it doesn't offer analytics itself).
You're only given 500MB for uploaded content, so photographers might want to look elsewhere. Weebly puts an ad in your site's footer, but it doesn't obscure any of your content.
Try it online: Weebly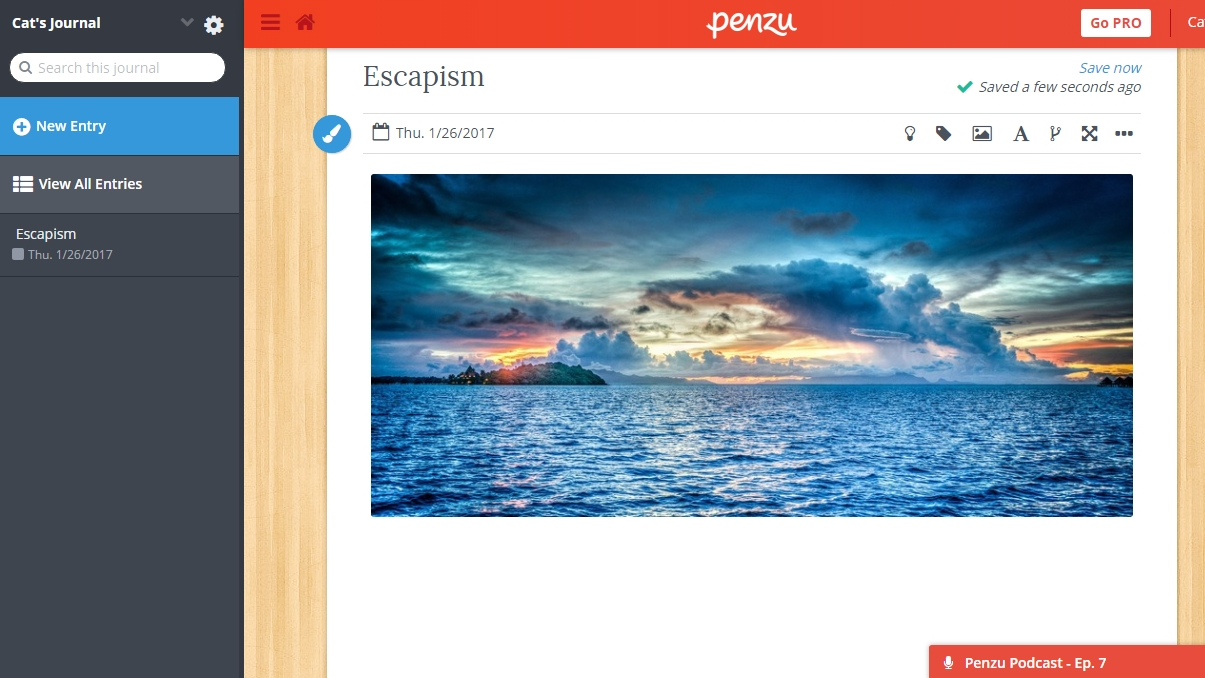 Whereas the other free blogging sites are designed to get as many eyeballs on your posts as possible, Penzu is the equivalent of a locked diary stashed in a safe.
Penzu is a journal platform that makes your posts private by default and locks them down with at least one password (even after you're logged in, you need a second one to read or edit your posts). That's because it's designed for private thoughts and personal reflection. There are free apps for iOS and Android that enable you to update your Penzu diary anywhere, but the contents are for your eyes only.
Penzu isn't a tool for self-promotion, so although it's far from ugly, it understandably focuses on function rather than looks. Custom colors and backgrounds come at a price – currently $20 (about £14, AU$25) per year.
It's a shame that 128-bit AES encryption is also limited to the paid-for version, and there's a fair amount of pressure to upgrade. Extra options are often dangled under your nose then yanked away, but the core offering is a good one, and if you simply want a place to record your thoughts and practise writing, Penzu could be just what you need.
Try it online: Penzu
The best Samsung Galaxy S8 cases
The Samsung Galaxy S8 might not be the newest Galaxy phone in town, with the Galaxy S9 and Galaxy Note 9 supplanting it. But, it's still a powerful smartphone, and it's only been made that much more affordable with the newer phones hitting the market. Even if it's cheaper, you're still going to want put a case on your Galaxy S8.
One big selling point for the Galaxy S8 is its stunning edge-to-edge display. But, that design also leaves it vulnerable to drops, especially since the edge of screen is that much more likely to make contact with the ground than phones with simpler designs. And, a drop could spell doom for your screen.
We've found a bunch of great Galaxy S8 cases that will help you protect your phone so that it'll last you as long as possible, perhaps while you wait for the rumored foldable Galaxy X. 
While some of these options are untested, they are each a cut above the rest due to their value and design, and are backed by positive consumer feedback.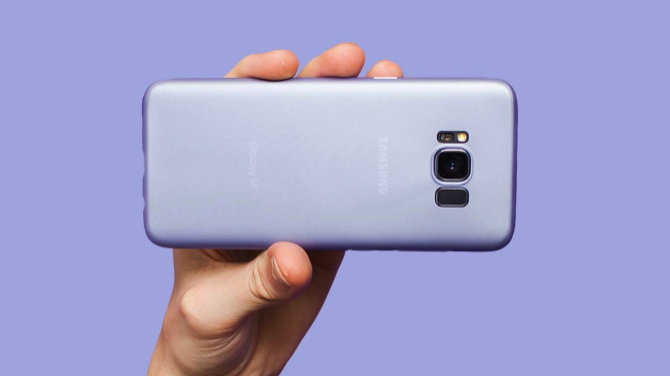 This Samsung Galaxy S8 Super Thin case is for you if you're even the least bit reluctant to cover up your new S8. Coming in a few different colors, each adds a nice touch to the S8's forward-thinking design.
Its easy application and low profile makes it an easy choice for minimalists, though at $25, it's not the cheapest case given its simple build. However, if form takes higher priority over function, Peel's case is exactly what you need. 
Check out the Super Thin case by Peel right here.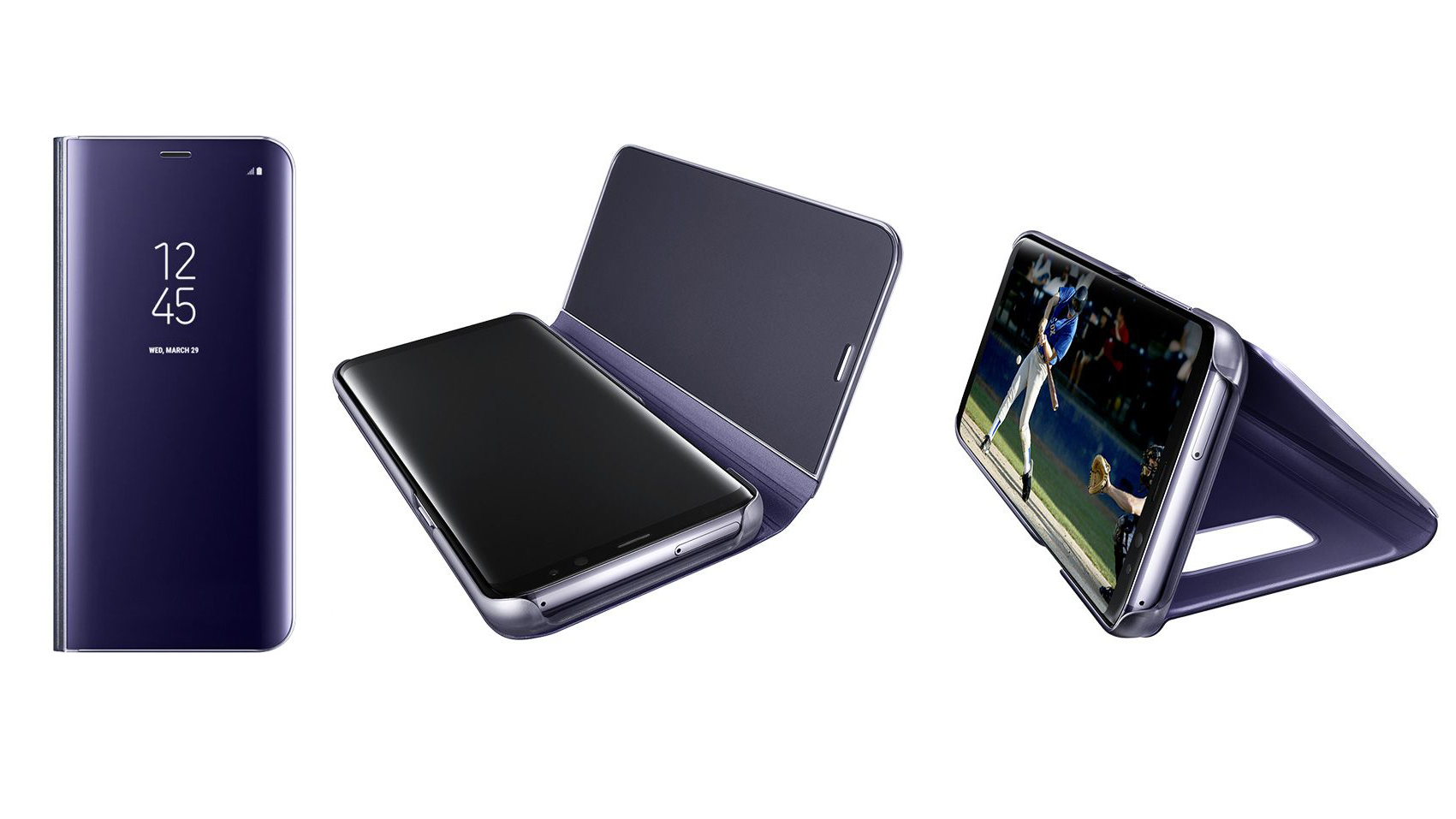 This Samsung Galaxy S8 case has a translucent cover envelopes the entire phone and provides a see-through window for the time and date, incoming calls, music controls and lock screen notifications. On top of that, it doubles as a stand so you can easily watch movies in landscape mode.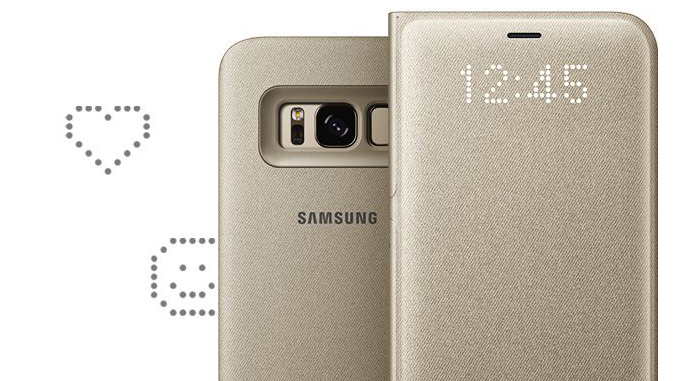 This is Samsung's fun Galaxy S8 and Galaxy S8 Plus case that shines LED lights through the translucent cover. There are 54 special icons and you can have limited control over the phone without having to open up the cover.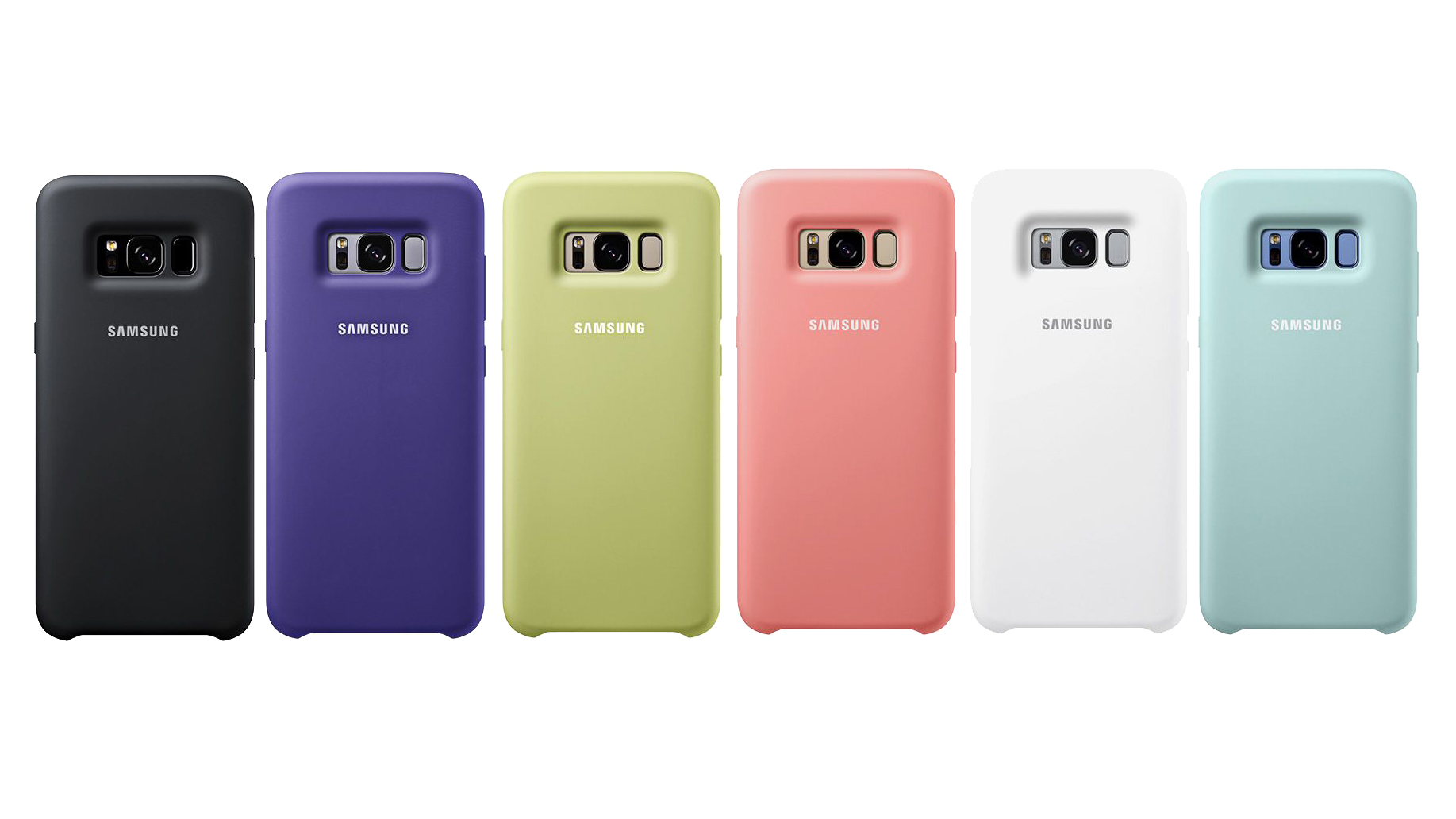 This is the most standard case Samsung makes. It has a smooth, rubberized feel on the outside and a microfiber interior to keep your phone scratch-free. It protects your phone and gives you several bright color options.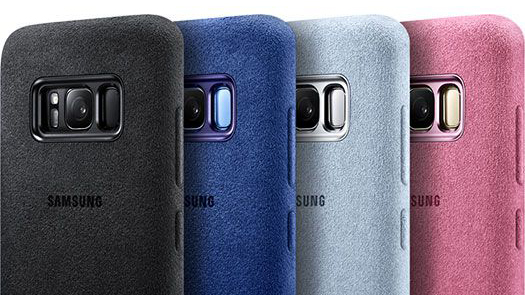 Samsung's premium Alcantara case feels like suede with a soft, textured material that extends all the way around the phone. You even get a slight lip around the display in order to avoid scratching the front glass when the phone is face down.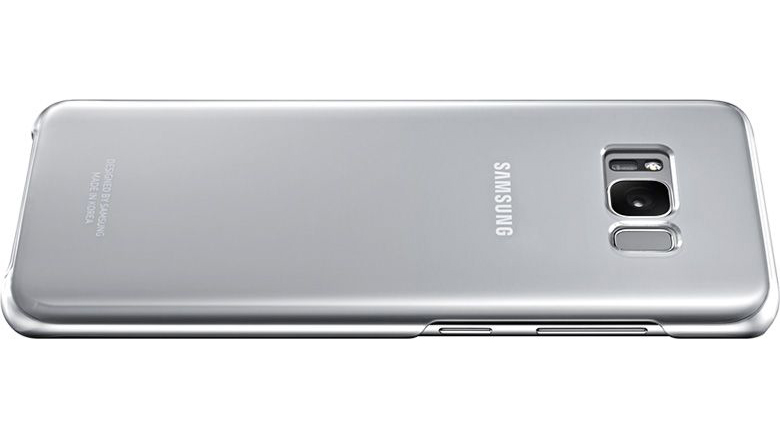 Let your Samsung Galaxy S8 true color and slim design shine through this clear case. It's 0.8mm thin, so there's not much extra bulk to this bumper case. It's protection without the distraction.Samsung Clear Cover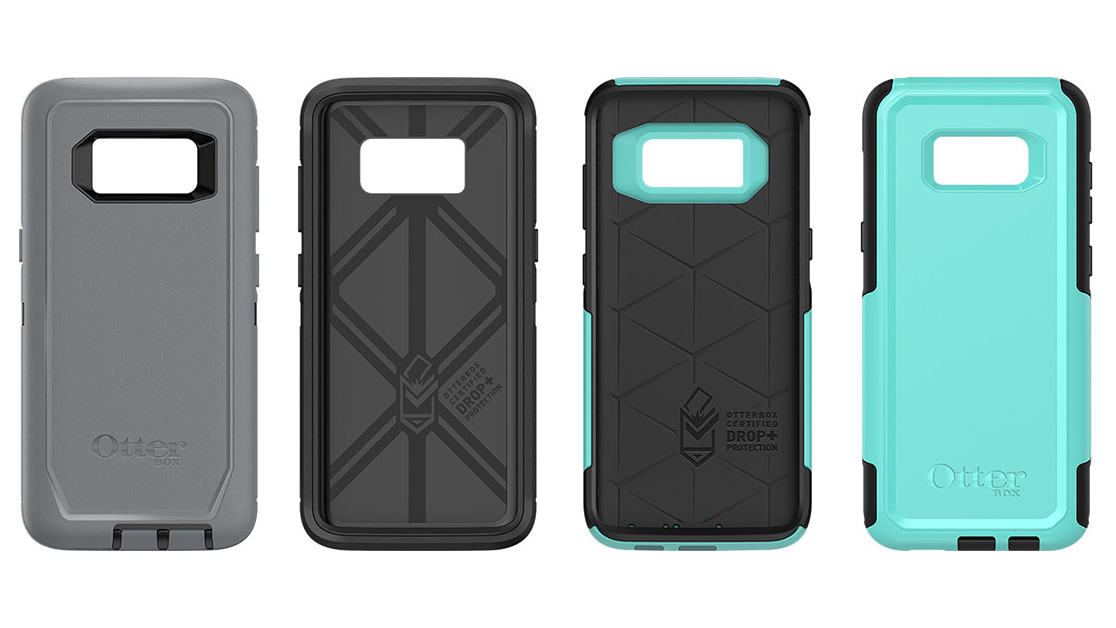 Otterbox makes heavy-duty Galaxy S8 and S8 Plus cases, so you're getting drop protection from the incredibly rugged Defender and almost as durable Commuter series. Both have a polycarbonate shell and synthetic rubber slipcover.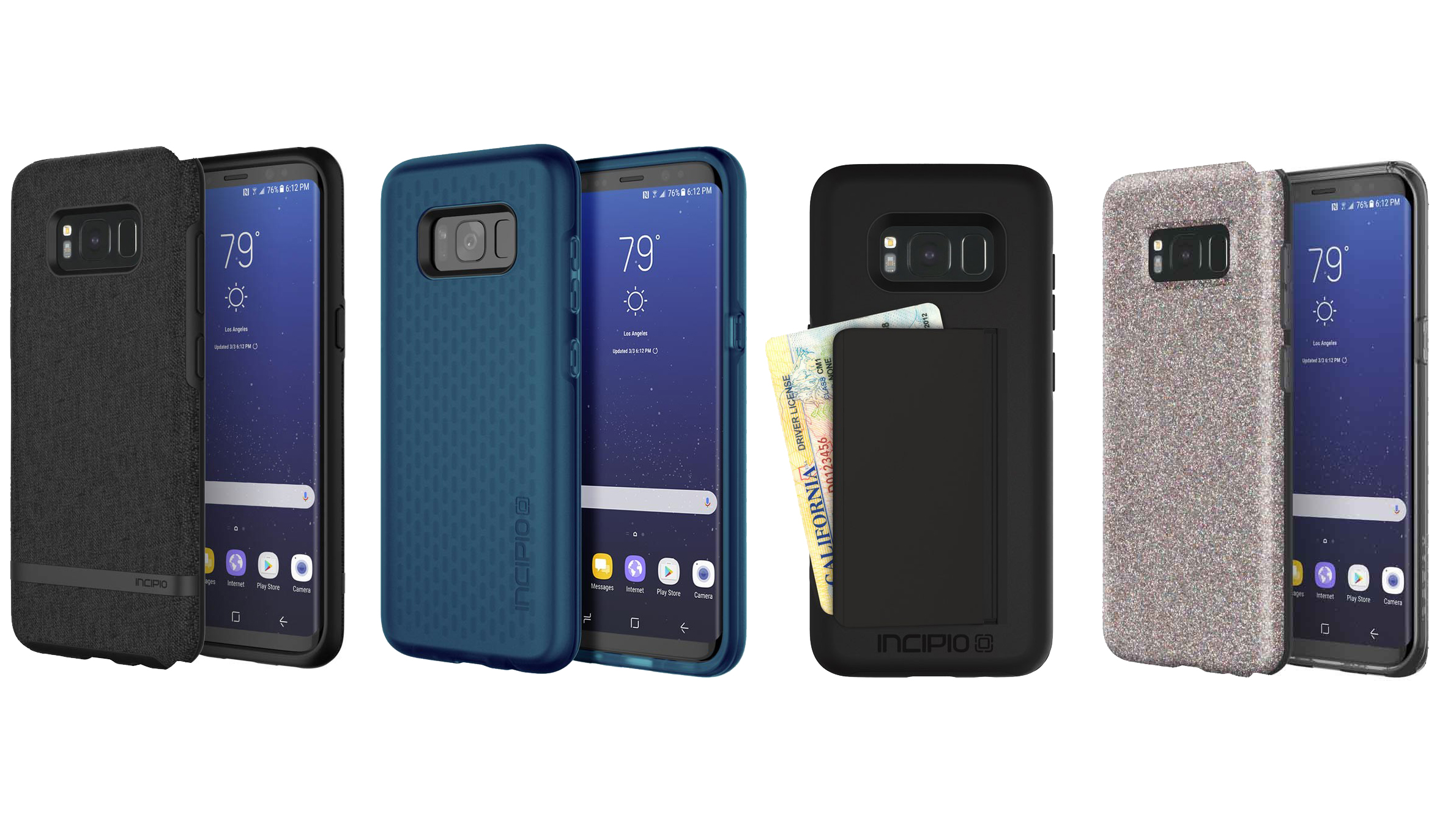 Incipio already has 22 Galaxy S8 cases available (and another 22 for the Galaxy S8 Plus), so here are our favorites: The Carnaby has a soft fabric back that reminds of us Incipio's stylish backpacks; Stowaway gives you a pocket for up to three credit cards; and Haven provides protection from six-foot drops. Not enough? Incipio also sells two different glitter cases.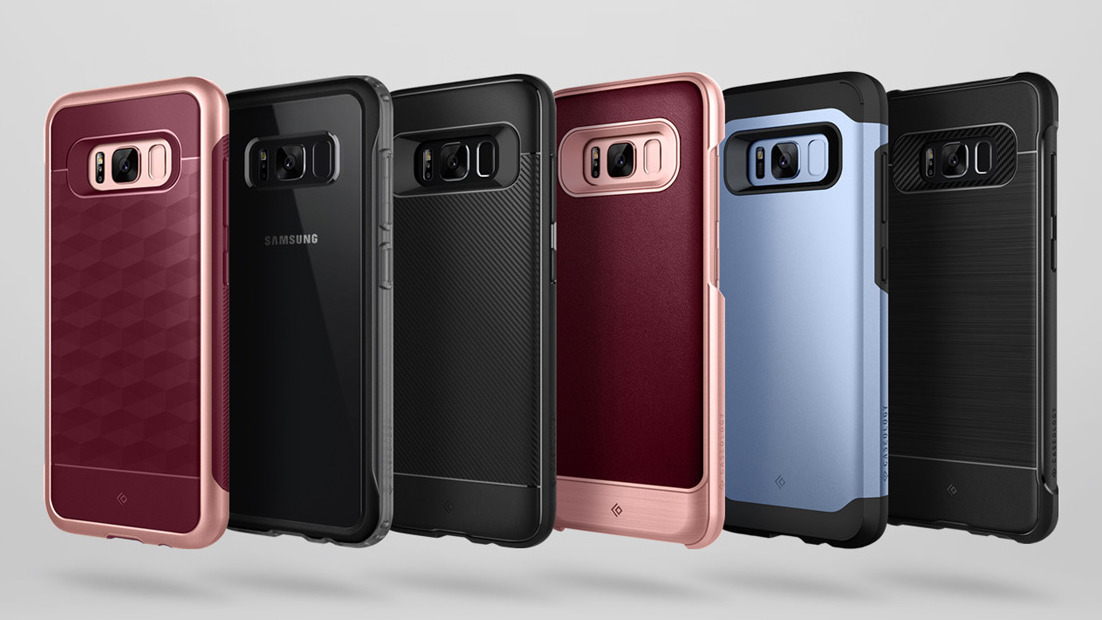 There are four Caseology Galaxy S8 and S8 Plus cases, and they're all fairly inexpensive. The Caseology Coastline is the company's basic clear polycarbonate case for minimalists, the Parallax case provide stylish grooves in addition to protection, the Vault I case is meant to be 'slim armor' and the Legion case is all about offering rugged protection without compromise.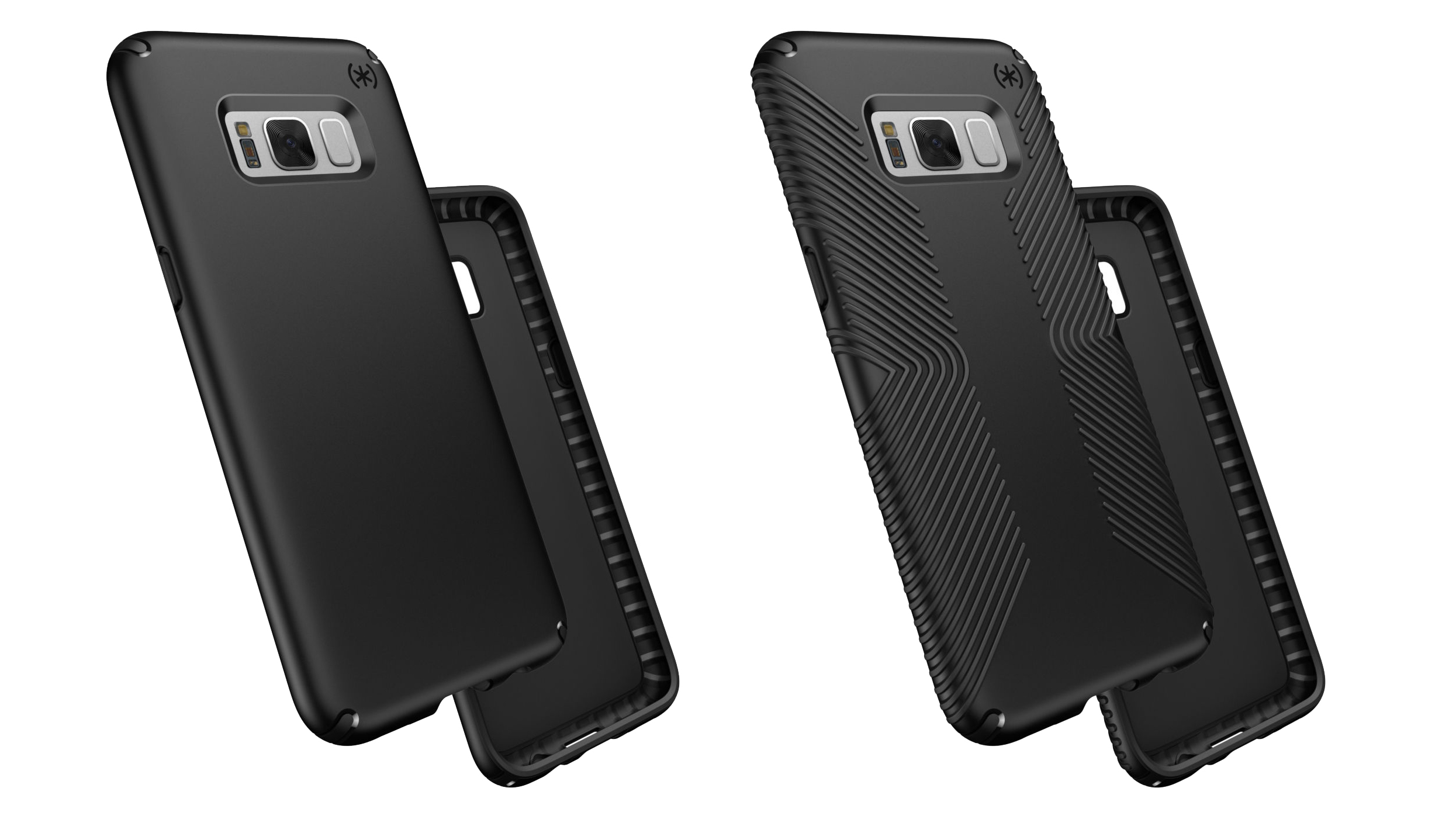 Speck is best at offering Samsung cases with slim designs and just enough protection to get you through your first year or two with the phone (until you trade it in). We like the new Presidio case for exactly that reason. It takes on a slim design, yet offers drop and bezel screen protection. The Speck Presidio Grip, meanwhile, it meant for more impact and, with a no-slip back, hopefully fewer drops.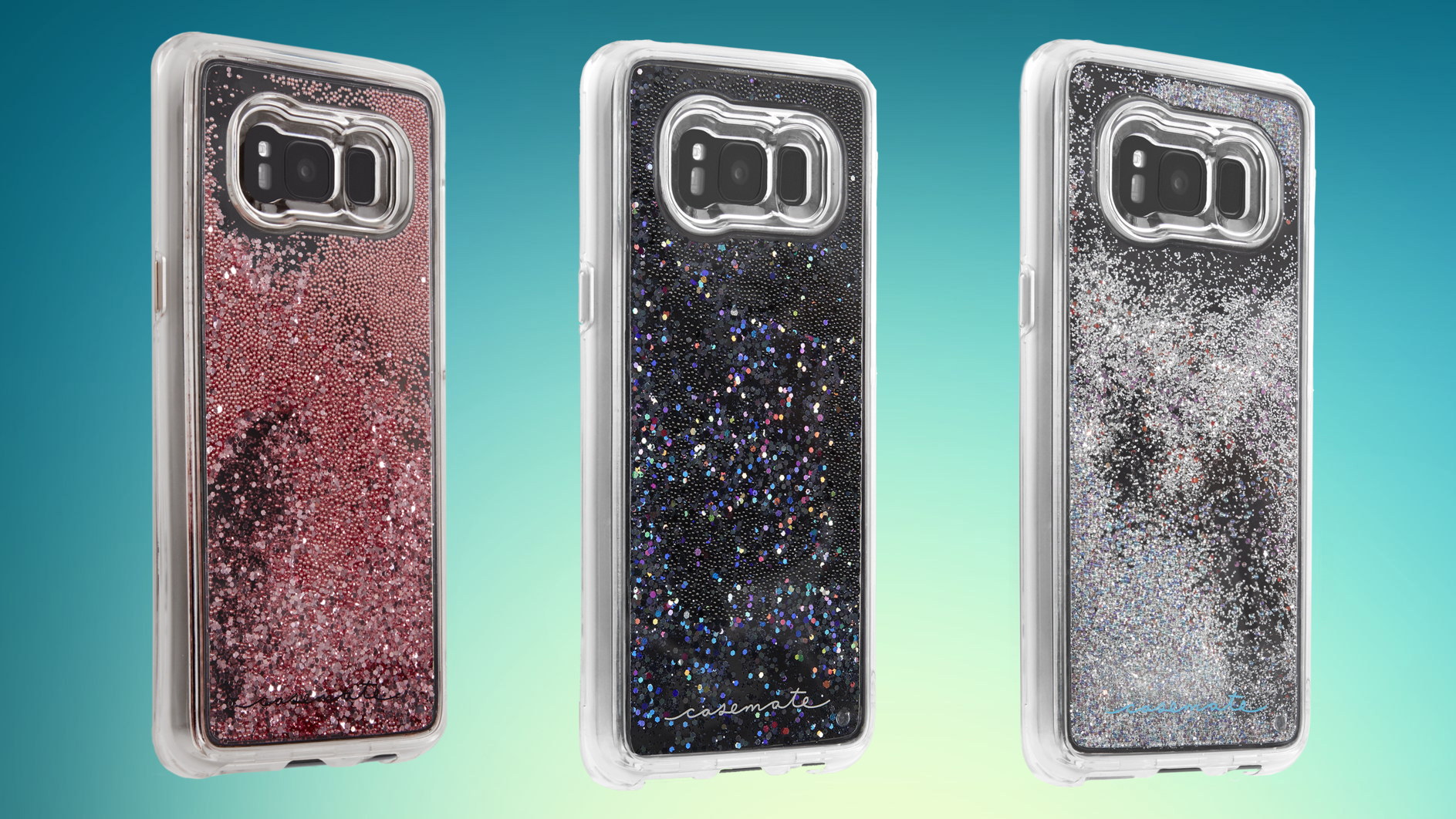 You can find some fun cases among Casemate's Galaxy S8 collection already. Skip the 'Naked Tough Clear' case and go for one of the three 'Naked Tough Waterfall' cases. They send glitter cascading through clear cases, just in case a 5.8-inch and 6.2-inch phone didn't stand out already. Also fun are Casemate's Karat cases that stick various shiny metal accents (like gold flakes or mother of pearl and silver) inside a case – they just don't move around.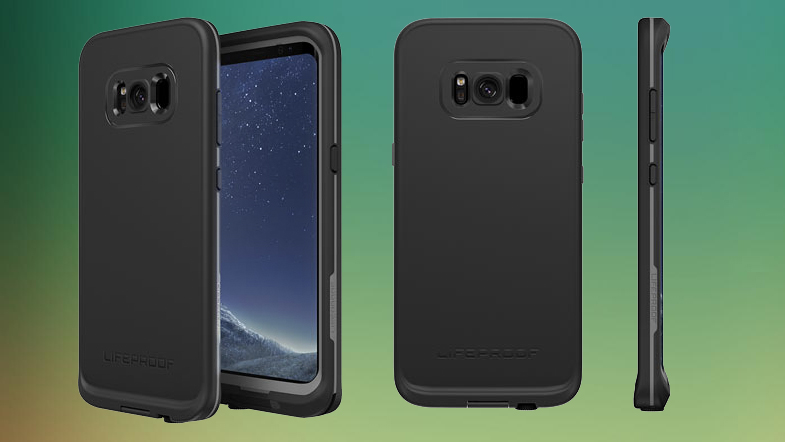 Lifeproof's Galaxy S8 and S8 Plus cases bring your Android phone up to army grade standards thanks to the military standard 810G-516.6. It's ready for rough and tumble action and extends the device's IP68 waterproof capabilities. The company even claims to give it snowproof and drop proof capabilities to boot.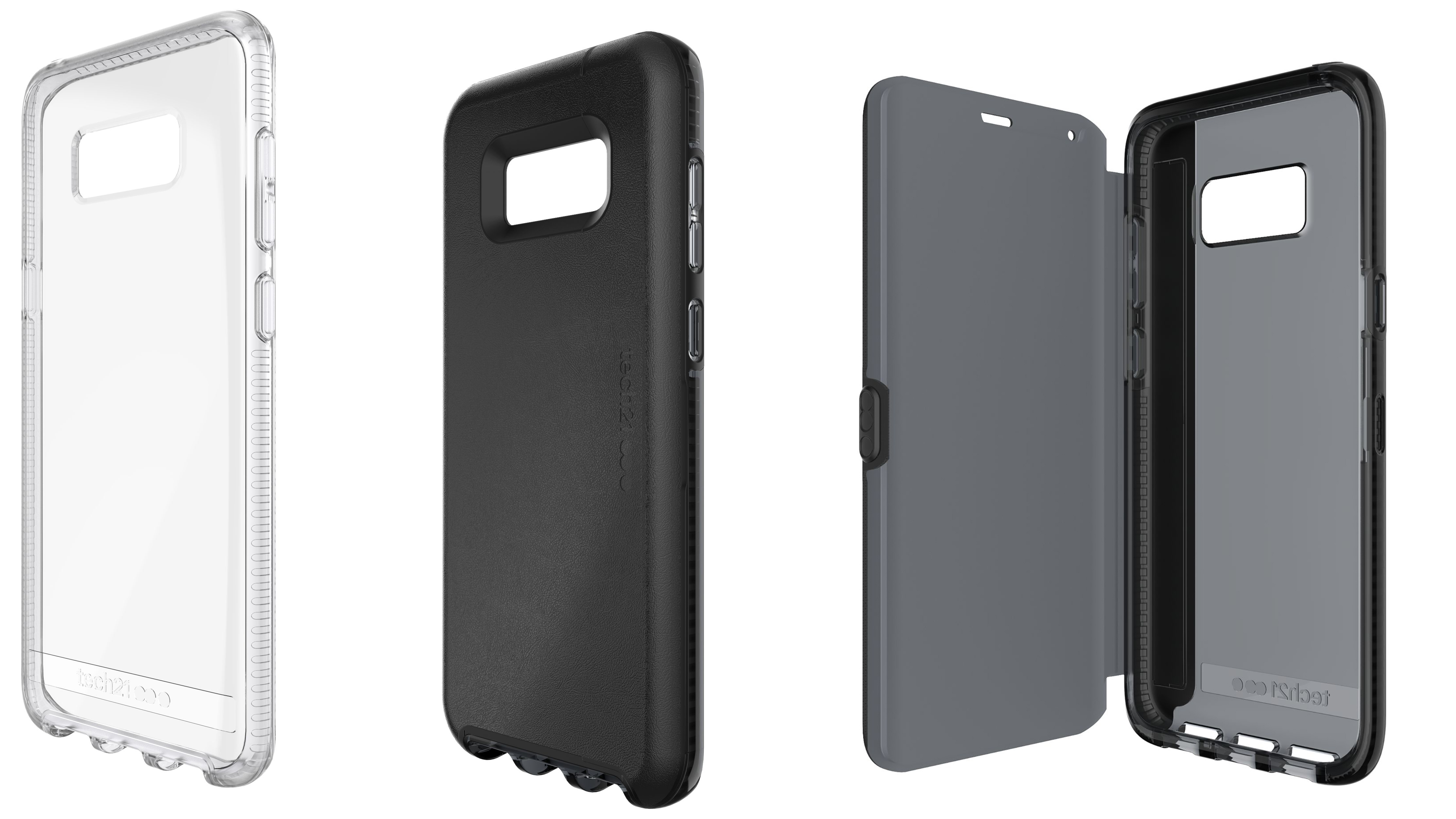 There are six Samsung Galaxy S8 cases from Tech21, with the cheapest being the Pure Clear case and three Evo cases: Evo Active Edition, Evo Check, and Evo Tactical. Tech21's two card-carrying cases are more more expensive, the Evo Wallet folio case and Evo Go case that has a trap door for your card carrying needs.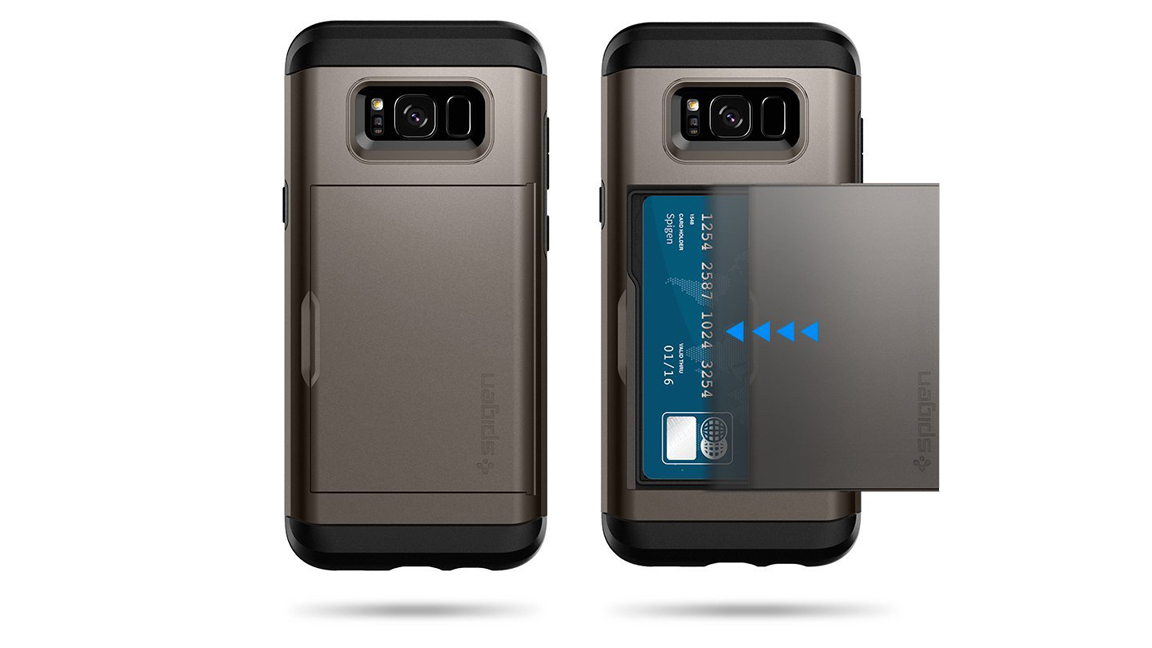 If you want your Galaxy S8 protected, the Spigen Slim Armor CS case will do the job. Soft and hard plastics combine to keep the phone safe from falls. Even though it's a bit bulky, it can save you some pocket space by carrying two cards, so you may not need to always bring a wallet everywhere you go.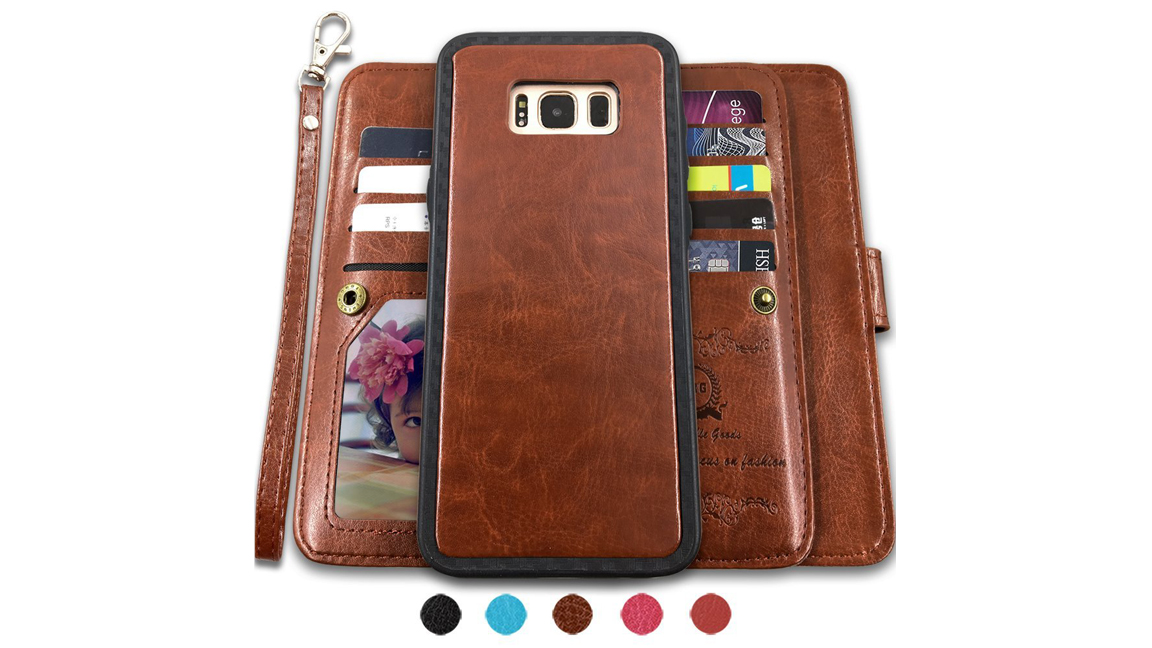 This case can fully replace most wallets, more card storage than anyone should reasonably need. It has nine card slots and three cash slots, so you can keep this case loaded with ways to pay. And if you use Samsung Pay, keeping your phone in this case will mean it's holding one more payment method.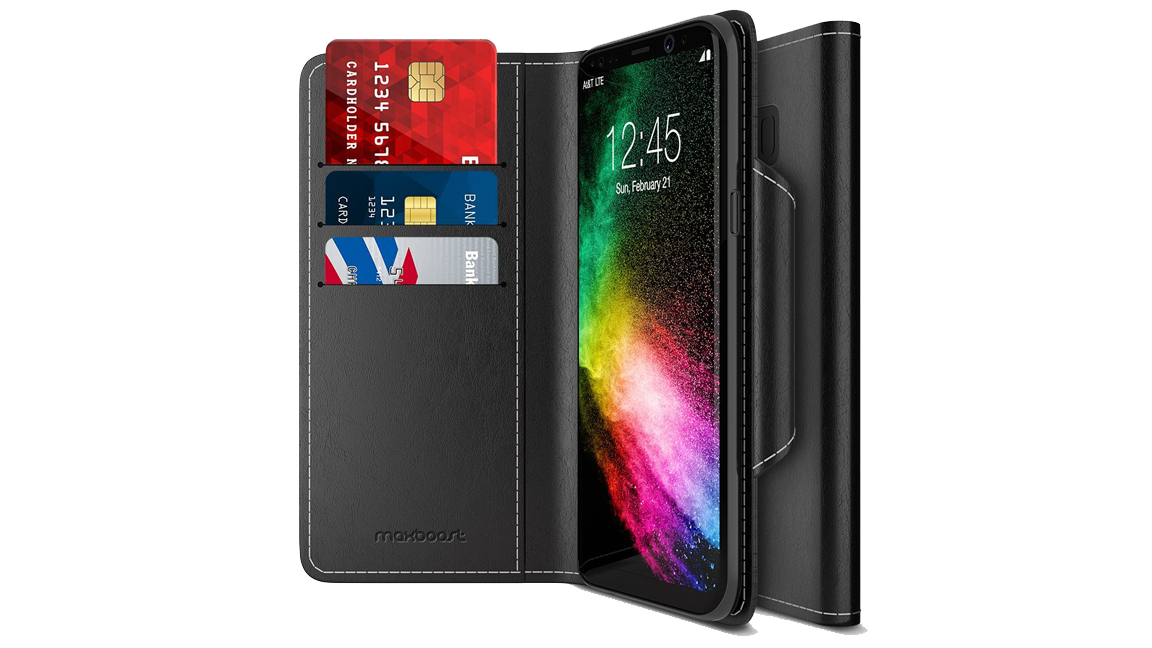 For anyone looking to ditch the wallet and carry just a few cards around with their Galaxy S8, the Maxboost Wallet Case is a good fit. It fits the phone into a simple holder, and closes up folio-style. The card slots are perfect for a credit card, debit card and license.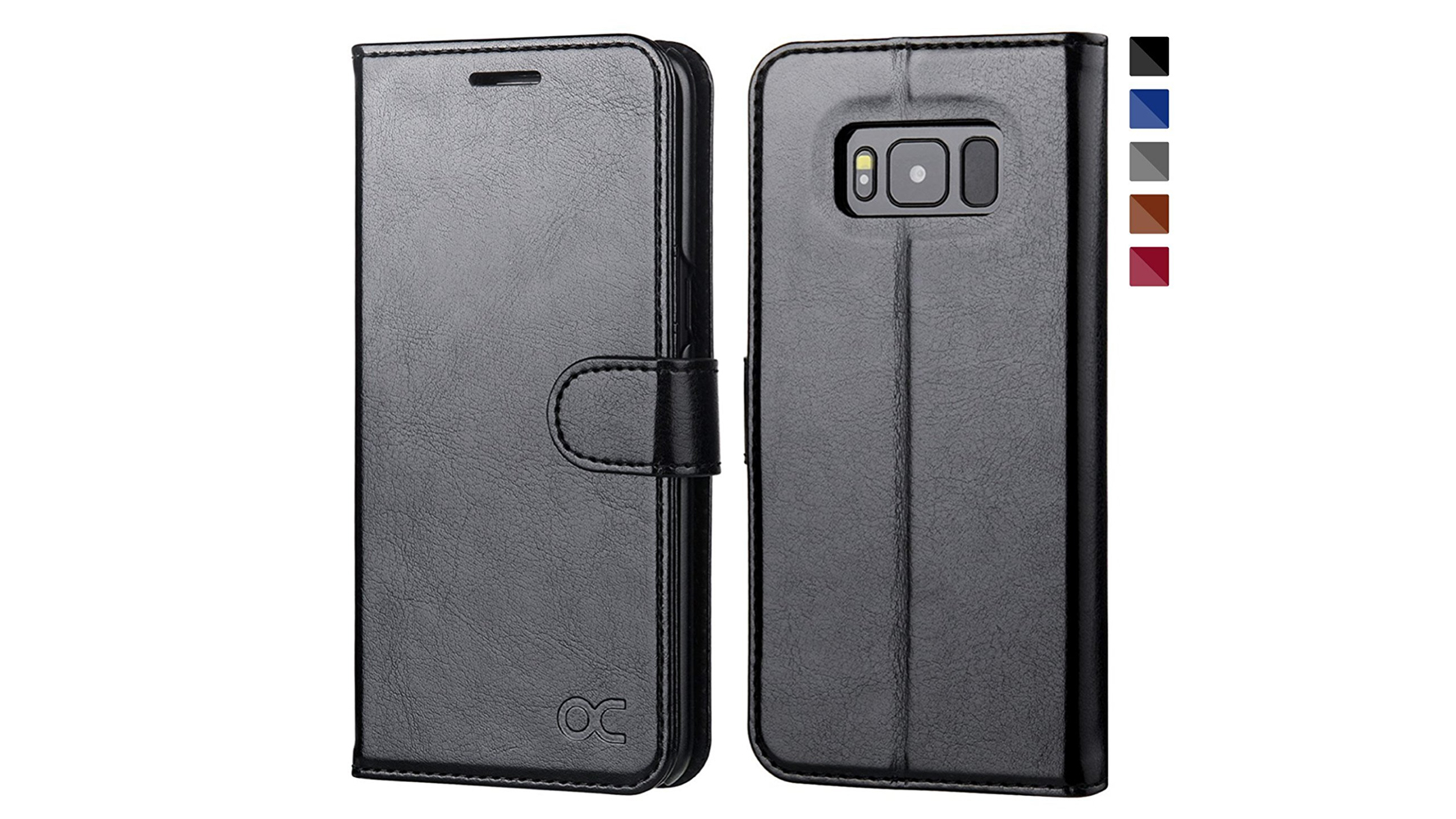 The leather flip wallet case from Ocase will offer you protection for the Galaxy S8 while also letting you store multiple credit cards and cash. It includes a magnetic clasp to help it stay closed, and has the necessary cutouts for you to use your camera and fingerprint scanner. There are a variety of color options, and even models with a detachable phone holders.
See the Ocase leather flip wallet case at Amazon here.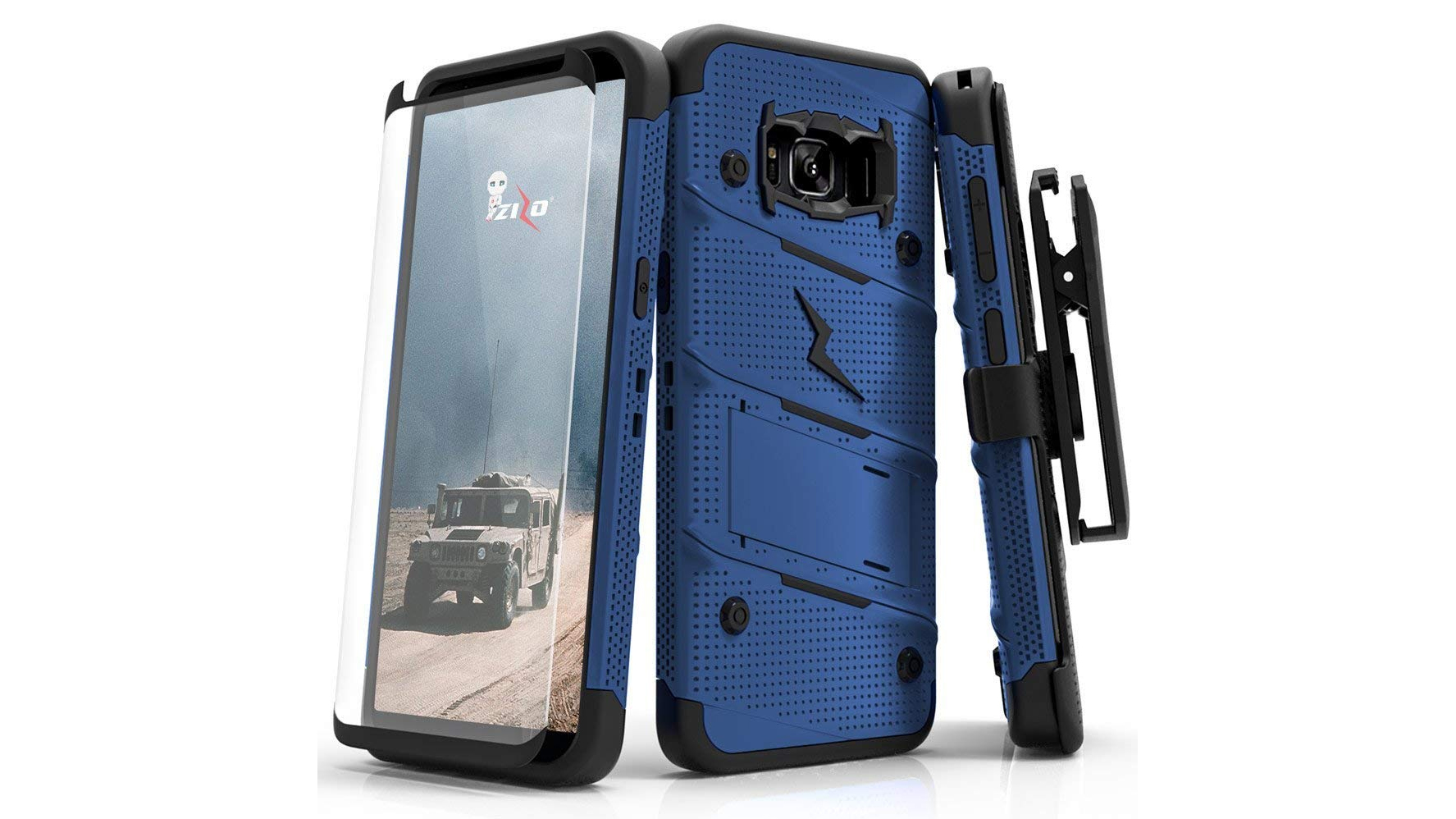 Enjoying Samsung's visual design and protecting it from destruction are hard to balance. The Zizo Bolt Galaxy S8 case leans heavily in favor of the latter. It features multi-layer protection and a screen protector to make sure a simple accident won't  do serious damage. Most importantly, it offers military-grade drop certification to protect your Galaxy S8 from up to 12-foot falls.
See the Zizo Bolt case on Amazon here.
We'll continue to update this page with more cases as they become available to us.
Best Bluetooth earbuds: the 10 best wireless earbuds and earphones in 2018
Best Bluetooth Earbuds: Welcome to TechRadar's round-up of the best wireless Bluetooth earbuds and earphones in 2018
What if we said you could now listen to all your favorite music on the go, without annoying cables always getting in your way? Well, thanks to the best Bluetooth earbuds, that dream is now a reality.
Offering wireless connectivity for your mobile or mp3 player, today's range of Bluetooth earbuds are showing it's possible to cut the cord and still retain high-quality audio. And with flagship phones slowly ditching the headphone jack, having pair of untethered headphones has never been more useful.
Ready to cut the cord? Read on for the best Bluetooth headphones we've seen so far: whether you're looking for a model with noise-cancellation, a good long battery life, or support for high-res audio, we'll have the best option for you.
Can't decide which type of headphones to buy? Check out our guide video below: 
Wireless earbuds vs true wireless earbuds
Before we dive too deep down the rabbit hole, we should cover the whole true wireless vs wireless discussion happening in the audio world right now. 
Wireless headphones – the earbuds you see in front of you now – have existed for some time now, basically since Bluetooth as a standard was invented. 
For years they went largely unrecognized by the audio community because Bluetooth, despite being ultra-convenient, didn't do the best job transmitting music at a high enough resolution. That changed with the advent of aptX - a codec that allowed for higher bitstreams at lower latency. 
While aptX was changing the game for the whole of the audio community, audio manufacturers were working on an entirely new form factor: True Wireless.
True Wireless has no cords whatsoever. While wireless allowed us to wear headphones a few feet away from our music players, True Wireless cut the cord between the earbuds out completely, giving us true range of motion. 
If the small cord between the two buds doesn't bother you, you're in the right place – but, if you're looking to go full wireless, we also have a round-up of the best true wireless headphones to help you live that cord-free lifestyle.
What are the best wireless earbuds?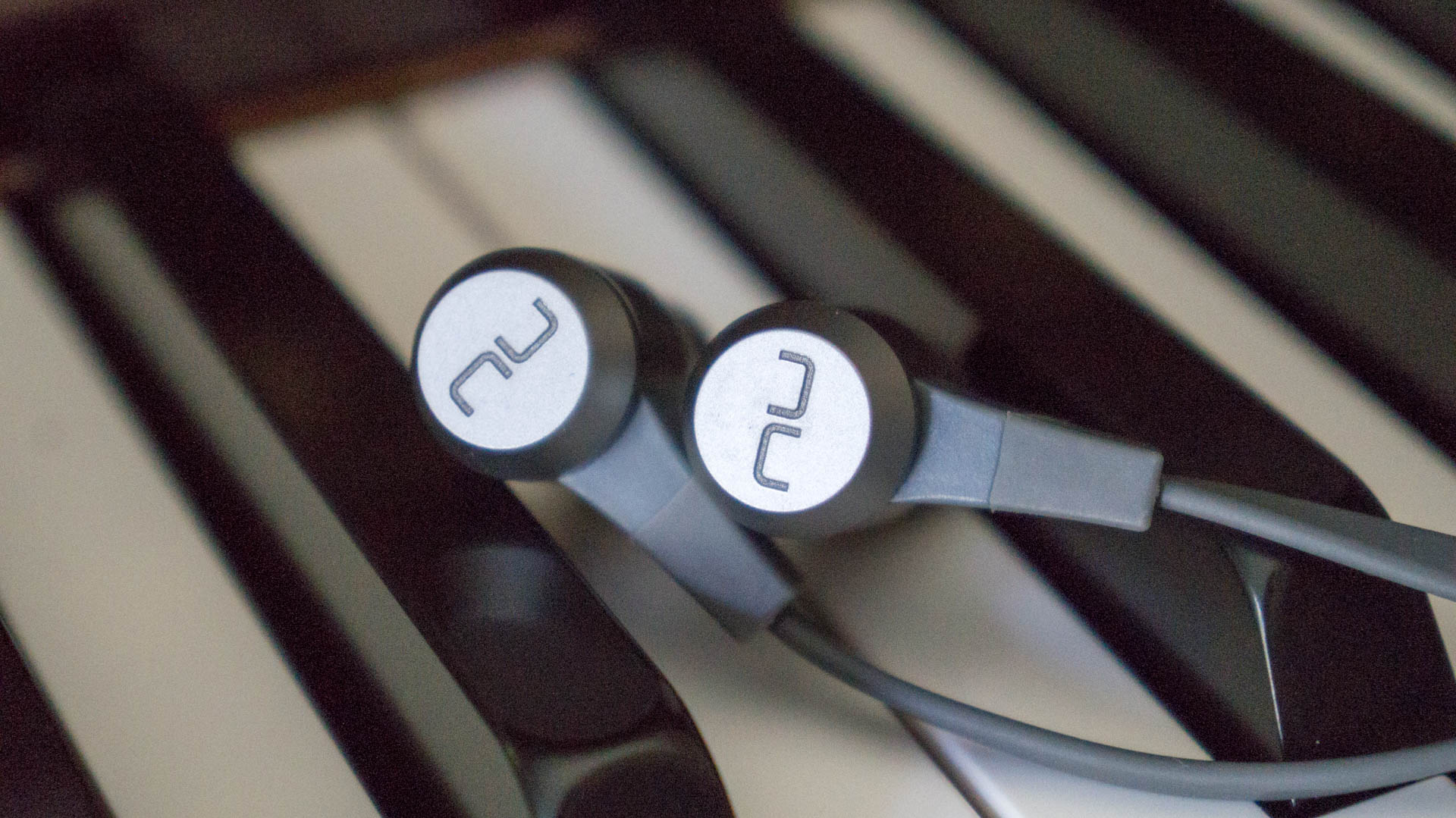 Continuing the trend that the original NuForce BE6 started, the Optoma Nuforce BE6i are a minor update to an already great pair of earbuds and remain one of our favorite in-ear wireless headphones for the price. Offering good sound, build quality and battery life in its segment if you're looking for a pair of wireless in-ear headphones that can survive a strenuous work out, the these should be on the top of your list of headphones to try.
Read the full review: Optoma NuForce BE6i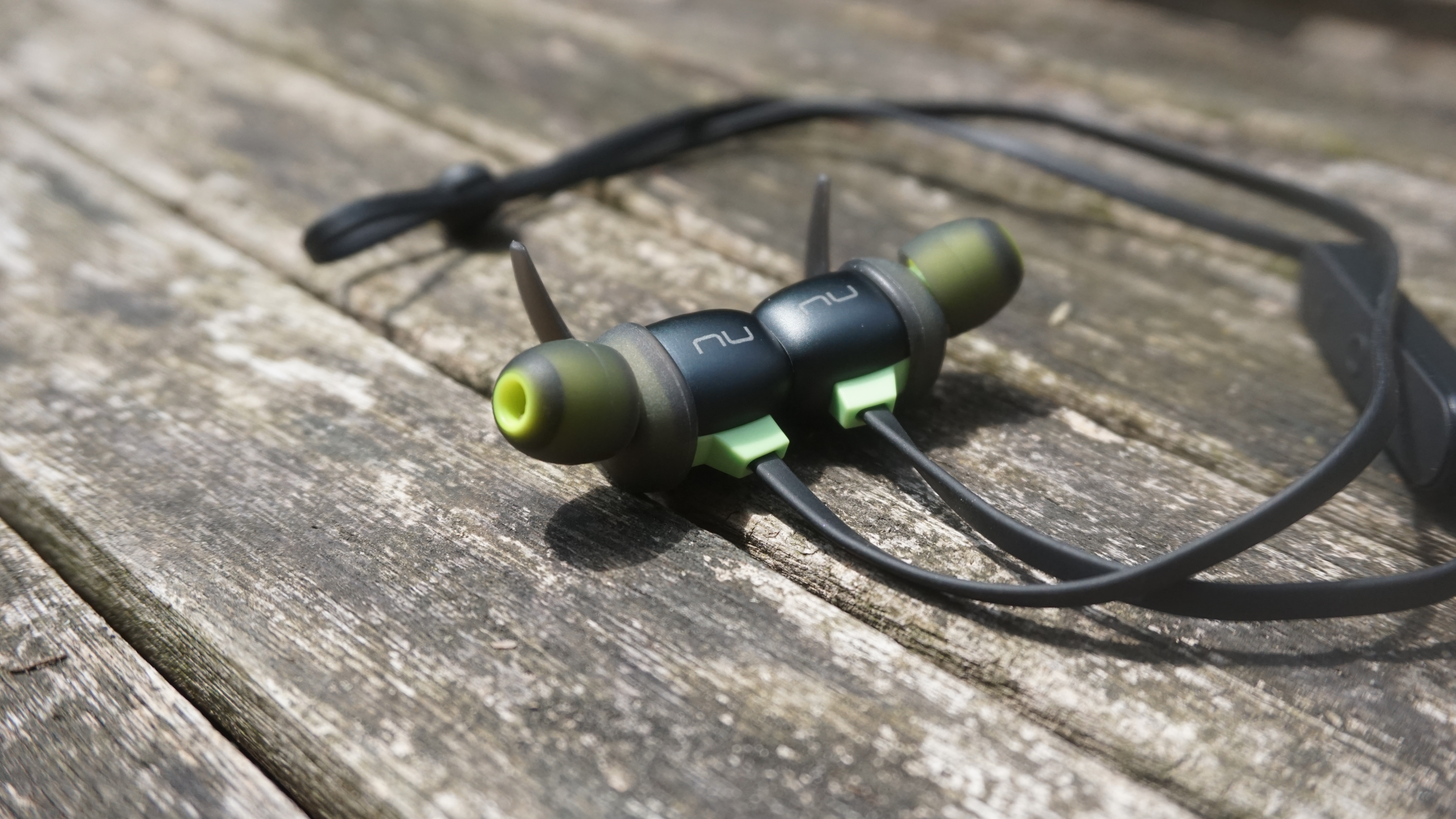 NuForce have really crafted something special here with the BE Sport4 earbuds. Sleek and solidly-built, these are high-performance buds that improve on their already five-star predecessors. They're ideal for exercise, although any urbanite will also find their lightweight functionality and impressive sound isolation highly appealing. Proof that wireless headphones can now compete with the best of them.
Read the full review: Optoma NuForce BE Sport4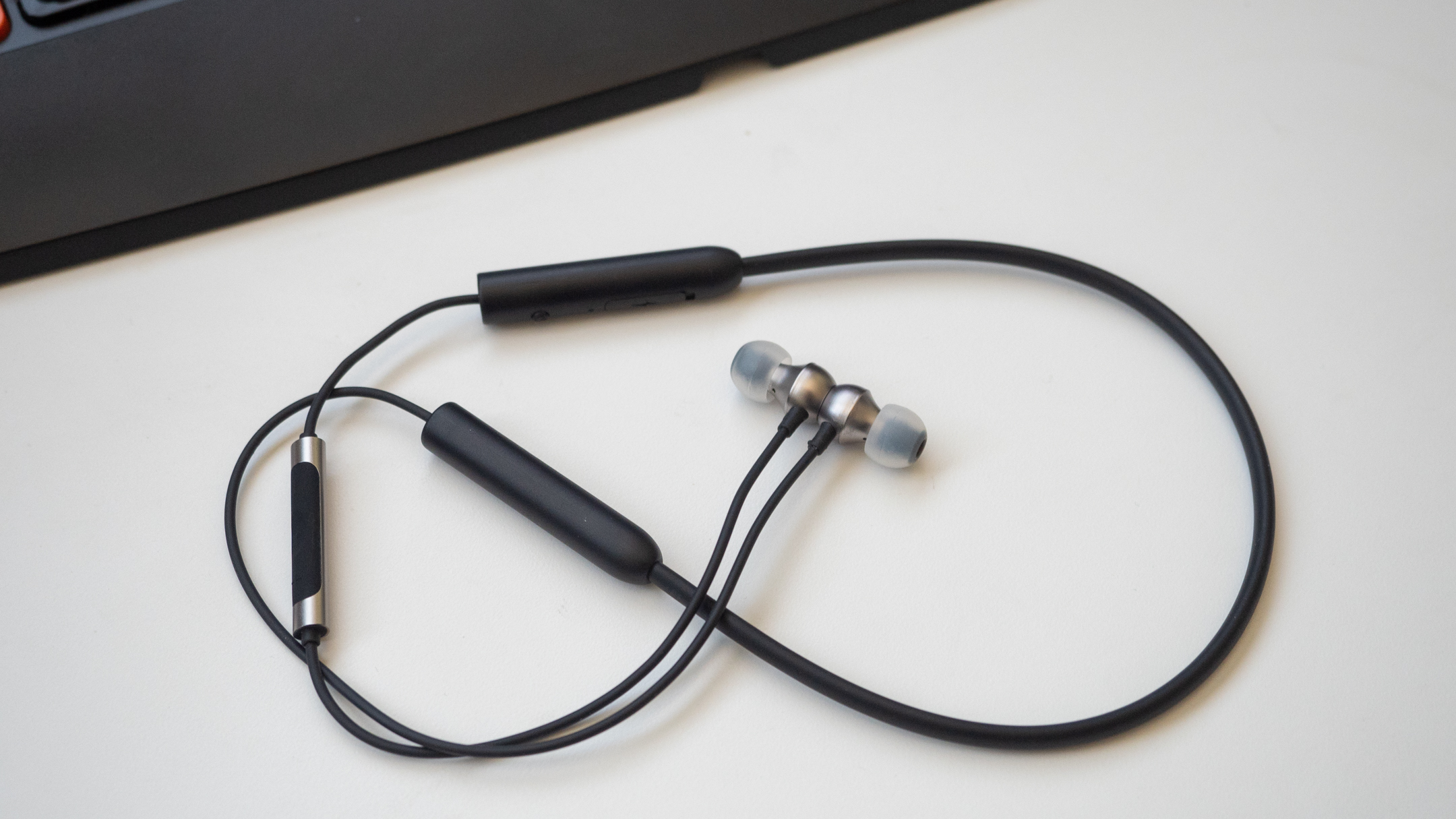 If you don't mind rocking the nechbuds, the Moto Surround hits all the high notes in terms of price, performance and battery life. After spending several weeks with the RHA MA390 Wireless, we came away extremely impressed with the package RHA has come up with. The headphones are built extremely well, have a fun sound signature, and can take a beating. And all at an affordable price. 
It's main rival, the OnePlus Bullets Wireless, are also excellent, however we give the nod to the RHA MA390 for its more dynamic sound and better build quality. 
Read the full review: RHA MA390 Wireless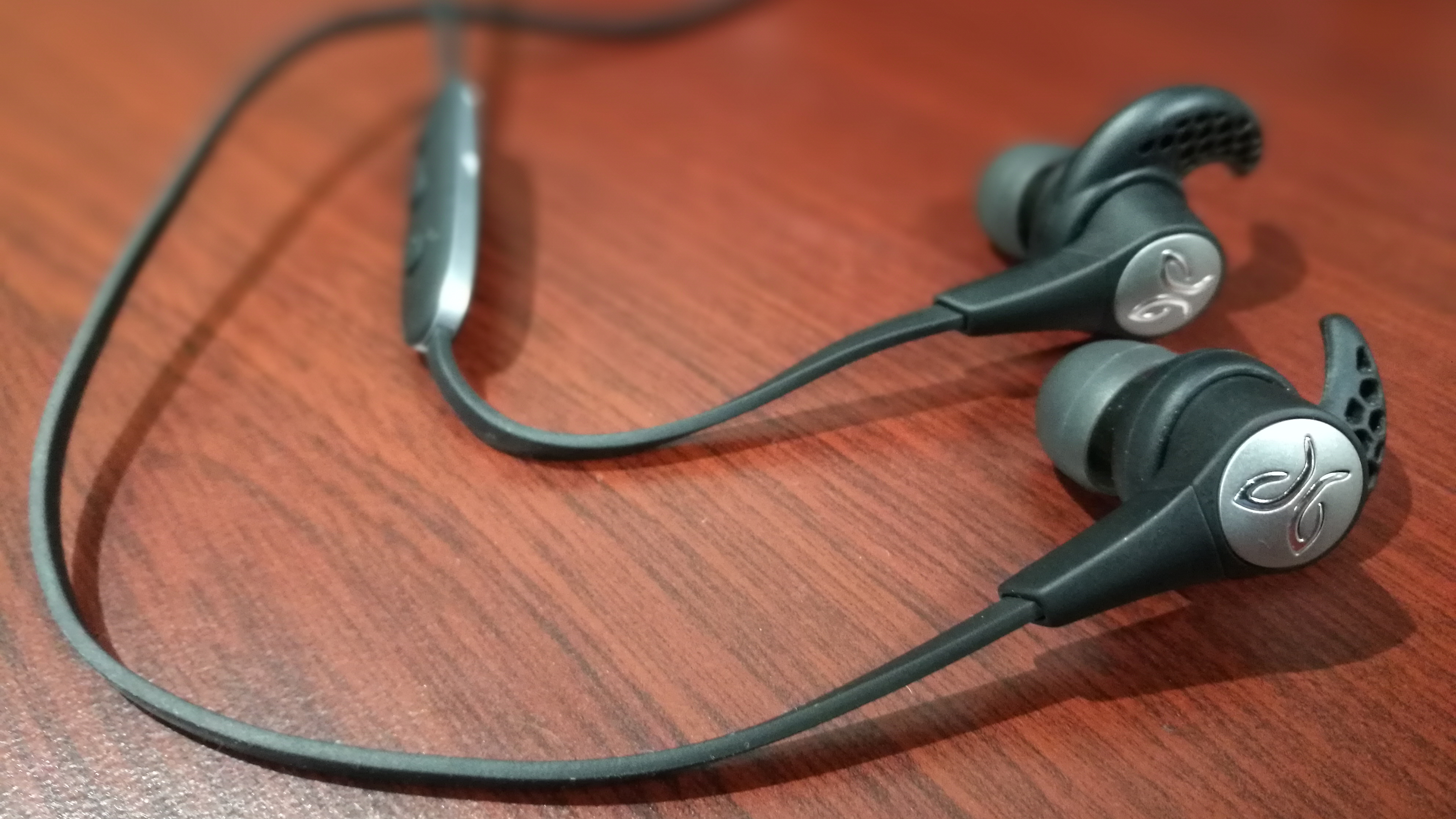 The Jaybird X3 are a great improvement over an already excellent pair of in-ear headphones with the X2's. 
We liked their slimmer profile, a battery life boost is always welcome, and the new MySound app allows you to find a sound profile that's perfect for you. 
We'd prefer to have a universal USB charger rather than a proprietary charging dock, but this is a minor complaint for a pair of headphones that otherwise tick all the boxes. 
Read the full review: Jaybird X3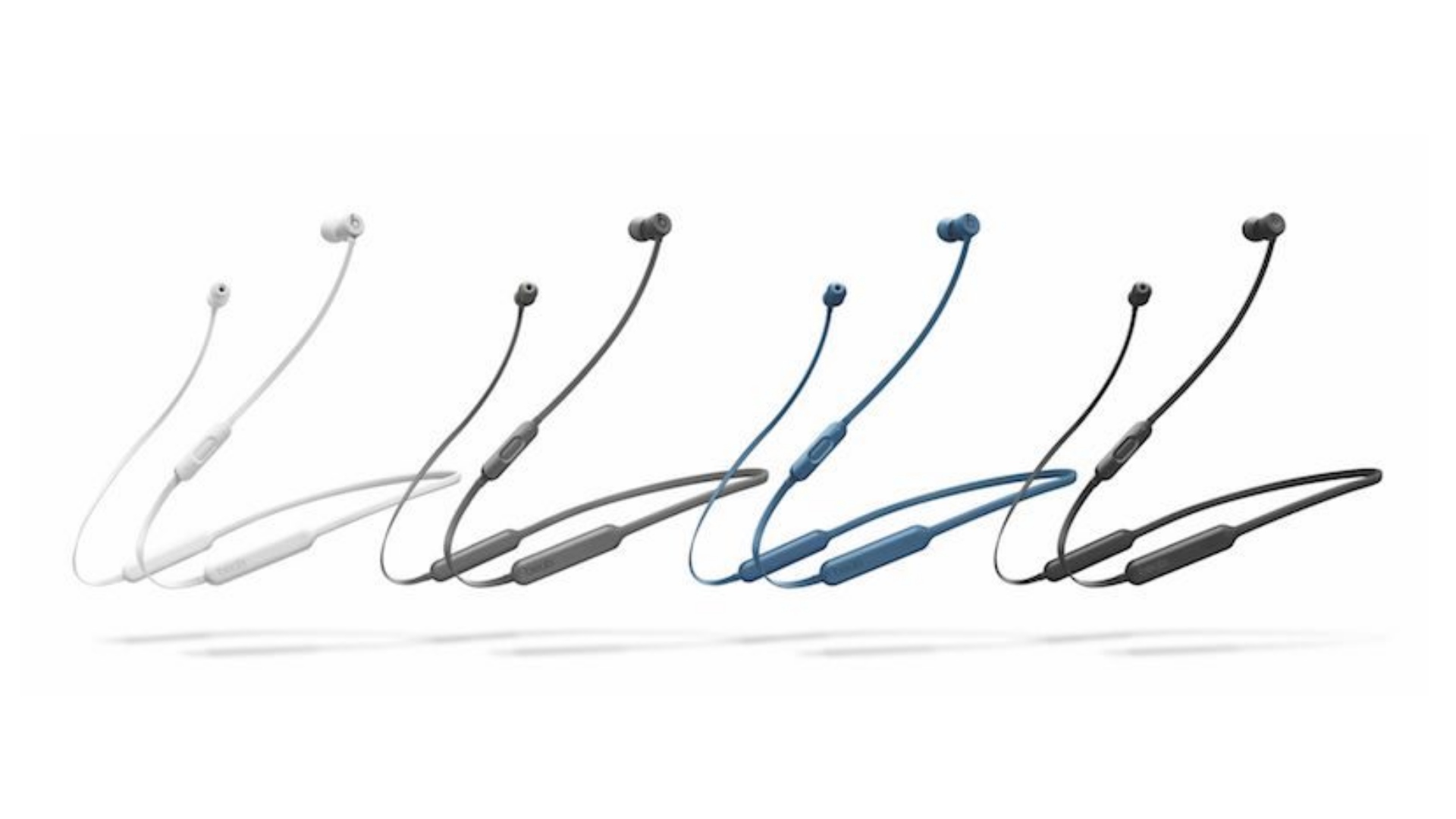 There will always be those who are ready to complain about the sound performance of Beats headphones, but the inclusion of Apple's proprietary W1 chip has been a boon for the strength of their wireless connectivity. 
The Beats X hence make up for their slightly bassy sound with a rock solid connection and a pairing process that, on iOS devices at least, is as painless as it's possible to be. 
Functionally that makes these wireless earbuds a joy to use, just don't expect the most detailed or broad soundstage. If you're shopping for a no-fuss pair of earbuds that charge in 5 minutes and don't mind spending a little extra money on them, the Beats X are for you.
Read the full review: Beats X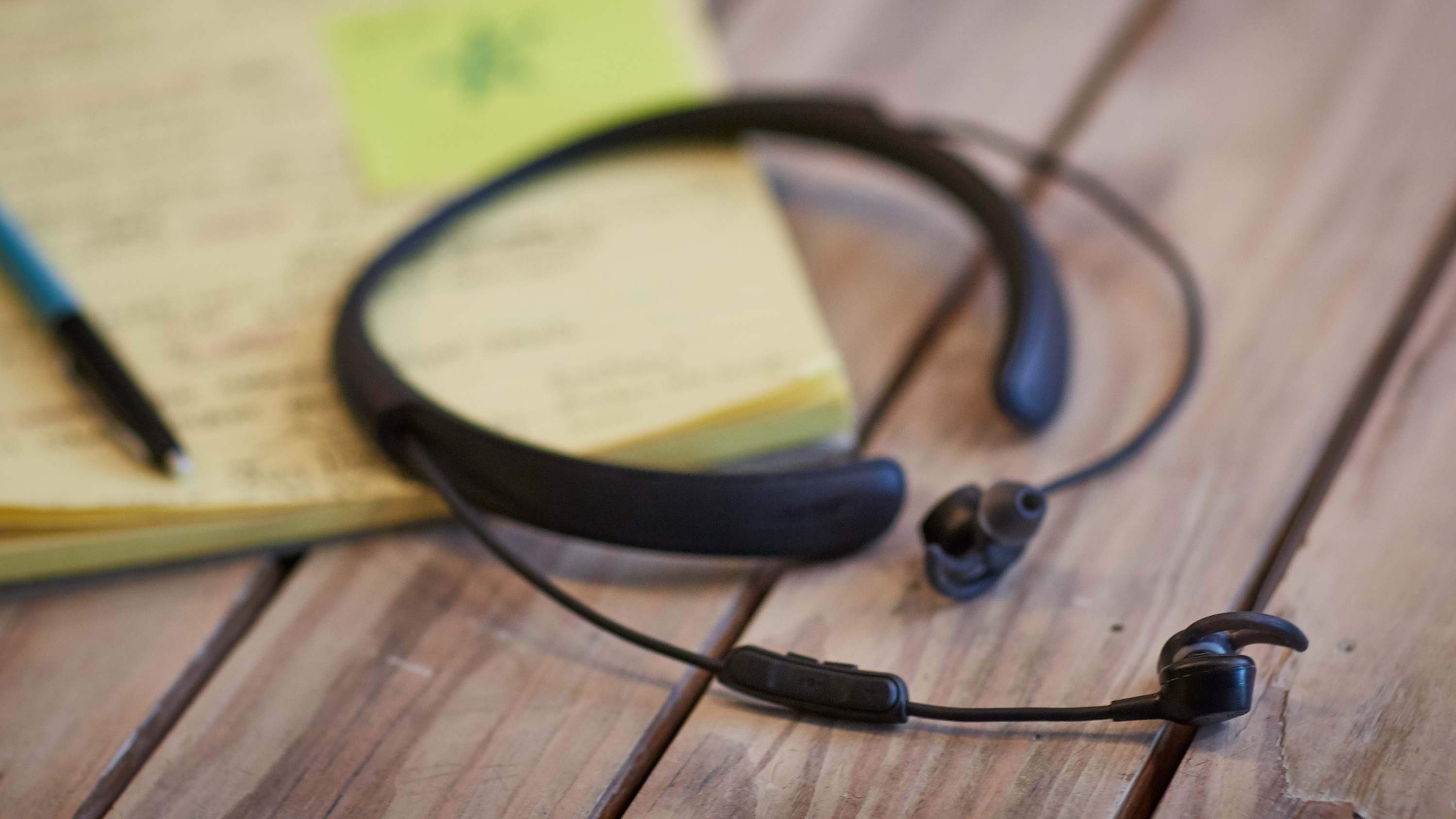 Life is full of compromises, and it's no different with the Bose QuietControl 30s. On the positive side you get a level of noise cancellation that comes close to what's offered by the brand's over-ear headphones, but the concession here is on sound fidelity, which just isn't on the same level as that of other in-ear or over-ear headphones we've tested. 
There's also that neckband which adds an unfortunate level of bulk to what should otherwise be a slimline pair of headphones. 
Read the full review: Bose QuietControl 30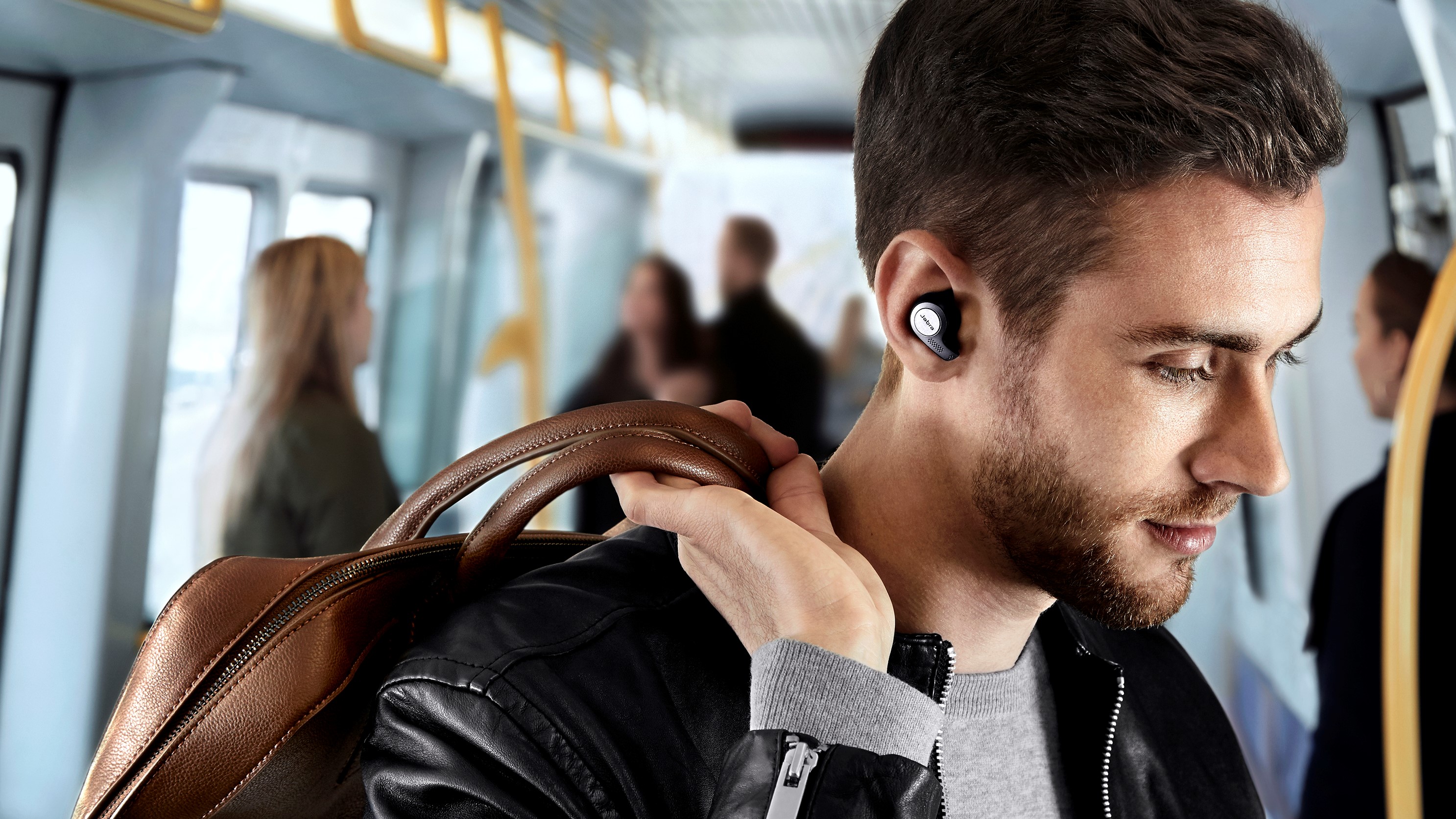 If you want a pair of high quality truly wireless earbuds that aren't the Apple AirPods, then the Jabra Elite 65t should be at the top of your list. 
After spending over a month with them, we came away impressed with the well-rounded package that Jabra managed to create: The earbuds offer a subtle, mature look and a reliable wireless connection, which isn't always the case with truly wireless earbuds. Plus, they sound great compared to the competition. 
If you only have the budget for one of these, go for the Elite 65t. 
Read the full review: Jabra Elite 65t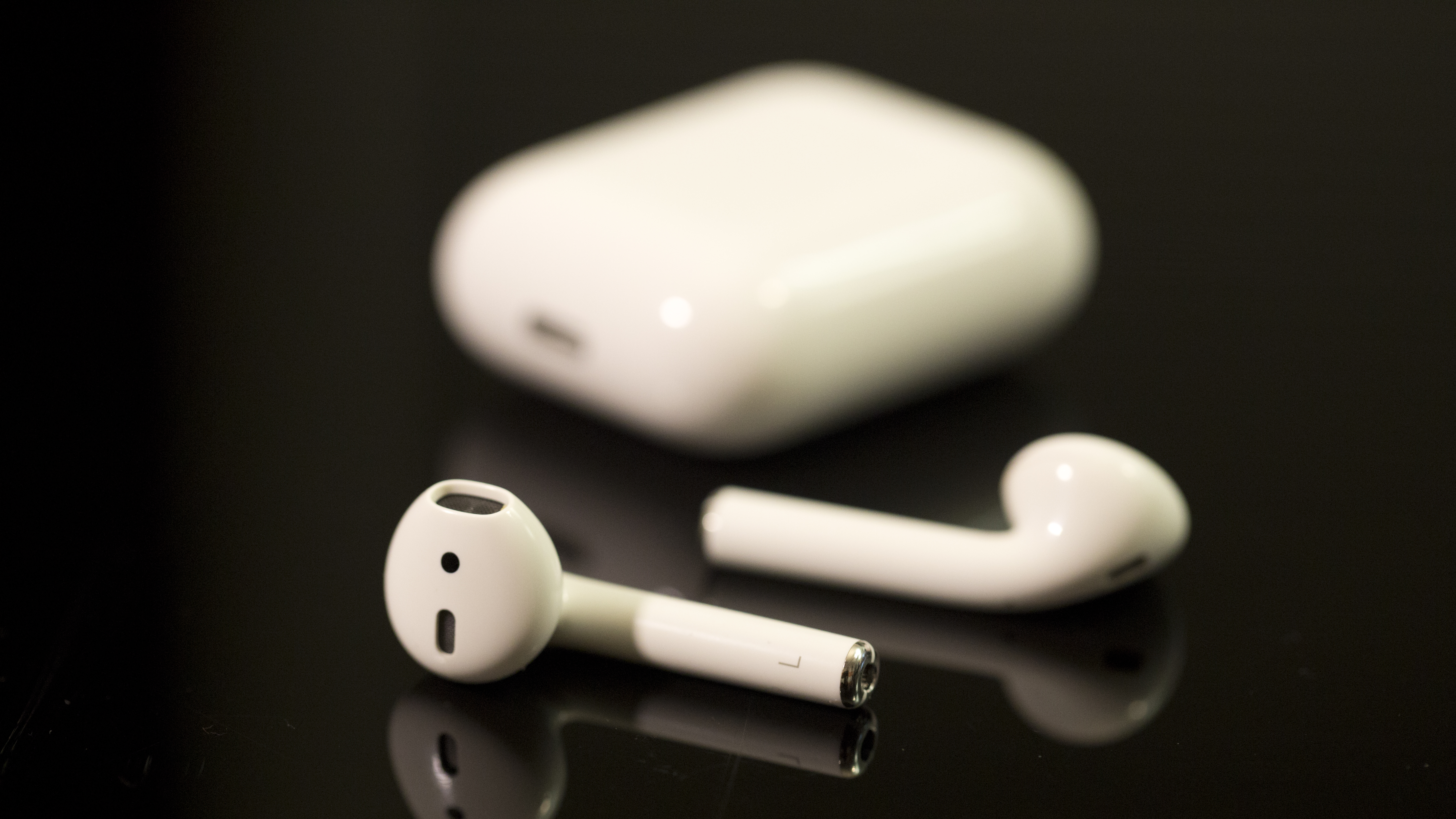 That being said, there's a lot to love about the second pair of true wireless earbuds on our list: The AirPods are the best sounding pair of headphones the company has ever produced, and pair very easily with your phone. 
But, while there are some definite benefits, we just can't give the AirPods the top spot on our list. Ultimately, their lack of in-line remote means that there are easier headphones to use while out and about, and Siri isn't a good enough replacement. 
They might not fall out as easily as we once feared, but they don't feel secure enough for their price or strong enough in the performance category to make up for this transgression. Maybe Apple's AirPods 2 can fix these issues in the near future. That said, diehard Apple fans will not be disappointed by Apple's first wireless earbuds. 
Read the full review: Apple AirPods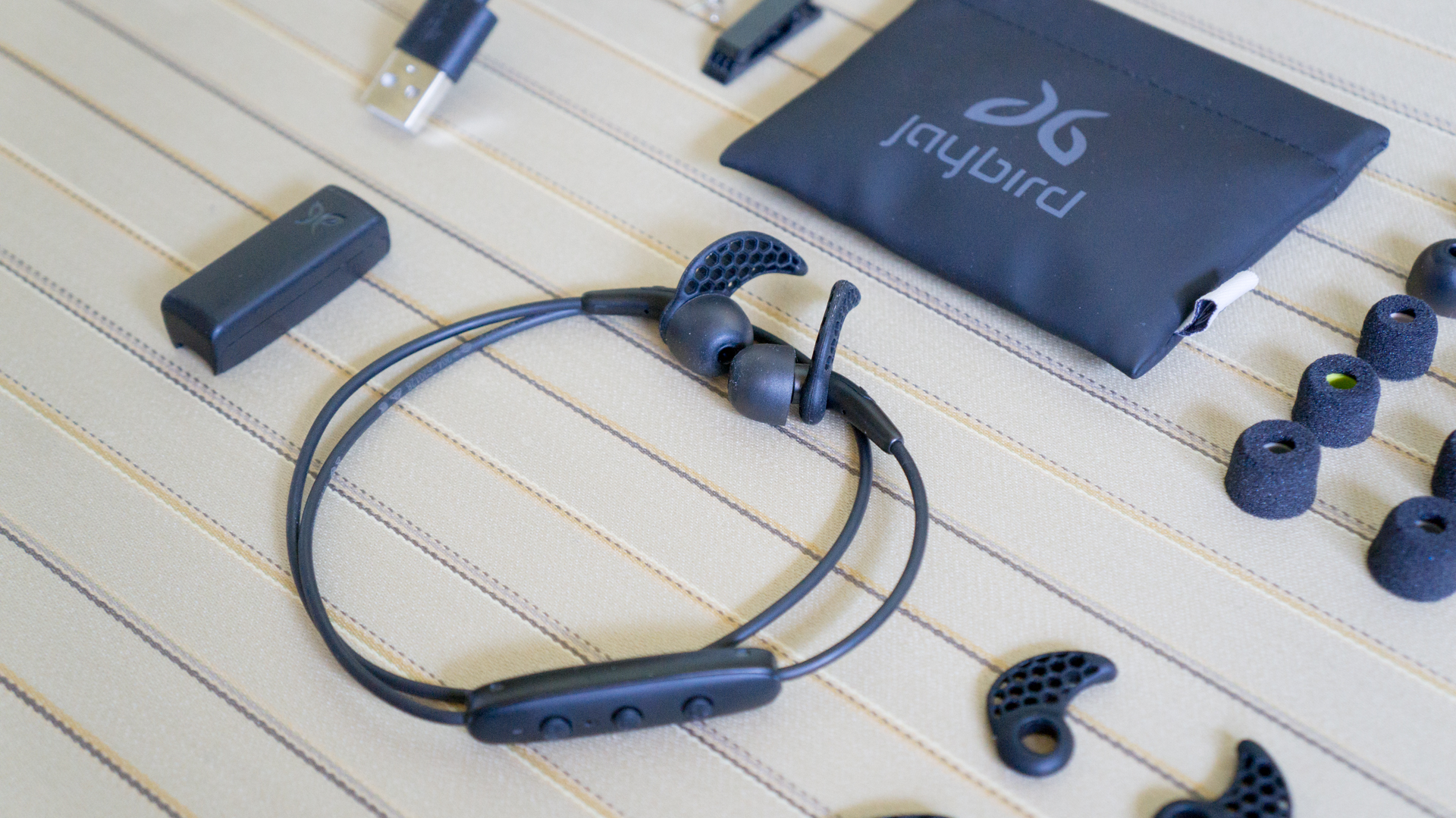 If you're looking for something stylish and don't mind compromising slightly on sound quality, the Jaybird Freedom Wireless is probably your best bet. Comfort and design are definitely high points for the Freedoms, and we especially liked being able to bring the EQ settings we setup on our phone wherever we went. Unfortunately, though, mediocre sound quality and a short battery life keep them from winning top marks.
Read the full review: Jaybird Freedom Wireless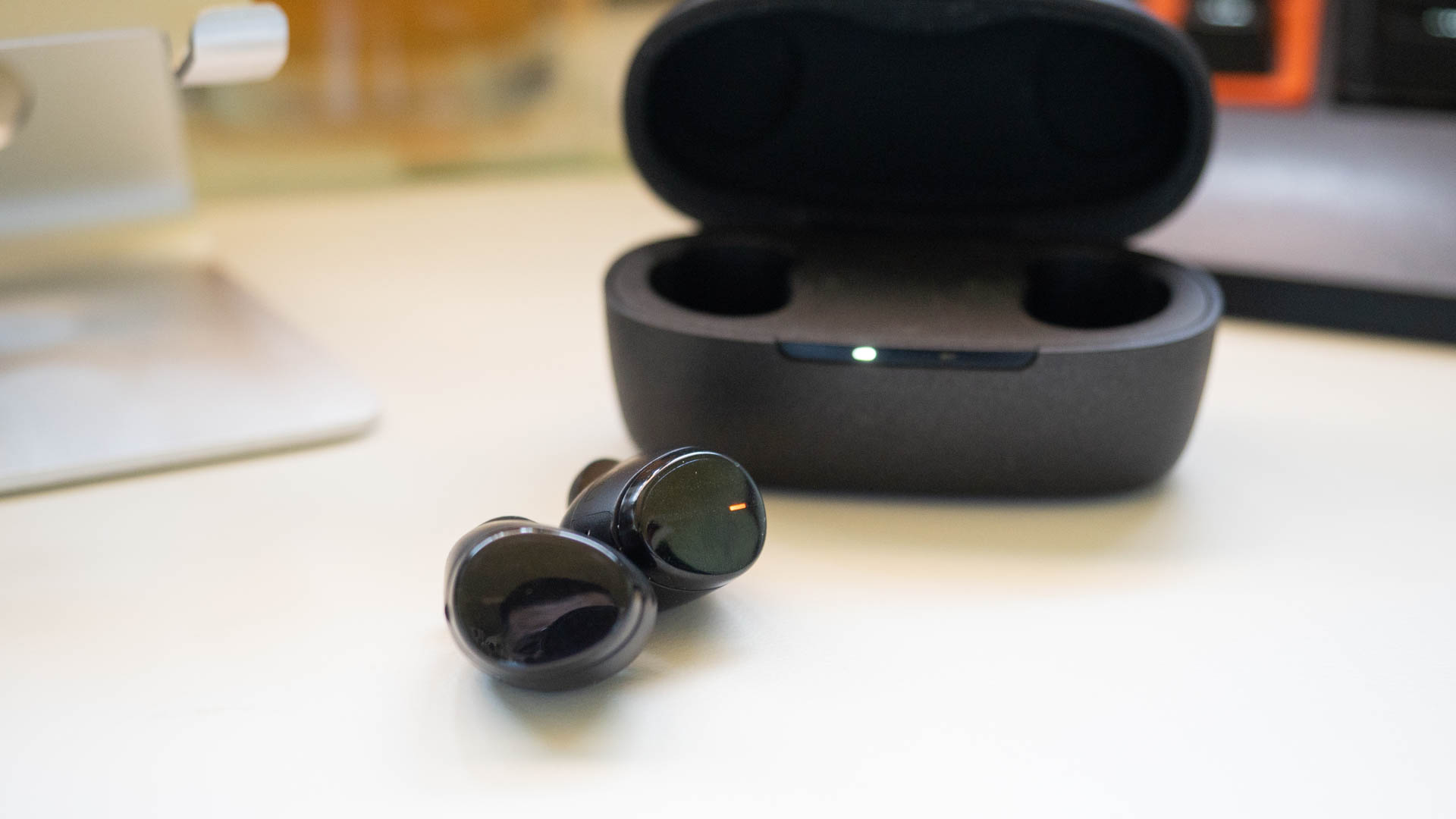 The NuForce BE Free5 wireless earbuds show just how accessible truly wireless headphones are today. For around $100 (about £75, AU$134) they feature a more polished design than the more expensive BE Free8, and even sound better to boot. However, we found the left earbud would drop out briefly more than we'd like, and we hope NuForce can address this issue.   
The connection dropouts combined with the frustrating controls keep it from claiming the top spot on our list, but the BE Free5 offer undeniable value in the truly wireless headphone market. 
Read the full review: Optoma NuForce BE Free5
Best e-commerce platform of 2018: get an online store now!
The rise of the web has allowed countless businesses to reach a wider market. Not only that, it has given rise to countless new online-only businesses, fueled by the exponential rise of mobile connections.
It's not surprising, then, that one analyst claims that the SMB e-commerce platform market will break the billion dollar barrier.
There's no doubt that the web provides a huge opportunity for companies, but it's important for organizations to make the most of that opportunity. In order to sell your products or services online, your website has to be appropriately equipped.
Building an online store from scratch is a mammoth task, and fortunately, an unnecessary one. Today, there is a huge variety of e-commerce platform packages from which to choose. 
Most e-commerce platforms will provide businesses with standard functionality such as the ability to showcase products in an online catalog, take payments online, manage customers and provide with after-sales.
Others will provide more sophisticated functionality, such as online marketing features, the ability to manage or integrate with in-store systems and the provision of APIs.
Which e-commerce software is best for your business depends entirely on your specific requirements. If you're an online-only outfit, then POS integration won't be necessary, but you may get a lot of business from overseas, in which case foreign currency support would be a requirement.
In this article, we're going to highlight some of the best e-commerce platforms available right now, before moving on to consider other options you might want to explore in terms of creating your own e-commerce solution.
The best e-commerce platform packages
Shopify is perhaps the most well known e-commerce platform available. It was set up in 2006 by founders Tobias Lütke, Daniel Weinand and Scott Lake who, as the story goes, felt that there wasn't a simple-to-use e-commerce platform available and so built their own. The company claims that: "You don't need to have any technical or design experience to easily create a beautiful online store." 
According to Shopify, it's possible to get one of its online stores up-and-running within minutes. Users can choose from a wide range of templates, or they can design the look and feel of their store themselves. It accepts a comprehensive range of credit cards, has Level 1 PCI compliance and 256-bit SSL encryption for security, and it offers 24/7 support via phone, instant messaging or email.
The platform provides a full CMS with which users can manage the functionality and layout of their online store. Users can manage their store on-the-go using Shopify's mobile apps, and the platform itself is fully responsive, meaning the store will be optimized for visitors regardless of whether they access it from a desktop computer or a mobile device.
Shopify also offers users unlimited hosting for their stores, in-depth analytics of how visitors are using the store, and functionality for marketing such as SEO optimization, a discount and coupon engine, gift cards and email marketing tools.

Bigcommerce was established in 2009 and promises to "support your business, not just your store." In addition to offering support via phone, instant chat and email, it also offers articles and videos to help with e-commerce, and access to a team of e-commerce experts who can provide advice and guidance about online selling. Their experts are qualified in both Google Analytics and Adwords.
Like Shopify, Bigcommerce provides a variety of templates and themes to help stores look their best and get up-and-running quickly. Alternatively, users can design their own store or use Bigcommerce designers to do so. The platform incorporates a full-featured CMS that allows users to run an entire website, rather than just a store.
Users can benefit from detailed and flexible product management, optimized search engine rankings, along with a variety of integrated marketing tools and analytics. Payments can be accepted via 40+ pre-integrated gateways and shipping details can be customized as per the business's requirements. The platform offers automated order processing, flexible tax rules depending on where orders are made and shipped, and support for multiple currencies.

Volusion has been around for almost two decades, having been set up in Texas over in the US in 1999. The company touts its platform as being an "all-in-one e-commerce solution", and offers a free 14-day trial (no credit card required).
As with other e-commerce platforms, users are offered a variety of templates from which to choose, and can also customize templates if they so wish. Should a more complex design be required, Volusion offers a custom design service that can incorporate branding and a firm's social media presence.
The platform provides the site and product management tools you'd expect, marketing functionality for SEO, social media, and affiliate outlets, along with emails and order management functionality for fast order processing, accepting payments, tax calculations and POS integration.
In addition to its platform and associated services, Volusion offers apps from its partners, support for users and a knowledge-base for help with e-commerce. Users can draw upon blog posts, guides and webinars.

CoreCommerce was set up in 2001 and focuses on providing e-commerce services to small and medium-sized businesses. The company places an emphasis on simplicity and transparency, promising that its platform is easy-to-use and that customers will not fall foul of any hidden charges.
Perhaps CoreCommerce's most unique aspect is that all of its features are offered to all customers regardless of what plan they are on. Price plans are determined by the number of products, the number of email addresses, the amount of bandwidth and the amount of storage required by the user (and higher-end plans also benefit from additional support).
As with other e-commerce providers, CoreCommerce offers functionality for store design, product management, order processing and marketing. Of its headline features, the platform offers unlimited product customization options, a built-in blogging engine, and secure hosting that is provided by Rackspace and comes with a 99.9% uptime guarantee.

Having been founded in 1997, 3dcart is the oldest of our featured providers here. It was set up with a view to incorporating as many of the most requested e-commerce features into one platform as possible.
The company says it has six core values by which it operates: ongoing innovation, good service, simple solutions, fostering trust, keeping employees and customers happy, and stimulating prosperity amongst employees and customers.
Some of the platform's innovative features include a module that users can install to offer gift-wrapping, a purchase order system, the option of running a loyalty program and the ability to offer recurring orders. Many of these features are very specific, meaning that stores can be highly tailored to the needs of each business.
Stores can be designed using one of the many templates offered by 3dcart, or users can design their own store. A quick edit bar means that making changes to the design of a store is simple. Product images are fore-fronted with 3dcart's auto-zoom feature and products can be sold via Facebook with its store integration. As with some other platforms, users can blog directly from 3dcart and tools are provided for setting up coupons, sending newsletters and affiliate marketing.
In addition to its platform, 3dcart offers a number of professional services. Users can request help with SEO, PPC, shopping feed management, social media, Facebook ads and conversion consulting. Help can also be provided to ensure that a user's store is set up to the highest standard. Services such as site cloning, setting up custom tracking, data migration and training are offered.
In addition, 3dcart can provide SSL certification. Hosting is guaranteed at 99.9% uptime and 24/7 support is provided via phone, email or online chat. You can test out the service with a 15-day free trial.

Also consider:
Alternative means
If you don't want to go the route of using an off-the-shelf package, what other options are available for you to explore? That's what we're going to look at in the second half of this piece…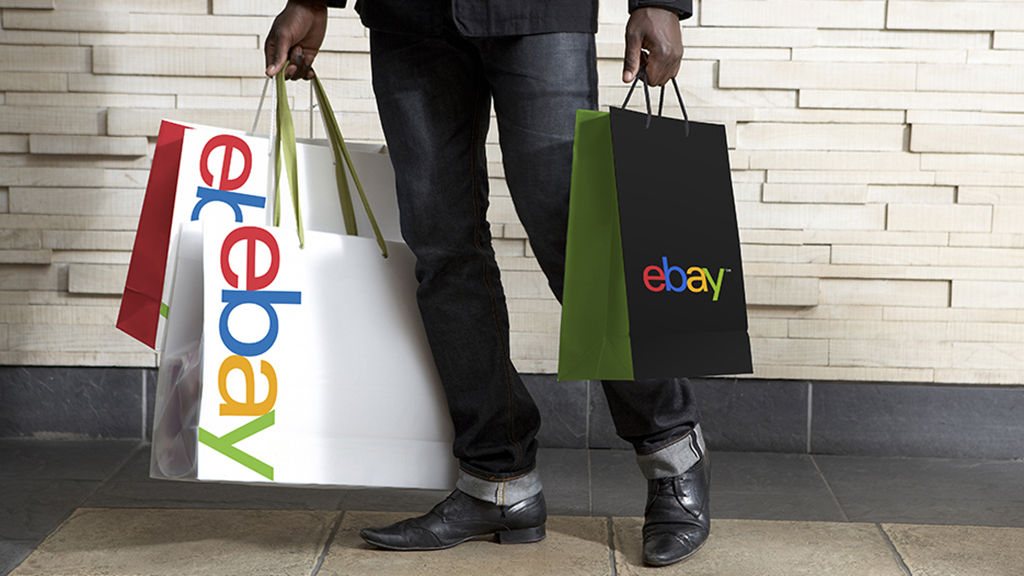 Is eBay right for your business?
Opening its doors in 1999, eBay UK now has over 14 million users, with over 10,000 people using the site for a business that is their primary means of income. It's not just about people selling unwanted goods - businesses have used the simplicity that eBay offers to set up lucrative operations. Even the larger brands such as Argos, Debenhams and House of Fraser are using eBay to sell online.
With sophisticated tools now available you can be up and running with your store in just a few hours. The eBay Seller Centre has all the information you need. Each store is managed via eBay's familiar user interface, and there are a number of eBay-provided tools to help manage, track and promote your shop once it's established.
Using eBay as the platform for your business could be ideal if your business wants to sell goods on a fixed price basis. The complete integration of the PayPal e-payments system into eBay takes care of this essential component of your store.
The key with eBay is to look closely at the costs involved and also the transaction fees that PayPal charge before moving forward and setting up your own store.
How to create your own e-commerce solution
Of course if you want complete control over every aspect of your new online store, building each page yourself will be the best course of action. Hiring someone to code your website is one option. If you decide to do this follow these steps:
Ask the company for live examples of their work to look at
Write a detailed brief of the site you want created. The more detail the better to avoid confusion
Ensure you understand the price you are being charged and how many revisions this price includes
Always have a signed agreement or contract before work commences
Ask whether the designers will host your site and if you will be able to make updates yourself or if all updates must go through the design agency at an additional cost
Ask for the copyright of your design to be assigned to your company, as your website is an important part of your business' intellectual property
Put into your contract, details of how the agreement can be amicably dissolved if things go wrong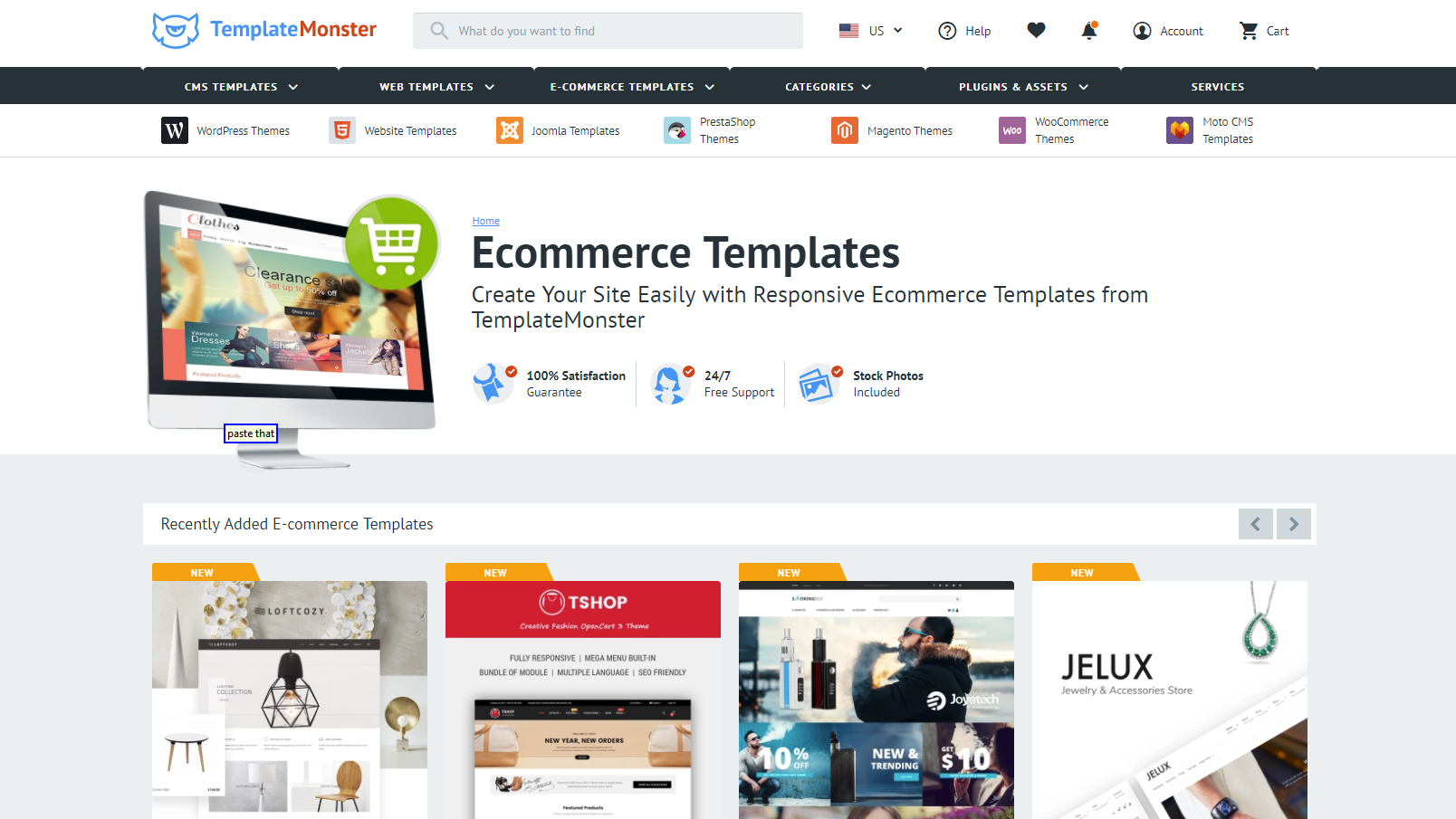 You also don't have to build your site completely from scratch. Buying a template can give you all the basic pages your site needs. You can then either modify them yourself using an application like Dreamweaver, or hire a coding expert to make the changes. Website templates are available from a number of vendors including Template Monster.
If you already have a website and want to add e-commerce functionality, this can be easily achieved with a number of applications including:
Final advice
Whichever route you decide to take when building your website always remember:
You need to ensure your store can be easily updated and managed.
Good professional web hosting is vital to ensure your site is always available.
Look for payment and shopping carts that are intuitive and efficient to use.
Customer service is king these days. Businesses shouldn't just efficiently take customers' money, but should also properly support them.
Make sure that your store is fully integrated with all the leading social media sites.
Put security first – shoppers are now more comfortable buying online, but always ensure your site uses SSL (Secure Socket Layer) which is now the industry standard for online payments.
Above every other consideration should be your site's visitor experience. Don't forget your competitors are just a mouse click away in the world of e-commerce. 
Setting up your online store should be approached carefully and diligently to ensure you put a professional and efficient site live. Internet shopping continues to expand. Make sure your business doesn't miss out on a sales channel that shows no signs of slowing down.
Google's first-party smart display could hit right before the holidays
If there's one thing missing from Google's lineup of smart speakers, it's a smart display device. Amazon has one in the form of the Amazon Echo Show and while Google has partnered with the likes of JBL, Lenovo and LG to create a potential competitor, Google has yet to offer a smart display of its own design. 
But that could change in the very near future.
According to a new report from the Nikkei Asian Review, Google could have a smart display in the works that will arrive en masse before the end of the year. 
The rumor came to Nikkei by way of one of Google's supply chain providers who claims that Google is planning on shipping around 3 million of these speakers before the holidays – a tall order for a product that has yet to even be officially announced. 
Taking a page from the Google Playbook
That said, Google did something similar with the Google Home Mini wherein it announced the speaker at an October 4 press event back in 2017 before releasing it a scant two weeks later. The speaker then had a major price cut around the holidays where it went toe-to-toe with the Amazon Echo Dot. 
If Google truly has a smart display of its own, there's a very good chance it could follow the same release schedule as the Google Home Mini followed one year ago.
Intel Coffee Lake Refresh leak reveals new S-series performance processors
We pretty much have the full picture of the upcoming Intel Coffee Lake Refresh, thanks to slides from leaked presentation.
The 9th generation Intel Coffee Lake Refresh processors will purportedly launch in October with three models, including the Core i9-9900K, Core i7-9700K and Core i5-9600K, according to documents submitted anonymously to Videocardz.
What's more, we have a complete list of specs for each of the processors:
Core i5-9600K: 6-cores, 6-threads, clocked at 3.7GHz to 4.6GHz
Core i7-9700K: 8-cores, 8-threads, clocked at 3.6GHz to 4.9GHz
Core i9-9900K: 8-cores, 16-threads, clocked at 3.6GHz to 5.0GHz
All of Intel's 9th Generation CPUs will supposedly feature a 95W thermal design power (TDP), or how much power it can draw from the power supply– surprisingly, including the Core i9 octo-core part – with support for up to 40 lanes of PCIe, DDR4-2,666MHz memory and a new Z390 chipset. Coffee Lake Refresh CPUs will still supposedly be compatible with all Intel 300 series chipsets though.
The documents also show Intel's first mainstream Core i9 octa-core CPU has been given a special S-series designation and the company's first soldered head spreader (called the Solder Thermal Interface Material) in a very long time. For the last several generations, Intel's chips have only made use of internal layer of thermal compound to transfer heat from the processor dies to the exterior heat spreader, much to the derision from enthusiast PC builders and overclockers.
Out of all the recent leaks, these look like the closest thing to the actual slides we would see during a briefing. The rumored details are both exciting and disappointing because October is so far away. Be sure to stay locked to TechRadar as we'll report on any new developments as they come.
5 reasons why now is a great time to bag a big-data SIM only deal
You made a bit of a mistake two years ago didn't you? You saw that super-cheap [insert name of handset here] contract phone deal and you snapped it up, feeling very pleased with the bargain you'd bagged. The 1GB data allowance didn't matter, you told anybody who would listen, as you didn't really use your phone away from Wi-Fi anyway.
But then you signed up for that Spotify Premium account, didn't you? No matter – streaming Ariana Grande on repeat doesn't use up that much data. And then your commute got a bit longer, so you had to start rationing episodes of Stranger Things on Netflix. Eventually you stopped downloading podcasts away from the house, as that really jacked up the data usage – and you don't even think about live streaming Premier League football.
We know, we know – life can be hard. But now your contract has finally come to an end, and you can make a better decision. It's time, as they say, to go SIMO.
Luckily, now is a fantastic time to pick up a SIM only deal, especially if you want to rectify your bad data decision of 24 months ago. Big data is the in-thing, and we'll guide you to some of the best SIM only contracts on the market.
After all: "The quality of decision is like the well-timed swoop of a falcon which enables it to strike and destroy its victim." Not the words of The BIg Deal, but of Sun Tzu – and he knew a thing or two about getting the best SIM only deal... probably.
1. Three's award-winning SIM only contract is still available
The 2018 Mobile Choice Consumer Awards are almost upon us (can it really have been a year since the last one!?), and we'll wait eagerly to see who wins Deal of the Year. Last year's inaugural winner was Three's incredible 30GB data SIMO for £18.
That tariff disappeared for a few months earlier this year, but now it's BACK. So not only do you get all that lovely data and unlimited calls and texts, but Three's Go Roam promotion also means you get to use them in 71 countries. Plus, you get weekly freebies and discounts from Three's Wuntu rewards app.
You can get this award winning SIM only deal from Three here
2. Giffgaff's Always On goodybag gives you unlimited data
Imagine never having to check your data use again. Trust us when we say that it's as liberating as a winter skinny dip in the English Channel, only with less pneumonia. Well, Giffgaff's Always On plan is currently the cheapest way to get an unlimited data SIM deal.
You won't have to break the bank to get it, as Always On costs £25 per month. The only thing you have to watch for is that Giffgaff starts restricting your speeds at peak times once you've gone over the 20GB mark in a month.
Head to Giffgaff to get all-you-can-eat data with Always On
3. SIM only on EE just got cheaper for big data
To be quite honest, we don't often recommend EE when it comes to SIM only contracts. We find that the network relies on the fact that it can provide the UK's fastest 4G coverage to bring in the punters, rather than cheap SIMO prices.
So what's changed? We're glad you asked. EE has just dropped a phenomenal 40GB SIM plan for a mere £25 per month. That's stonking value, bearing in mind those rapid 4G speeds.
Get this deal online either direct from EE or from Carphone Warehouse
4. Vodafone just improved its perks
We've enjoyed Vodafone's Red Entertainment plans for a while now. These premium tariffs have given you the choice of a free subscription to Spotify Premium, NOW Entertainment TV or the Sky Sports app.
But Vodafone has recently added Amazon Prime Video as an extra choice, as well as adding 29 new destinations to its free roaming perk, including the US, Canada, South Africa and Australia.
And like EE, Vodafone also has a 40GB for £25 deal that should be very tempting indeed. While retailer Mobiles.co.uk has launched some fat cashback offers, getting you £108 back by redemption or £80 automatic cashback on their identically priced SIMO deals.
Head here to check out all of Vodafone's SIM only plans, including Red Entertainment
5. Virgin Mobile just went big on 100GB
Virgin Mobile really knows how to keep us on our toes. Some of the special limited-time SIM only 'Flash Sales' it produces are well worth shouting about, and its August offer is no different – it's offering 100GB of data for a mere £20 per month.
There's a limit on calls, but 5,000 minutes a month should still be sufficient for even the most ardent chatterboxes. And if you decide a few months in that you were blinded by all that data and don't really need 100GB, Virgin's flexible plans mean that you can make a change.
Get 100GB of data for £20 per month from Virgin Media
If you want to discuss, debate or deliberate any phone deals news and views with The Big Deal, then head over to our @TRDeals twitter feed – you'll also find the latest offers on phones, TVs, consoles, broadband and more tech.
What camera should I buy? Use our step-by-step guide
You only have to go into a high-street retail store or look online to get an idea of the sheer number of digital cameras on the market. There are so many brands, types and technologies now available, with each one claiming to be the best (of course!), that it can be really difficult to make sense of it all.
But it's possible to break all these competing cameras down into a few basic types, and once you do that it becomes much easier to figure out the kind of camera that's right for you. 
That's what we've done with our expert guide, and you can follow the links at the bottom of the pages to find which is the best camera currently available in each category.
So we'll start with the basics and work up through the more advanced cameras to the types the professionals use. But you don't have to stay with us all the way. Treat this guide like sightseeing tour – when you've got to where you want to go, just step off the bus!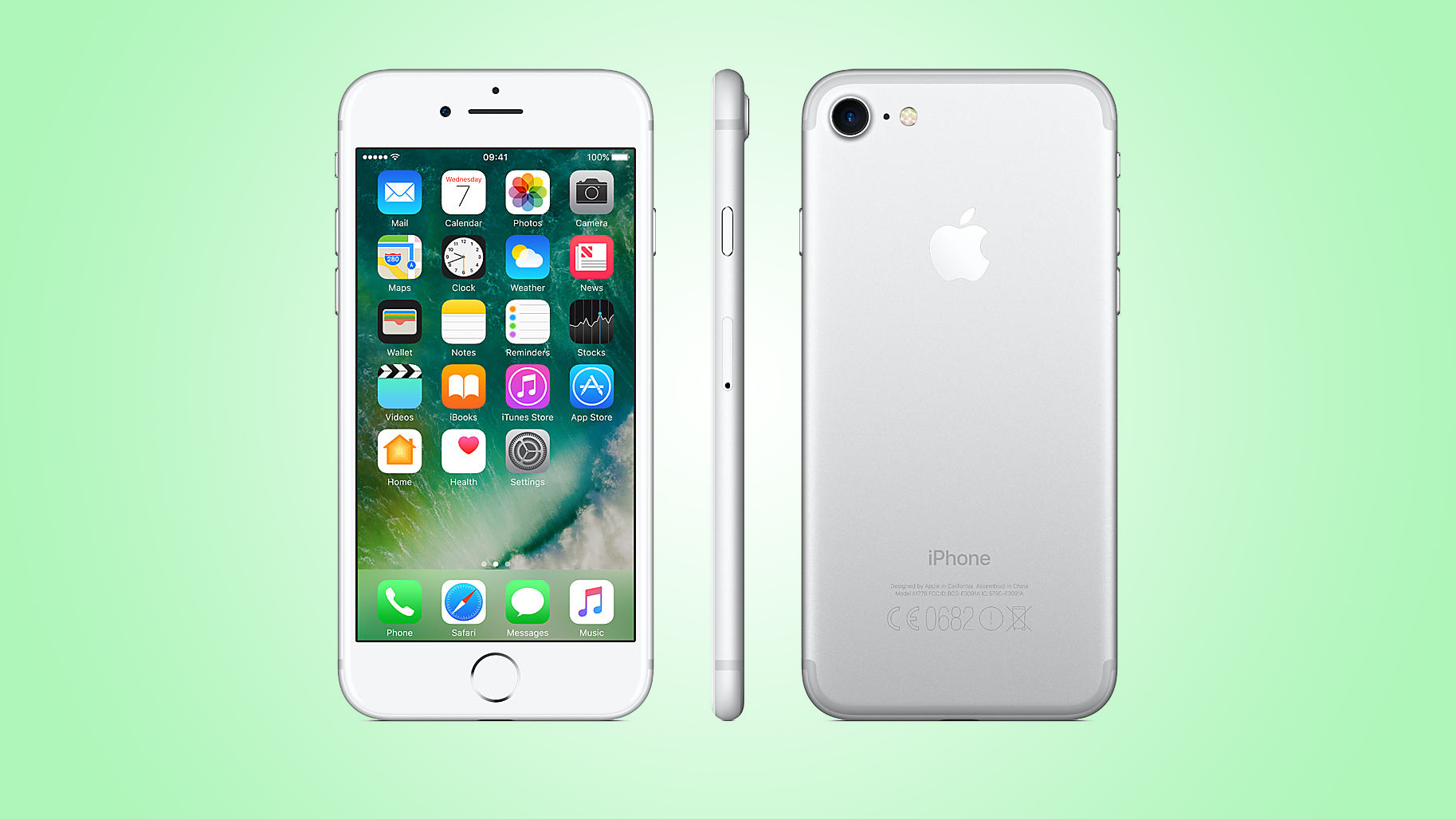 Is a smartphone as a good as a regular point-and-shoot compact camera? Apart from not having a zoom, it almost certainly is.
There's nothing wrong with the cameras in smartphones. The best smartphones have really good cameras built onto, even if they don't have quite the same impressive amount megapixels as dedicated digital cameras. 
The thing to remember though is that it's not all about the amount of megapixels you have – a smartphone with a 8MP camera or above is all you need to produce sharp, detailed shots for Facebook and Twitter, while you can even produce moderately-sized, decent quality prints to hang on your wall if you get a shot you really love.
Take the iPhone 7, for example, with its 12MP camera and easy to use controls, it can produce shots every bit as good (better, often) as a regular point and shoot compact camera.
This is also the camera you'll probably have with you all the time, and the one you'll rely on for capturing your life as it happens, with these photos often ending up as the pictures you will value most in the years to come.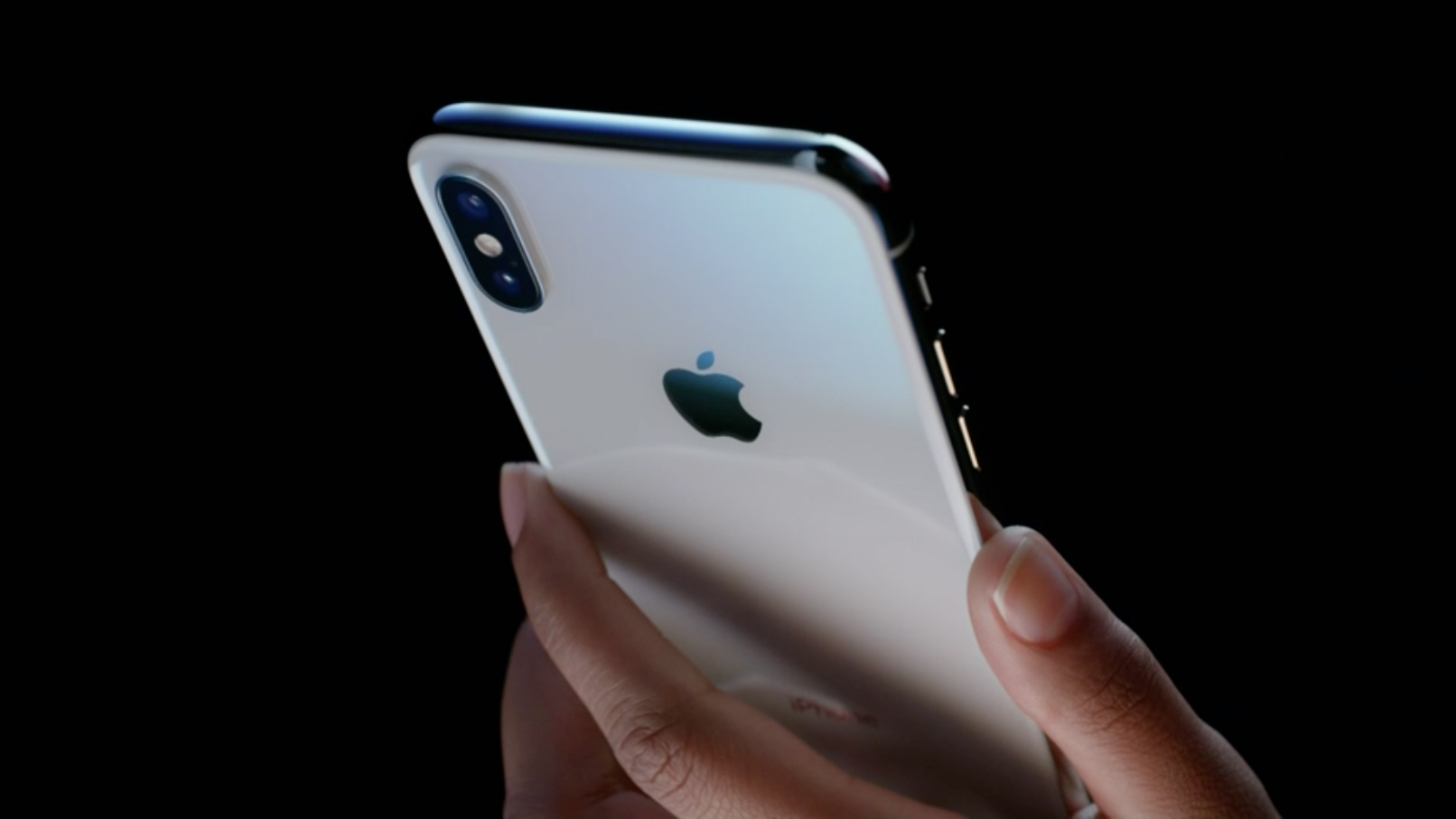 Pros: It's the camera you always have to hand, the results can match those from a regular point-and-shoot compact camera, you can share instantly to Facebook, Twitter and Instagram, you can get apps with amazing effects and additional tools and they can be easy to use.
Cons: In most cases you get a fixed focal length lens – you can't zoom in on distant subjects; the fixed lens is often a wide-angle - great for selfies and getting loads in the frame, but not for flattering portraits; smartphones aren't so easy to hold; limited control over shooting settings.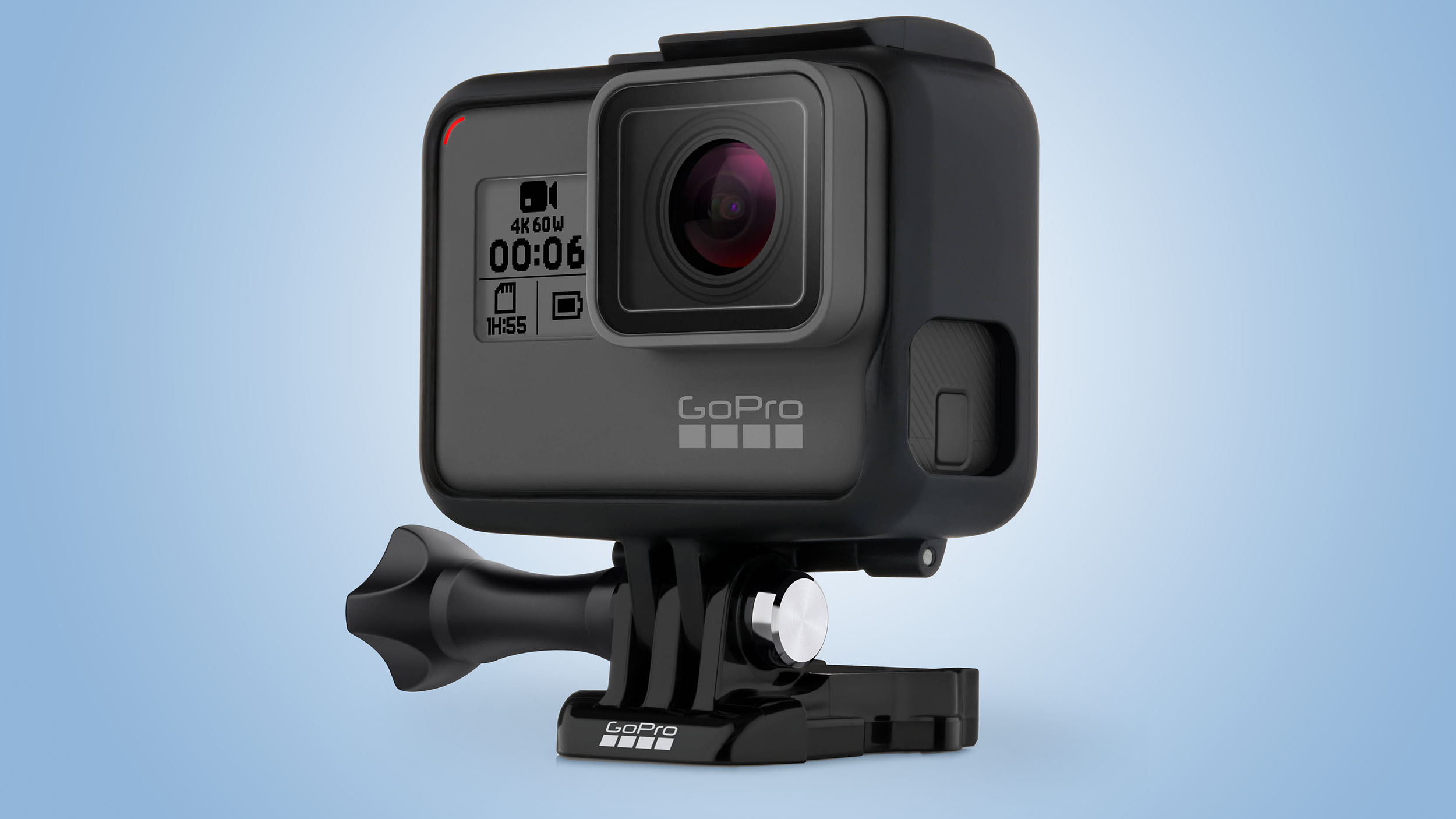 If you want to capture your life's adventures, maybe you need an action cam, not a regular point-and-shoot camera.
You can overcome the limitations of your smartphone's camera easily enough with a 'proper' camera, but just before we look at these in detail, there's another option to consider – action cams. If capturing your life's adventures is your thing, why not do it with video, not stills? 
Action cams are tough and simple to use, and come with a whole range of different mounts so that you can attach them to handlebars, skateboards, helmets, the dashboard of your car… even your pet!
They've been popularised by the GoPro Hero range, but there are now dozens to choose from, including bullet-style cameras to fit to the side of a helmet, say.
Action cams shoot good-quality Full HD footage (some, like the Hero6 Black can even shoot 4K) through fixed focal length wide-angle lenses. Some are completely waterproof, while others come bundled with waterproof housings.
Action cams are the complete antithesis of traditional camcorders – they're so cheap that you don't mind giving them a battering, they're small enough and light enough not to get in the way, and they're so simple that all you need to know is how to press a button.
Pros: Cheap, tough and simple, surprisingly good Full HD movie quality (in some cases 4K), you can mount them on practically anything.
Cons: Fixed wide-angle lenses mean there's no zoom capability,  while there's little control over exposure. Stills are snapshot quality only.
Our pick... GoPro Hero6 Black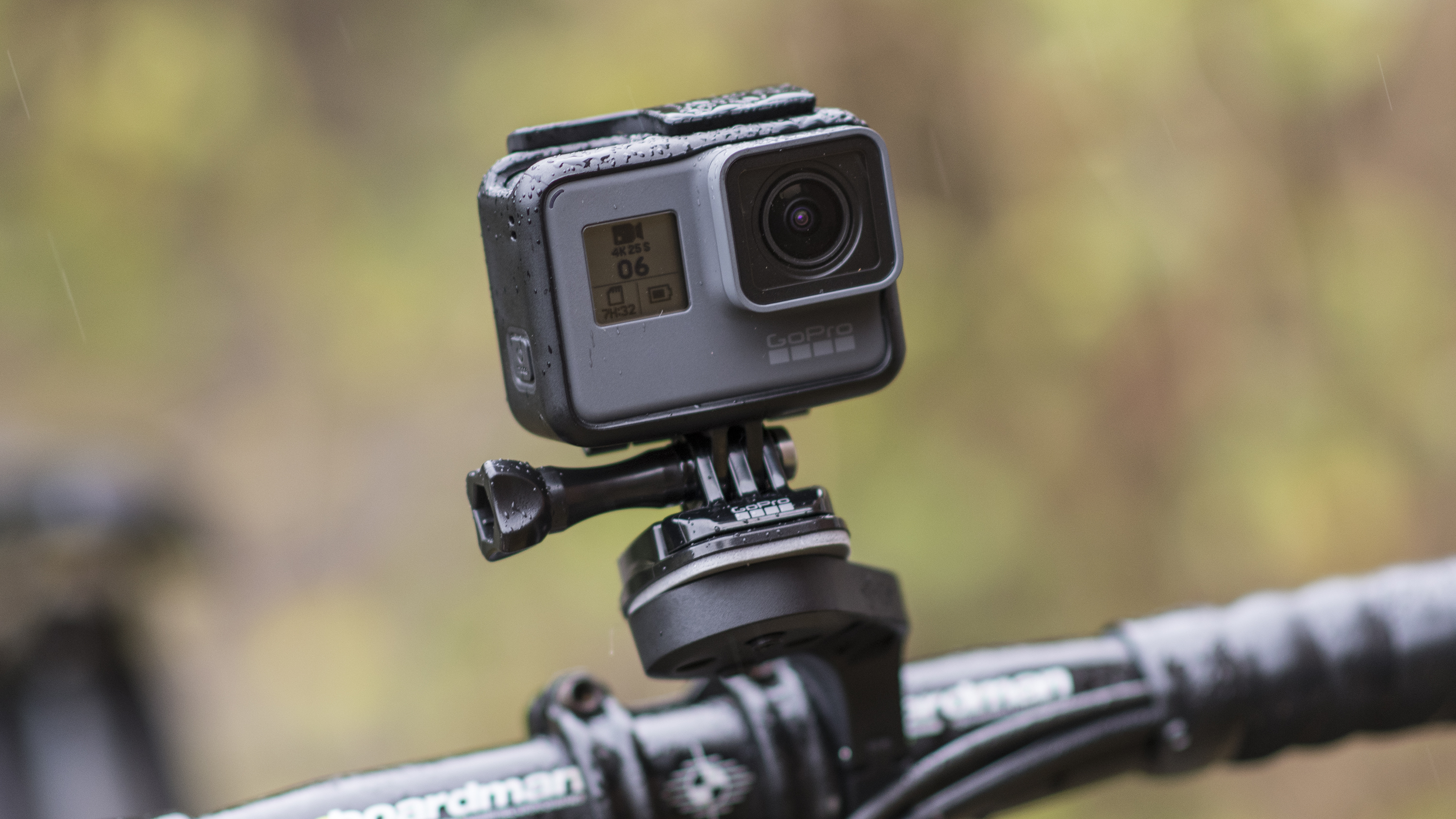 The Hero6 Black builds on the excellent Hero5 Black (which is still available at a more affordable price) and is a great reminder of why the name is so revered. Shooting buttery-smooth 4K footage, the Hero6 Black is waterproof down to 10m, easy to use and allows you to share footage quickly thanks to the QuikStories that automatically transfers and edits your footage for you. If you want the best action camera, this is it. 
Read our in-depth GoPro Hero6 Black review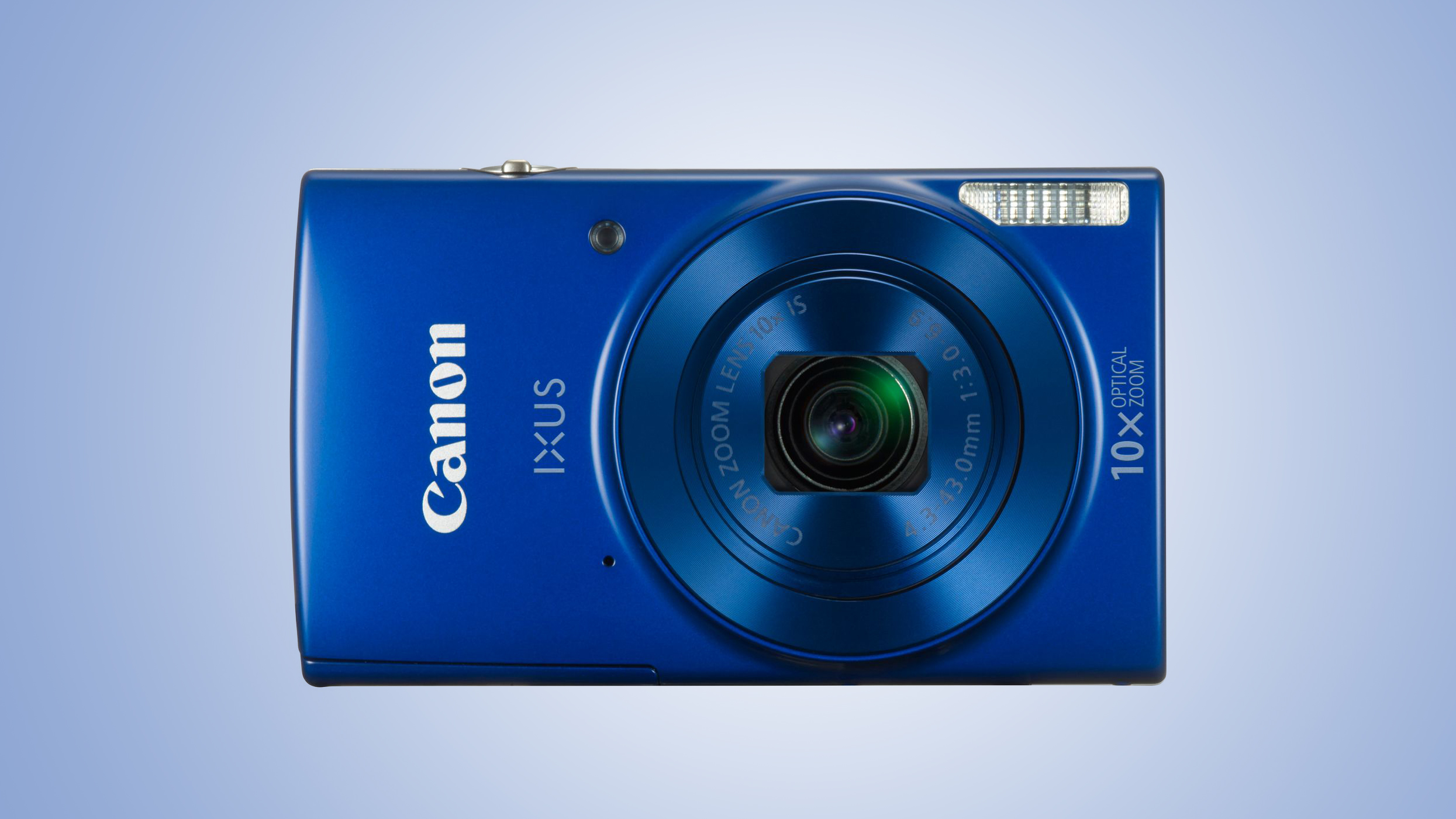 Cheap point and shoot cameras might look like an easy upgrade from a smartphone, but they have limitations of their own.
So assuming your smartphone doesn't offer the versatility you need, and that you're into decent quality stills rather than immersive action video, then a regular digital camera is the way to go.
Point and shoot compact cameras are cheap, and they come with zoom lenses and more control over exposure, white balance, focus and other settings than you'll get with a smartphone.
The zoom lens is the killer feature. Smartphones offer 'digital' zooms, but that's not the same at all, because these simply crop in on a smaller area of the picture, so you're losing resolution. Typically, a cheap point-and-shoot compact will have a 5x zoom which goes wider than a smartphone lens – handy for cramped interiors and tall buildings – and much longer, so that you can fill the frame with people and subjects when they're further away.
But the picture quality isn't necessarily better. Cheap cameras have cheap lenses, which can produce mushy definition at the edges of the frame or at full zoom, and the sensors are not much larger. Sensor size is a key factor in picture quality, as we'll see later on. Point-and-shoot cameras typically have 1/2.3 inch sensors, which are about half the size of your little fingernail, and scarcely larger than those in a decent smartphone. Forget about megapixels – the sensor size is what limits the image quality.
Pros: Versatility of a zoom lens; much more control over exposure, color and focus; easier to hold.
Cons: Quality often no better than a smartphone, sometimes worse.
Our pick... Sony Cyber-shot WX220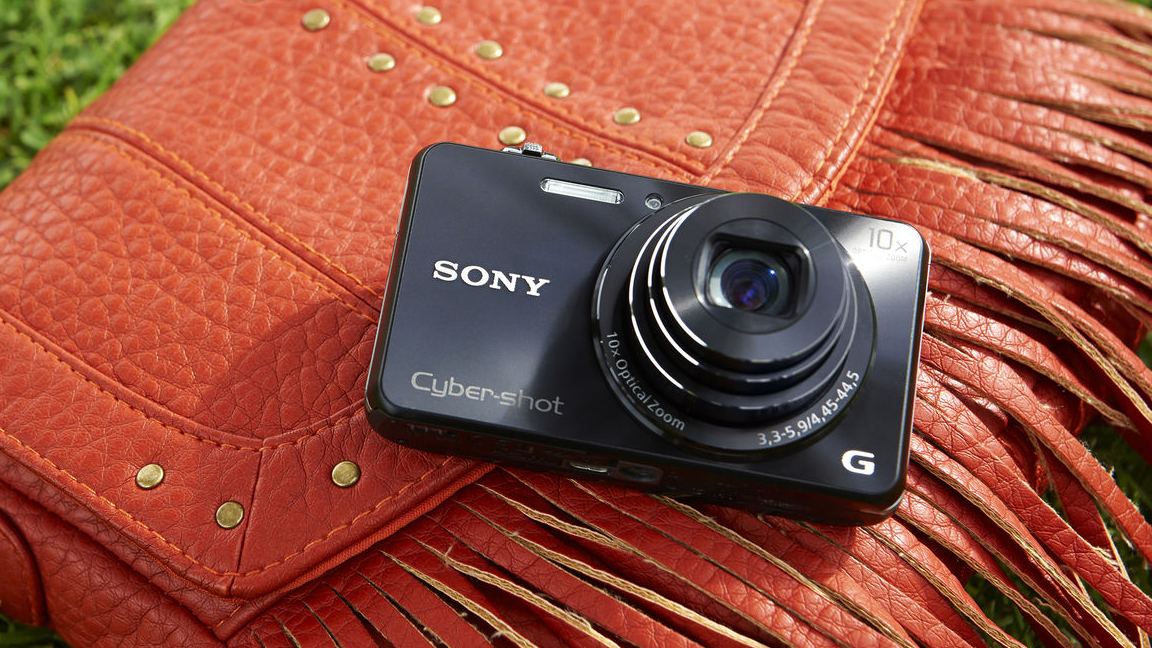 If you're wanting a compact camera that can do a better job than your smartphone the Cyber-shot WX220 ticks a lot of boxes, especially when you consider the extra flexibility offered by the 10x optical zoom, running from 25-250mm. Images are bright and punchy, with decent detail – ideal for sharing online or printing at typical sizes – while it's nice to see Wi-Fi connectivity included as well. The 2.7-inch screen is a little on the small side, but that does help to keep the dimensions of the camera to a pocket-friendly size. The WX220 may not have lots of bells and whistles, but what it does do, it does well.
Read our in-depth Sony Cyber-shot WX220 review
Travel compacts, or 'long zoom' compacts, give you point and shoot simplicity but a much longer zoom to capture a wider range of subjects.
A cheap point-and-shoot compact is a relatively small step up from the camera in a smartphone, but long-zoom 'travel' compacts take their main advantage – the zoom lens – a whole lot further. A 'travel compact' is essentially a point-and-shoot camera but with a much, much longer zoom range, typically 30x.
The idea is that you have a camera that still fits in your pocket, but has such a colossal zoom range that you can photograph practically anything, from beautiful landscapes to far-off landmarks.
After all, when you go on vacation you want a camera small enough to go in a pocket so that it doesn't get in the way when you're doing other things, but versatile enough that you won't miss any once-in-a-lifetime photos.
Travel compacts have the same size sensors as point-and-shoot compacts, but this is changing, with models like the Panasonic Lumix ZS100 (known as the Lumix TZ100 outside the US) getting larger 1-inch sized sensors, while the lenses are generally better quality, quite apart from their increased zoom range. Some have more advanced exposure modes for controlling the shutter speed and lens aperture independently, and may even capture RAW files for higher-quality processing back on the computer. Some, like the Lumix TZ100 / ZS100 again, even have built-in electronic viewfinders.
If your budget can stretch to it, a long-zoom travel compact is almost certainly a better bet than a cheaper point-and-shoot model. You gain a lot and sacrifice nothing.
Pros: Massive zoom range that copes with almost any kind of subject; quality generally slightly higher than a point-and-shoot compact; may have more advanced controls.
Cons: More expensive; still uses a small sensor (with some exceptions) which limits the ultimate picture quality, especially in low-light conditions.
Our pick... Panasonic Lumix ZS200 / TZ200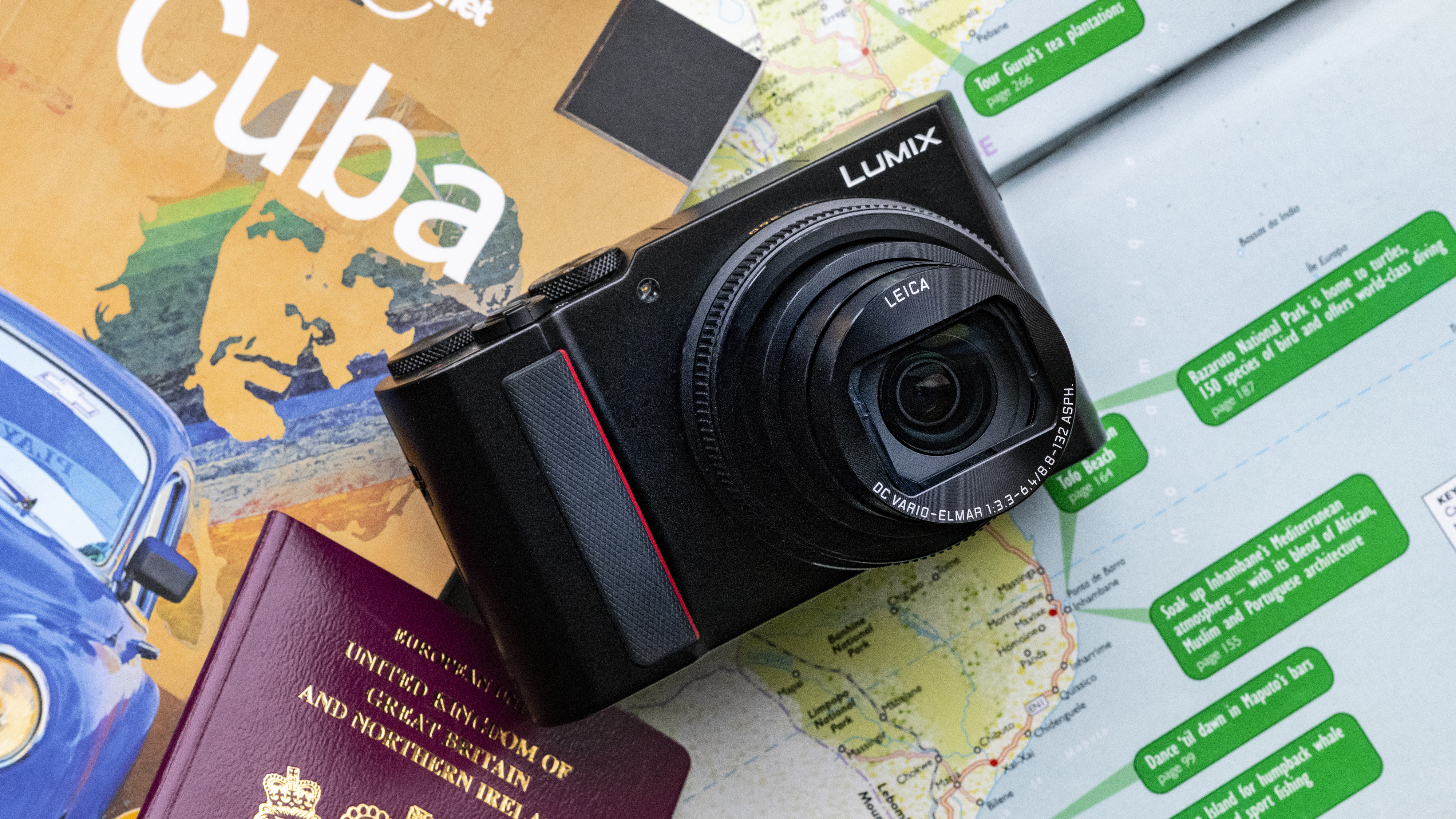 It might not have the longest zoom range for a travel compact camera, but Panasonic's Lumix ZS200 (known as the Lumix TZ200 outside the US) is our pick of the travel compacts. Panasonic has managed to squeeze a much larger sensor into the ZS200 / TZ200 enables the pixels to be about 2.4x bigger than they are in models like the Lumix ZS70 / TZ90 and helps the ZS200 produce much higher quality images. The 15x zoom ranging from 24-360mm might look limited compared to some rivals, but the optics are decent and for general photography, you shouldn't need anything more. You also get an electronic viewfinder that makes it easier to compose images in bright sunny conditions and 4K video recording. It all adds up to be a powerful, if pricey option.
Read our in-depth Panasonic Lumix ZS200 / TZ200 review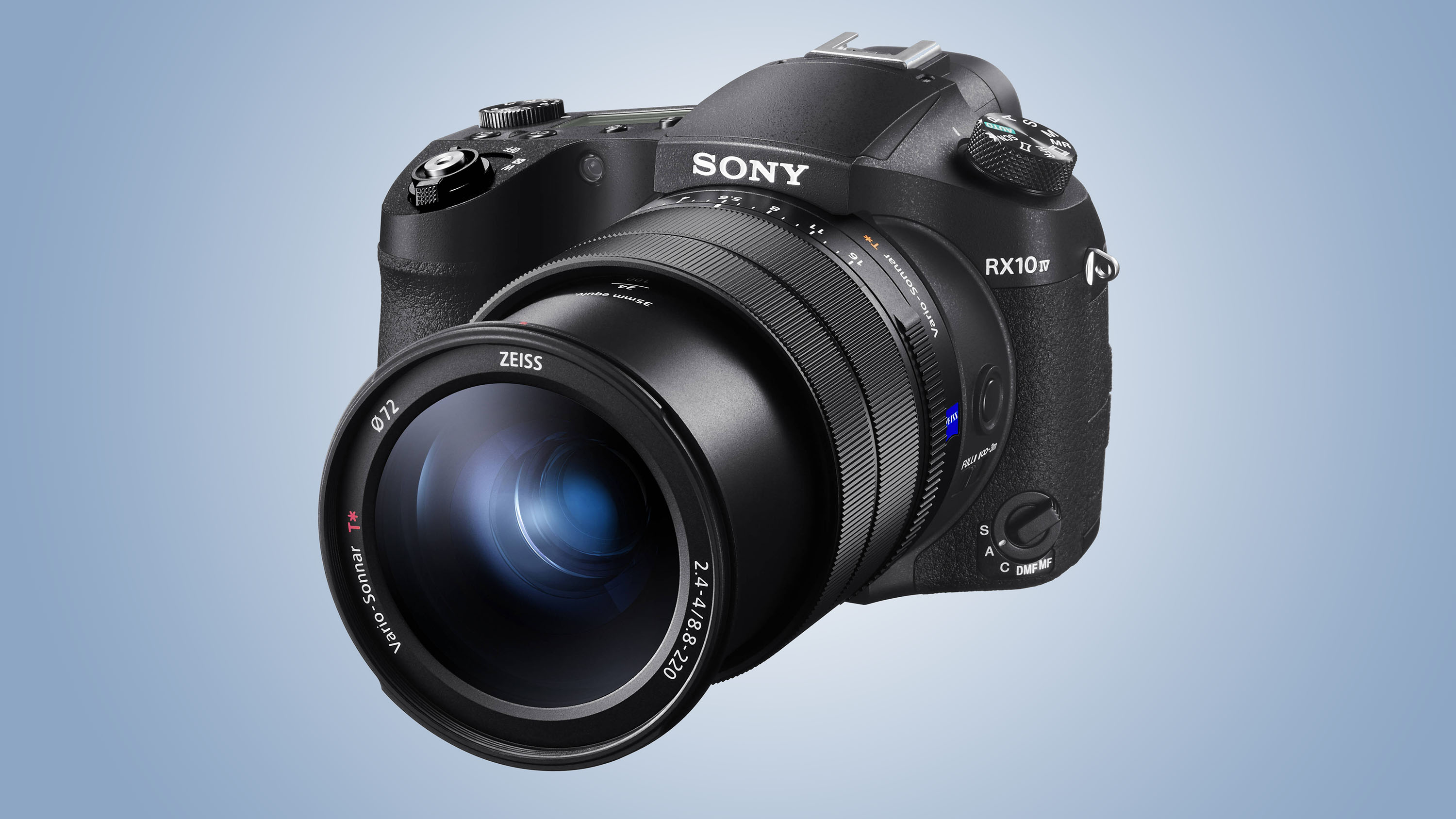 Bridge cameras have DSLR-style controls and massive zooms, but image quality isn't a strong point unless you want to pay a premium.
If the size of the camera isn't important but you like the idea of a do-it-all camera with a super-long zoom lens, then a 'bridge' camera is the next logical step.
The name 'bridge camera' comes from the way these cameras are designed to bridge the gap between a regular compact camera and a DSLR. In fact, bridge cameras often look like DSLRs, with a characteristic 'fat' body, a chunky grip on the right hand side, an exposure mode dial on the top and the program AE, aperture-priority, shutter-priority and manual (PASM) modes of DSLRs. Many models now shoot raws as well, but check the specification to make sure.
But while bridge cameras offer monumental zoom ranges, such as the amazing 83x zoom on the Nikon Coolpix P900, there are limitations. In order to achieve these zoom ranges at a manageable size and cost, the makers use the same-sized 1/2.3-inch sensors as you find in smaller compact cameras. You get the look and feel of a DSLR, but you don't get the image quality.
There are exceptions, though. In the past couple of years the likes of Sony and Panasonic have launched bridge cameras with much larger 1-inch sensors, notably the Sony Cyber-shot RX10 IV and Panasonic Lumix FZ2500 (known as the Lumix FZ2000 outside the US). This comes at the expense of zoom range (though still very impressive and more than adequate for most shooting situations) and, well, expense generally, but most keen photographers would swap a little zoom range for a big step up in quality.
Pros: Massive zoom range; DSLR-style controls and features; versatility and value for money.
Cons: Small sensor size limits the quality (with some key exceptions); detail often quite soft at full zoom; autofocus systems rarely match DSLRs for responsiveness.
Our pick... Sony Cyber-shot RX10 IV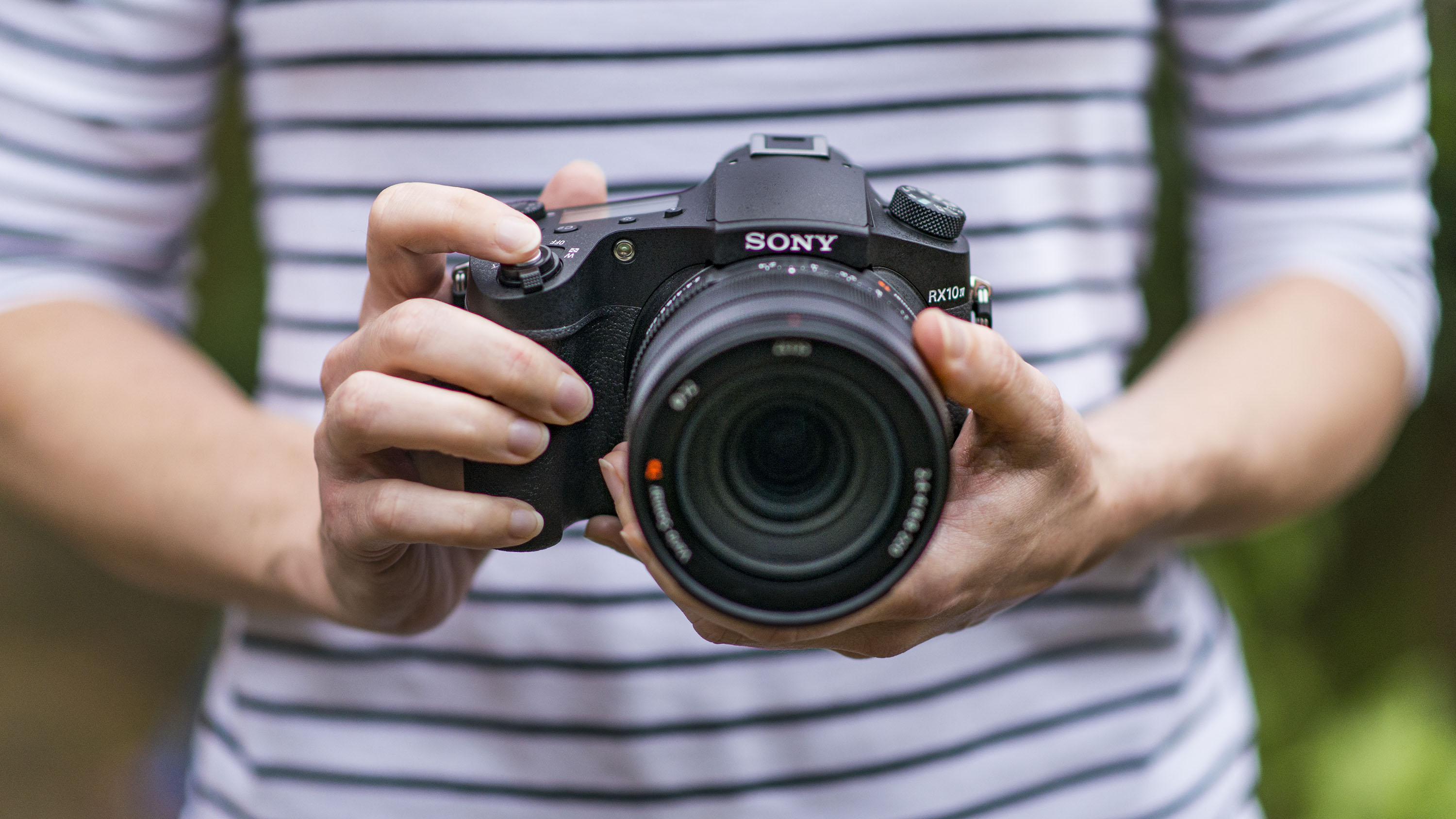 You'll pay a premium for the RX10 IV's performance, but when you look at what else is out there for the same price, the RX10 IV is virtually in a league of its own. Featuring a huge 24-600mm f/2.4-4 zoom lens, the RX10 IV builds on the RX10 III with an overhauled AF system that now does justice to the rest of the camera, while the 1-inch, 20.1MP sensor is capable of achieving excellent levels of detail. That's not forgetting the ability to capture video in 4K and shoot at up to 24fps. Impressive stuff.
Read our in-depth Sony Cyber-shot RX10 IV review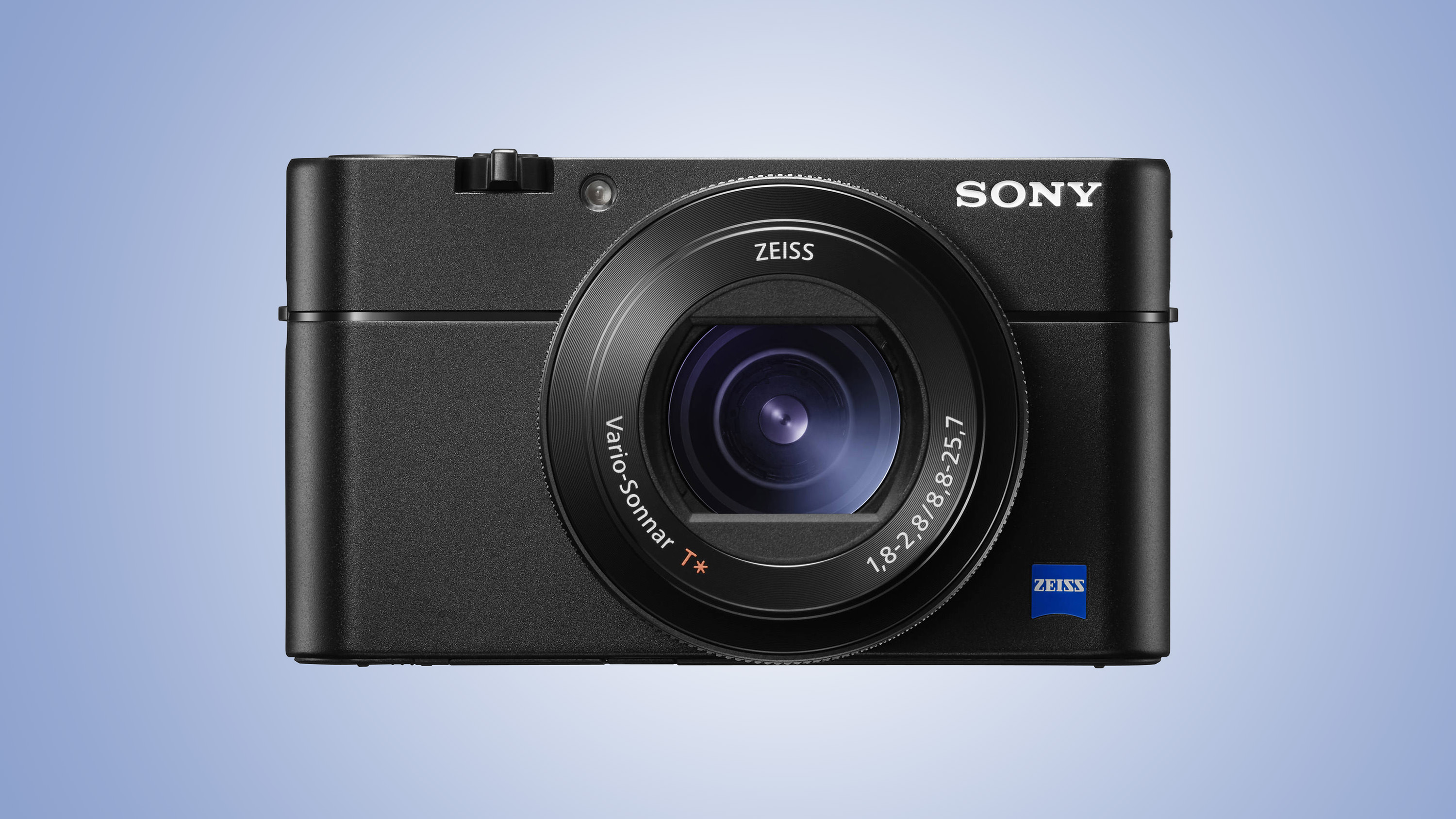 A high-end compact is perfect for quality-conscious enthusiasts who want a 'proper' camera small enough to fit in a coat pocket.
Where bridge cameras deliver the most bang for your buck, a high-end compact camera offers a different route towards better pictures. Here, you're not paying for a huge zoom range, but for a larger sensor, a better lens, DSLR-style controls and features and (sometimes) DSLR picture quality.
High-end compact cameras are designed for enthusiasts and experts who want a camera small enough to carry round when a regular DSLR would just be too intrusive or impractical.
The zoom range is nothing special – it's about the same as you'd get in a regular point-and-shoot model, with some opting for a fixed focal length - but combined with a bigger sensor, better lens and more advanced controls, you can expect image quality to be on a completely different level from your smartphone or point-and-shoot compact.
At one time, most high-end compacts had 1/1.7-inch sensors just a little larger than those in point-and-shoot cameras, but now there are models with larger 1-inch sensors (see the Canon Powershot G7 X Mark II, Panasonic Lumix LX10 / LX15 and Sony Cyber-shot RX100 V) and even Micro Four Thirds (Panasonic Lumix LX100) and APS-C sensors (Fujifilm's X100F) - the same size as those in some mirrorless cameras and DSLRs.
Pros: DSLR features and DSLR-approaching quality in a pocket-sized camera.
Cons: Even the cheapest aren't cheap, and the most expensive really are expensive; you can't change lenses.
Our pick... Fujifilm X100F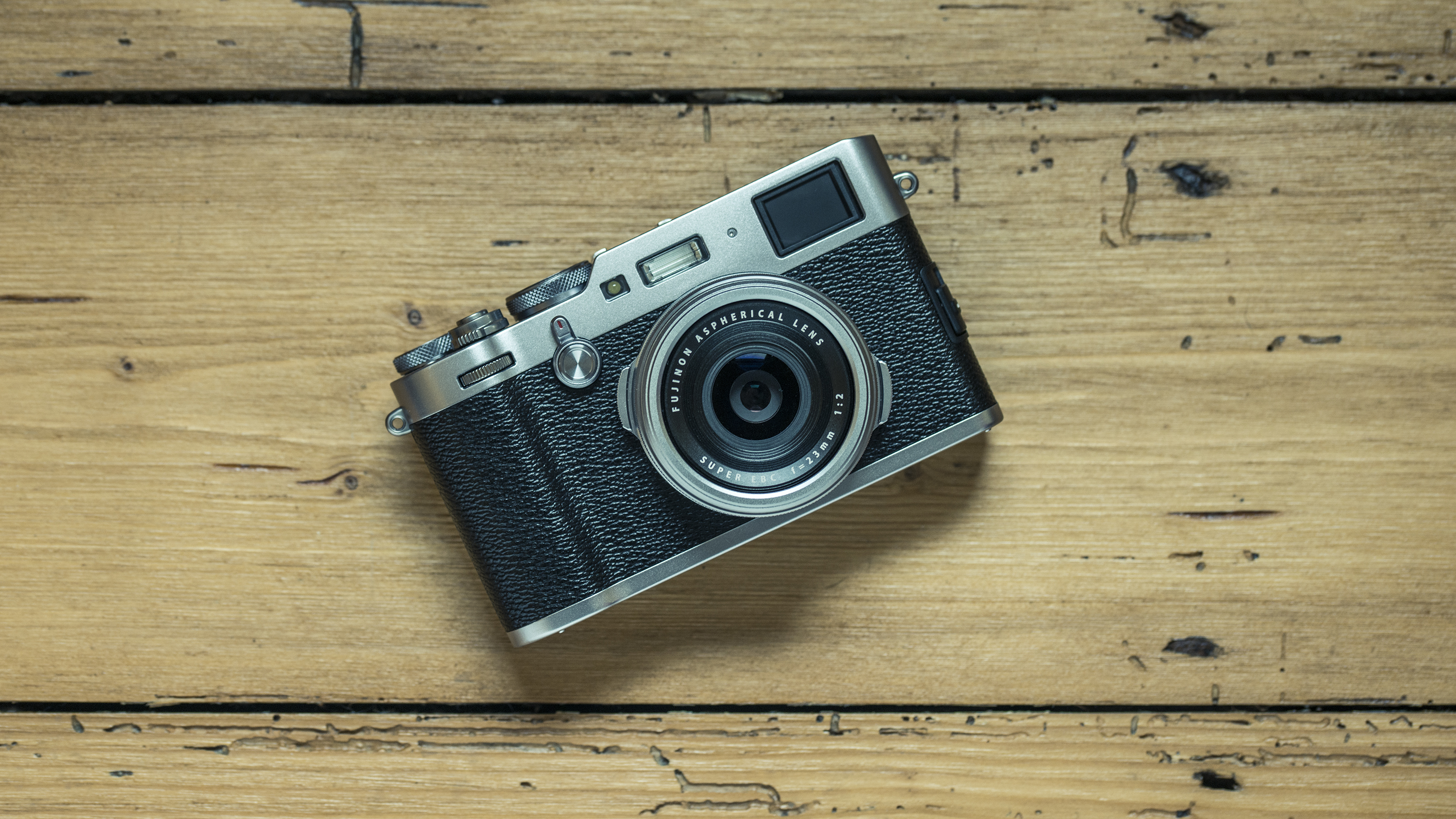 It may be one of the more expensive options and it's not a compact for everyone, but if you're after a high-quality camera, you're not going to be disappointed with the X100F. Everything about it oozes class. It has a fixed 35mm equivalent f/2.0 prime lens that's paired with a DSLR-sized 24.3MP APS-C sensor that delivers cracking results. There's also the tactile external controls and clever hybrid viewfinder - you have the option of electronic and optical views make it a joy to shoot with. You'll need some photo knowledge to get the best from it, but  the X100F is an exquisite camera.
Read our in-depth Fujifilm X100F review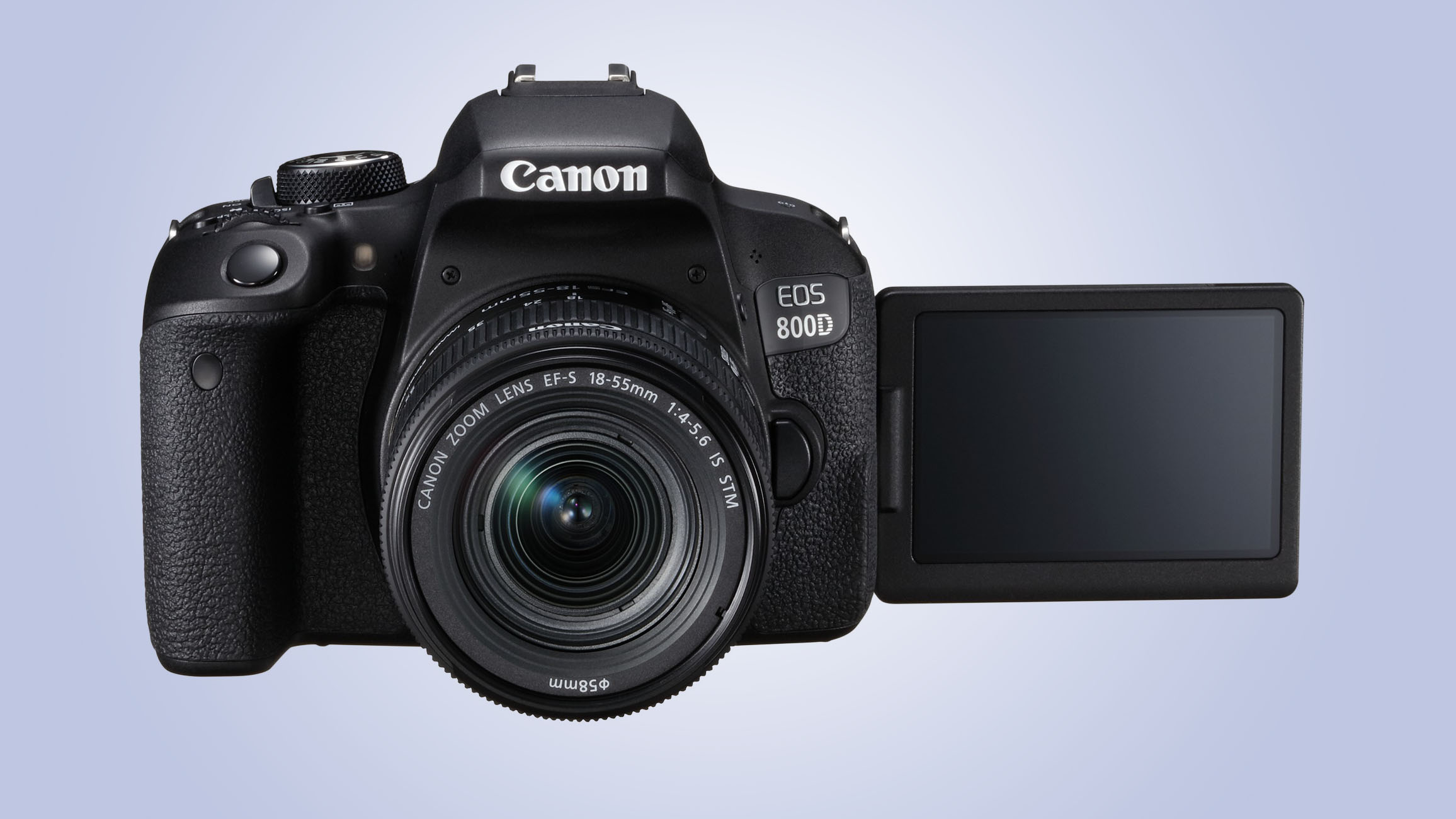 DSLRs offer big sensors and interchangeable lenses, and they mark the first step into 'serious' photography.
DSLRs are still considered the number one choice for 'serious' photographers, and they make great cameras for students too because they teach all the basic principles of photography without costing a fortune.
A DSLR is fundamentally different to the cameras covered so far because you can swap lenses. This is where digital cameras split into two main types.
So far we've been looking at so-called 'compact' cameras, though it would be more accurate to call them 'fixed lens' cameras, since they're often far from compact! This includes point-and-shoot cameras, action cameras, travel zooms, bridge cameras and high-end compacts.
But the second type is 'interchangeable lens' cameras, which is where you get into DSLR territory (and mirrorless cameras – more on these shortly).
Being able to change lenses really opens up a whole new world of photography. DSLRs often come with 'standard' zooms, or 'kit' lenses, which cover an everyday range of focal lengths, but you can also get telephotos, super-wide-angle lenses, macro lenses for extreme close-ups, fisheye lenses and fast (wide aperture) prime lenses for atmospheric defocused backgrounds.
DSLRs are perfect for anyone who wants to take their photography more seriously, not just because you can change lenses, but because they have large APS-C sensors that deliver much better quality than the smaller sensors in most compact cameras. You also get full manual controls, the ability to shoot raw files and an optical viewfinder that gives you a bright, clear view of the scene in front of the camera.
Pros: Interchangeable lenses; full manual controls; raw files; APS-C sensor for a big step up in quality.
Cons: Big and bulky compared to most compact cameras; focusing in 'live view' on the rear screen is comparatively sluggish on most models.
Our pick... Nikon D3400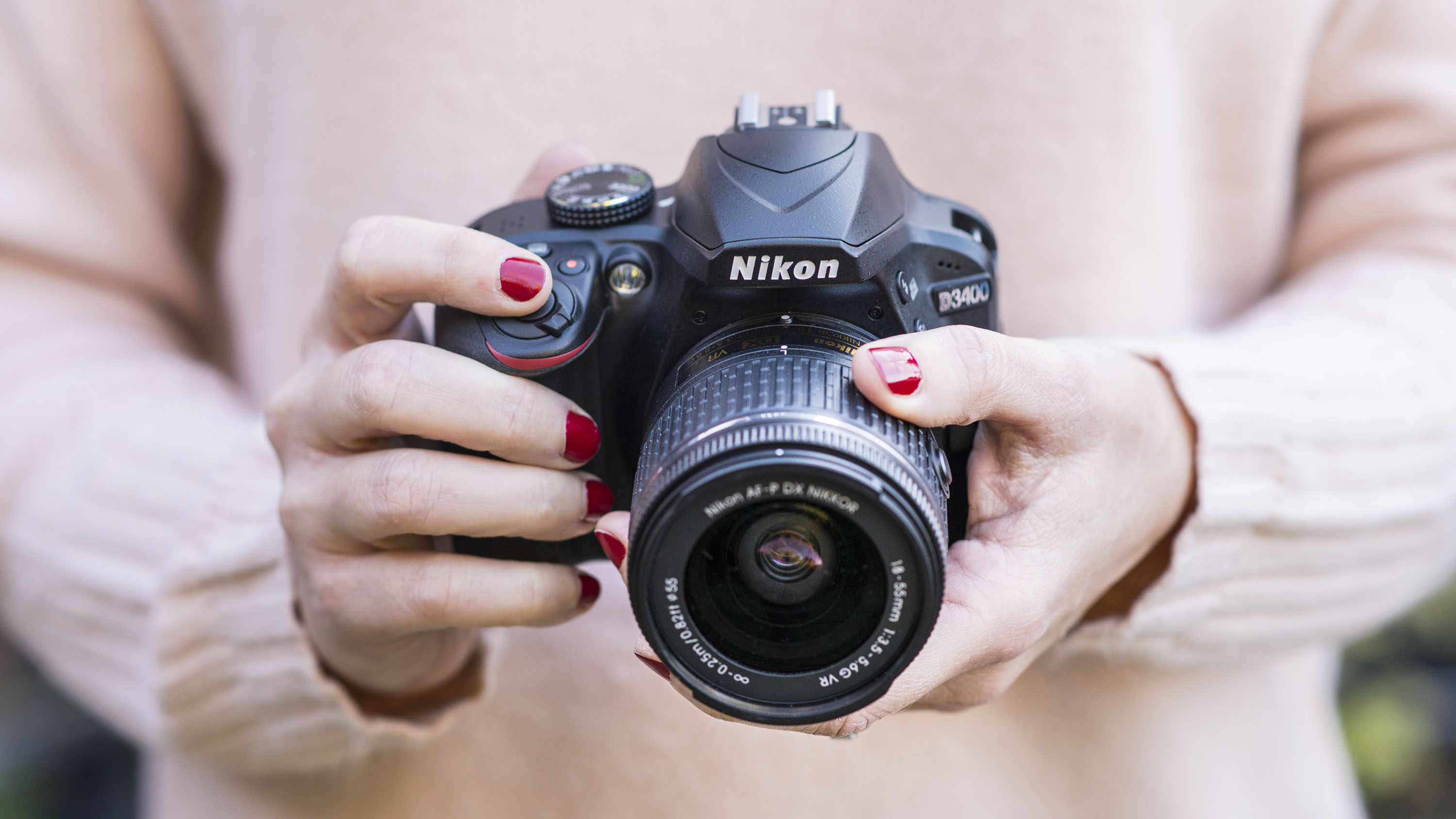 Nikon's D3400 builds on the brilliant D3300, which was until recently our top entry-level DSLR pick. Sharing pretty much the same design and specification as its predecessor, the D3400 adds Nikon's SnapBridge bluetooth connectivity to transfer images directly to your smart device to make it that much easier to share images. The 24.2MP sensor resolves bags of detail, while the D3400 is also a very easy camera to live with. Its clever Guide Mode is a useful learning tool that gives real-time explanations of important features. There's no touchscreen, but otherwise this is our favorite entry-level DSLR right now. 
Read our in-depth Nikon D3400 review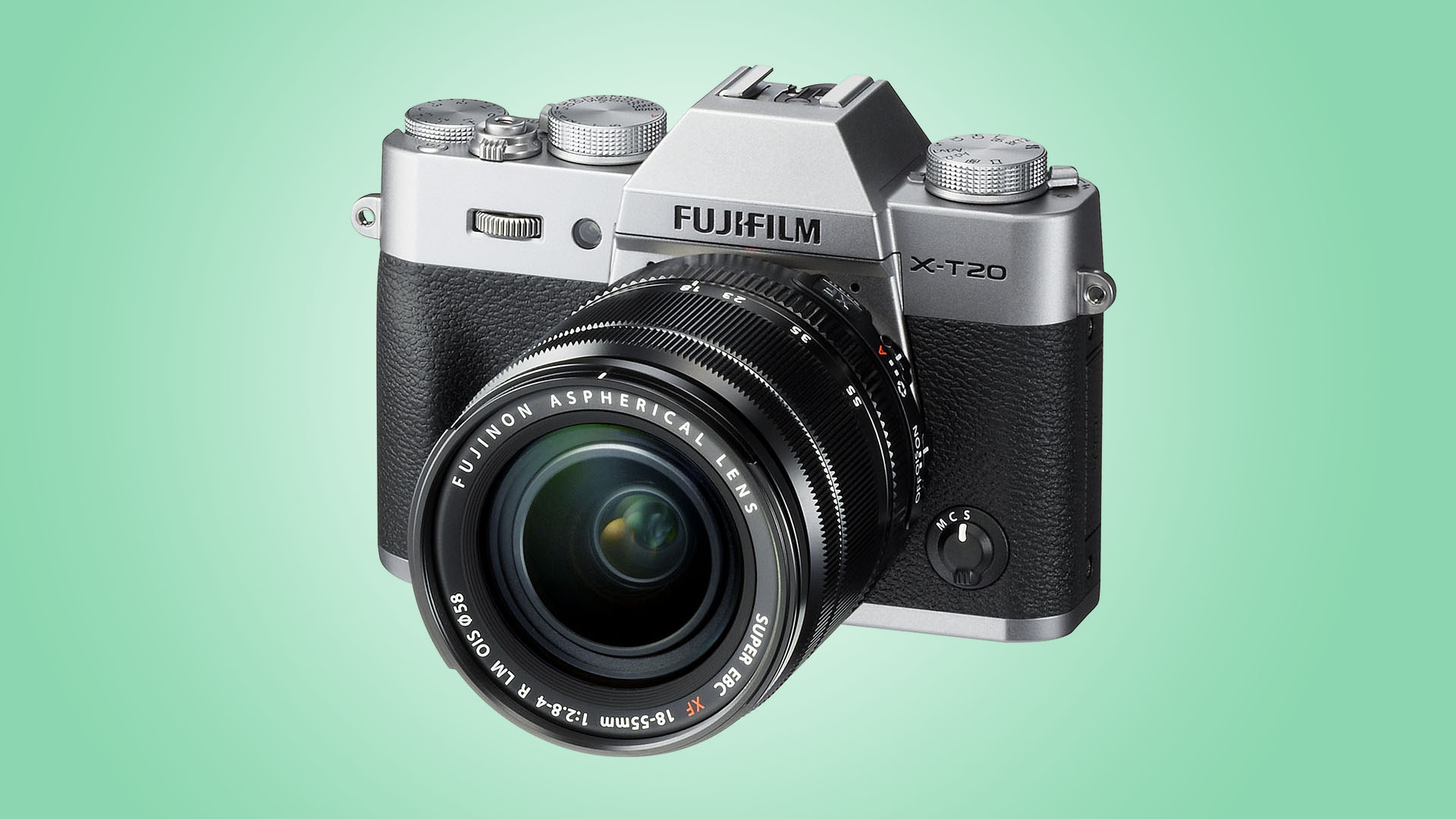 Mirrorless cameras also take interchangeable lenses and they're a new and fascinating alternative to DSLRs.
Until recently, the DSLR design was the only choice for photographers who wanted interchangeable lenses – but it has its drawbacks. The optical viewfinder on a DSLR is great, but if you want to use the LCD display to compose your shots, just like you would on a compact camera, they're much less effective. That's because to do this a DSLR has to flip up its mirror and swap to a slower, more laborious autofocus system.
So camera makers have introduced a new breed of 'mirrorless' cameras, also known as 'compact system cameras (CSCs). These are just like supersized compact cameras, but with bigger sensors and interchangeable lenses, just like DSLRs. The absence of a mirror means that the cameras can be made both smaller and lighter, and the latest models use new and more sophisticated autofocus systems that put them on a par with DSLRs.
All mirrorless cameras let you compose images on the rear screen with no loss of autofocus performance. Indeed, on many mirrorless cameras this is the only way to take pictures, because cheaper models don't have viewfinders.
It's worth paying the extra for a camera with a viewfinder, though, because these can be invaluable in bright light, where the glare can easily swamp the screen on the back. On a mirrorless camera, though, the viewfinder is electronic rather than optical. Electronic viewfinders can show you the image exactly as the sensor will capture it, but many still prefer the optical clarity of a DSLR viewfinder.
For the time being it looks as if DSLRs and mirrorless cameras will co-exist. Neither type is better than they other – they're really on a parallel path – so it really comes down to which type you prefer.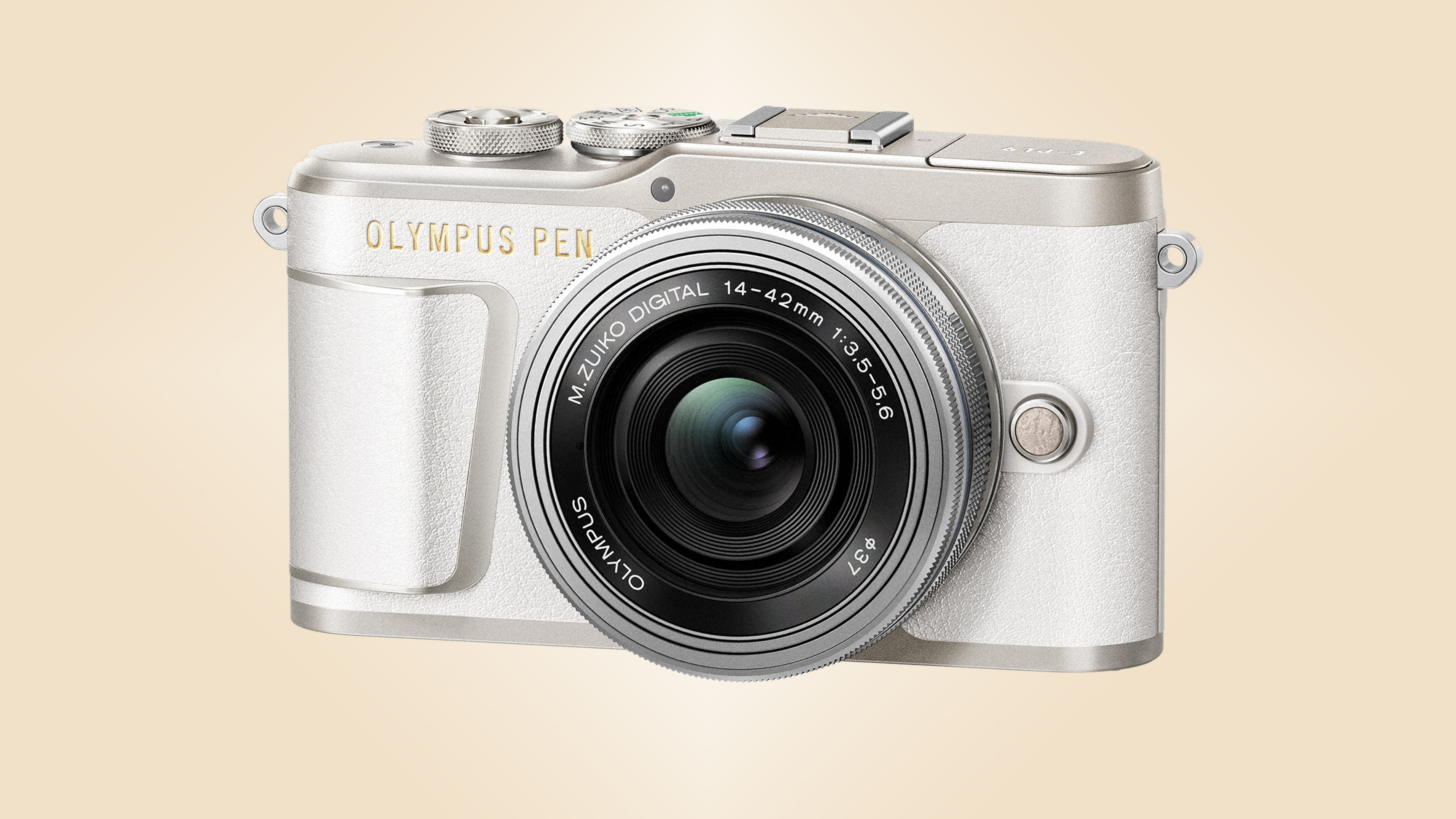 Pros: Small and light; mechanically simpler than DSLRs; full time 'live view' with fast autofocus.
Cons: Some models don't have viewfinders; electronic viewfinders lack the clarity of a DSLR's optical system; so far, the range of lenses available is more limited, but is growing.
Our pick... Fujifilm X-T2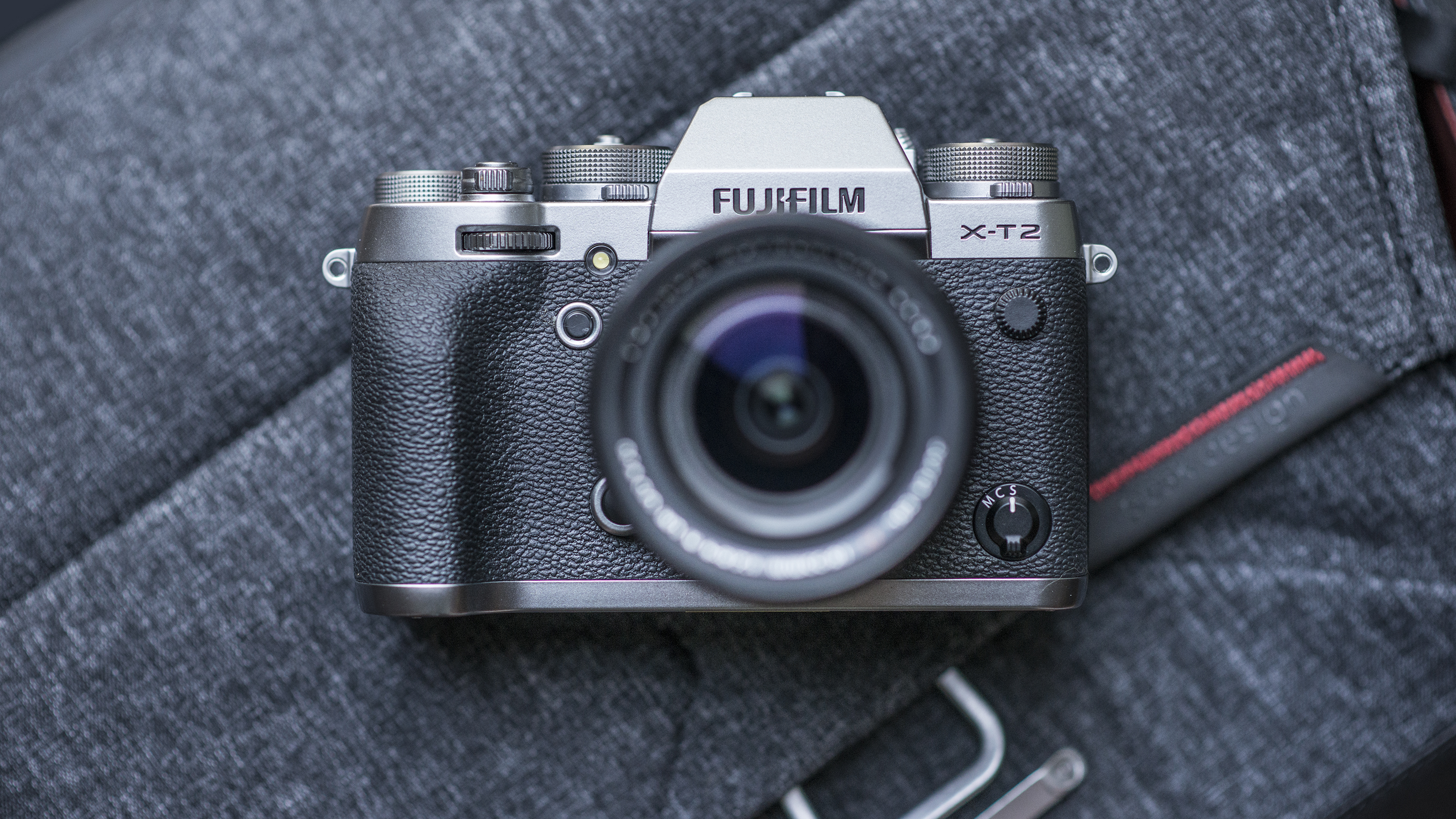 Fujifilm's high-end mirrorless camera is a great all-rounder. The AF system is much improved over older models, while the 8 frames per second burst shooting, a clever double-hinged rear display and bright EVF is complemented by Fuji's excellent 24.3MP X Trans III CMOS sensor and plenty of body mounted controls. All this is wrapped-up in a tactile body.
Read our in-depth Fujifilm X-T2 review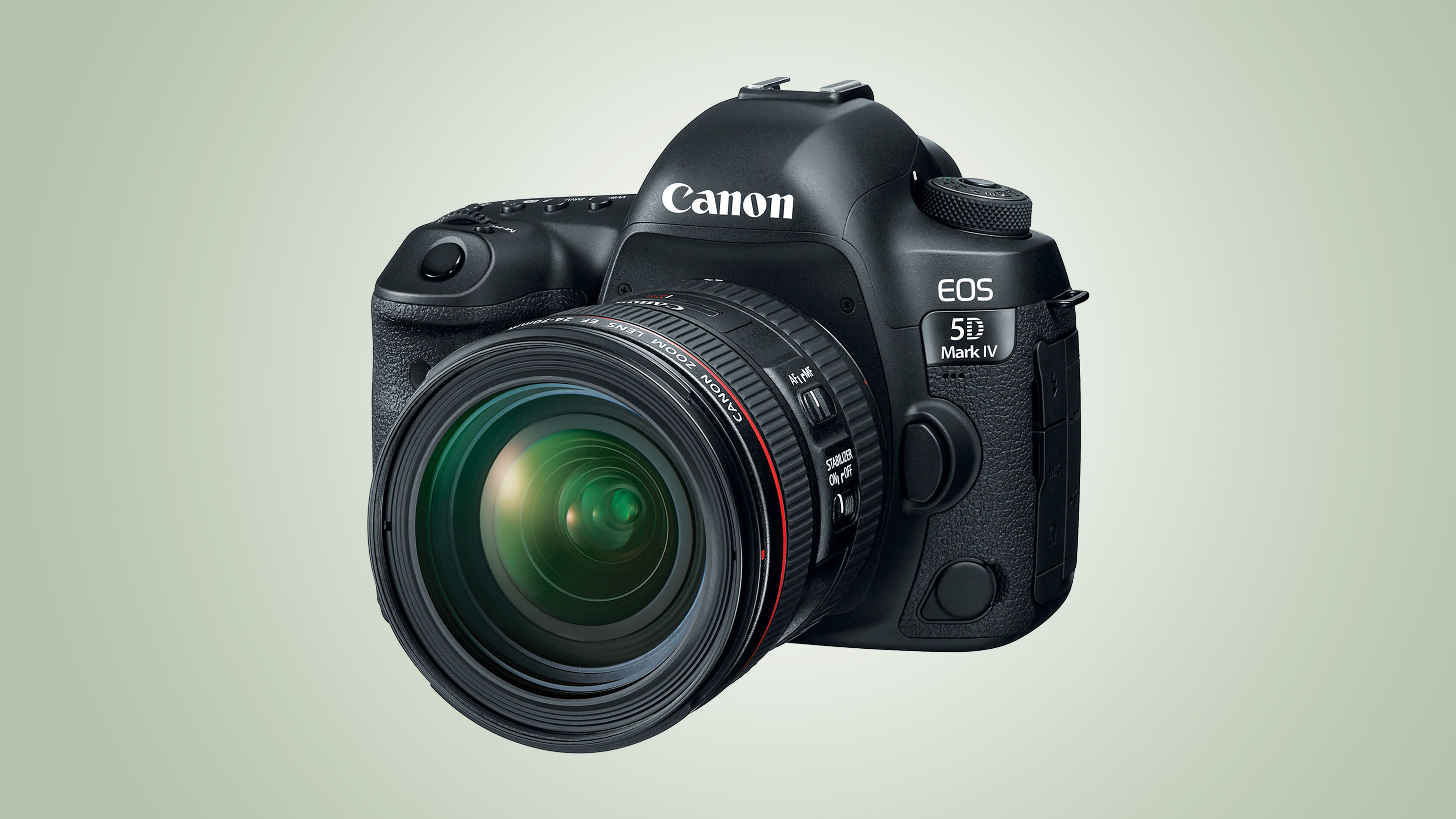 Moving up to a full-frame camera brings an increase in quality and a jump in price, so make sure it's worth it.
Most 'amateur' DSLRs and mirrorless cameras use APS-C size sensors. These are many times larger than the sensors in the average compact camera and deliver the kind of quality needed by professional photographers – or very nearly.
Although many professionals are perfectly happy with the quality they get from an APS-C format camera, it's more likely they'll go for a 'full-frame' camera (the frame is the same size as old 35mm film). These have sensors twice as large again as APS-C and deliver a further improvement in image quality. The differences are not always obvious, but at this level any improvement is useful.
You'll also need a full-frame camera if you want the very highest resolutions currently available – the latest holder of this record is the 50-megapixel Canon EOS 5DS.
Most full-frame cameras are DSLRs. Canon and Nikon make full-frame DSLRs aimed at serious professional users and cheaper full-frame models for advanced amateurs – so the full-frame format is not exclusively for pros.
Sony is following a different path with its full-frame A7-series mirrorless cameras, like the excellent Alpha A7R III and Alpha A7 III. These look like regular DSLRs but they're more compact and have electronic rather than optical viewfinders. The mirrorless design and full-time live view makes them perfect for shooting video, too, and this is growing in importance as more and more pros find themselves asked to shoot video as well as stills.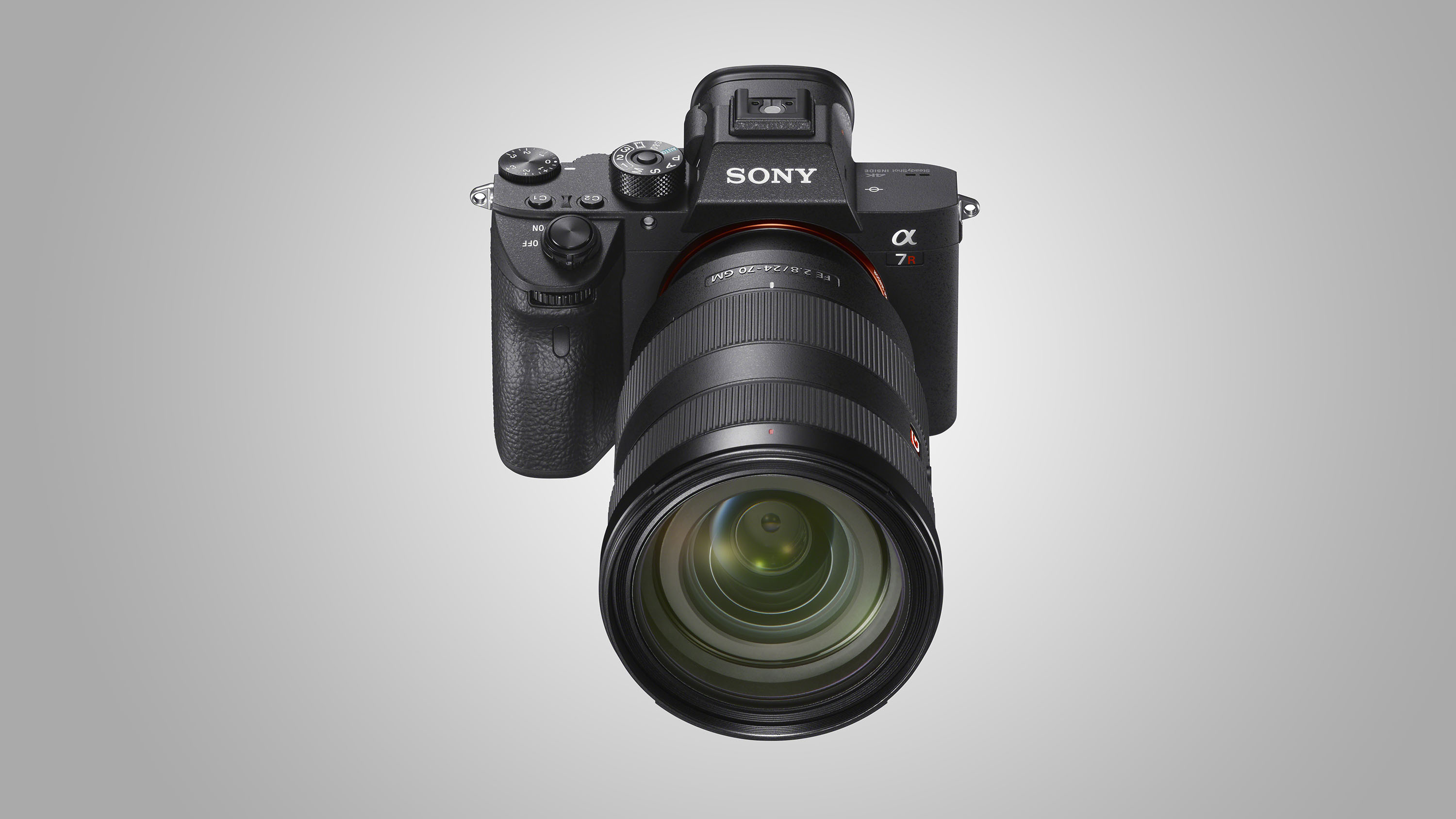 Pros: Maximum quality thanks to the full-frame sensor; often designed for tough, daily use; high resolution or high continuous shooting speeds a speciality
Cons: Expensive to buy and that goes for full frame lenses, too; pro models are bulky and heavy
Our pick... Nikon D850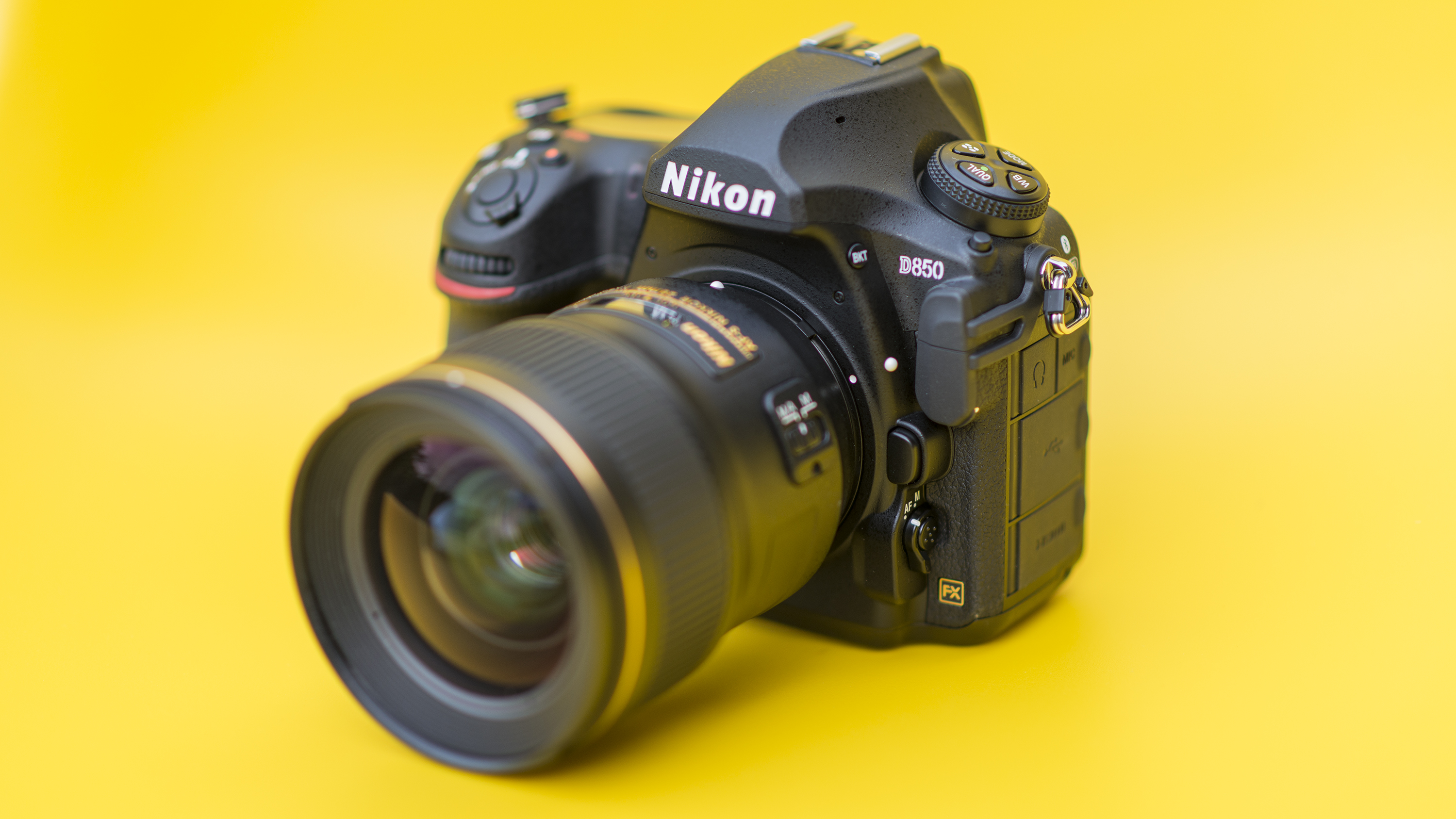 It may be expensive, but if you're looking for the best camera money can buy right now, then Nikon's fabulous D850 DSLR pretty much ticks every box. Packing in a brilliant 45.4MP full-frame sensor, image quality is stunning. But that's just half the story. Thanks to a sophisticated 153-point AF system and 9fps burst shooting speed, the D850 is just a home shooting action and wildlife as it is landscapes and portraits. The Nikon D850 is perhaps the most well-rounded camera we've ever tested.
Read our in-depth Nikon D850 review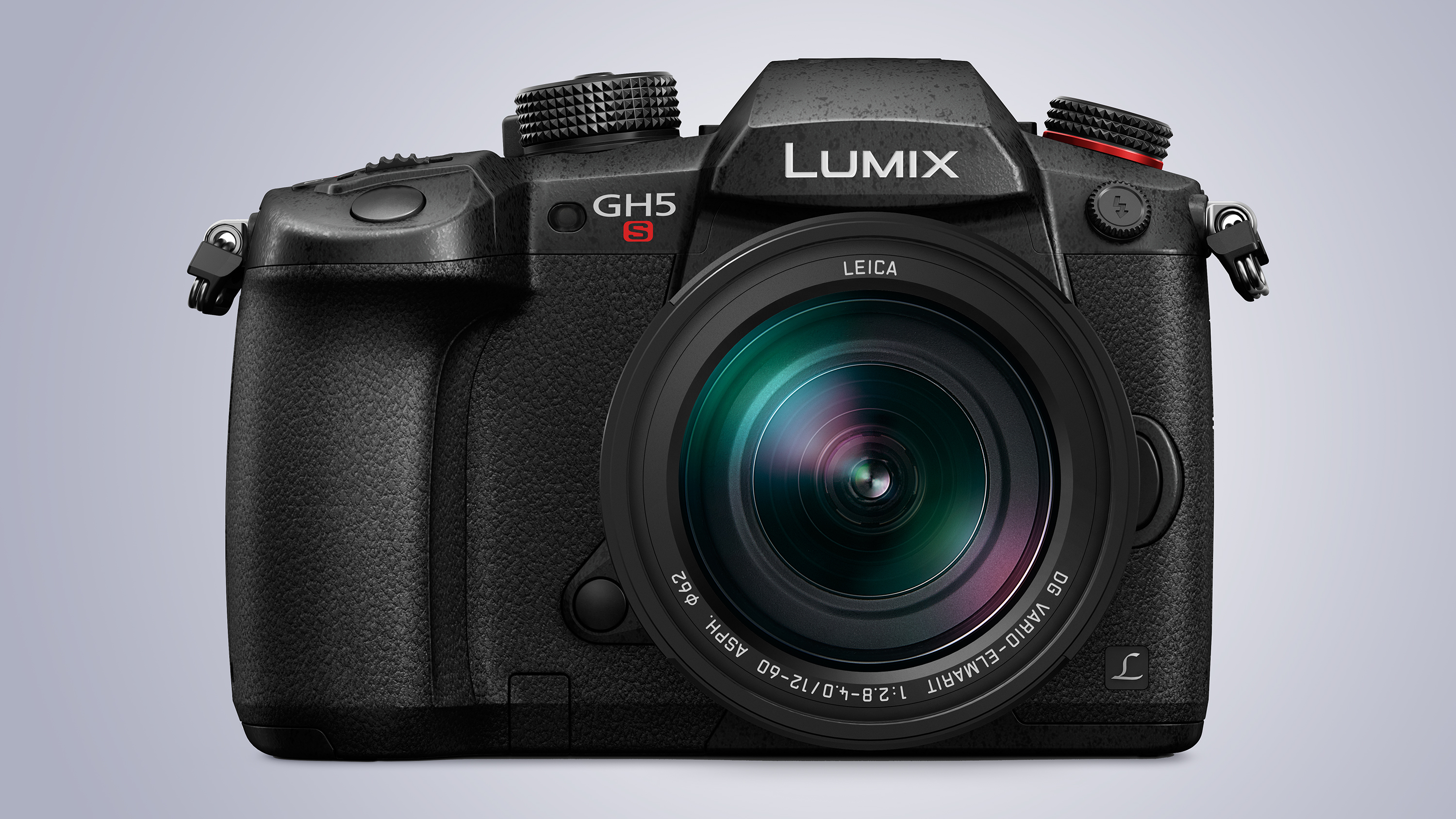 Video-enabled DSLRs have replaced pro camcorders for many videographers, but it's mirrorless cameras which are now driving the technology forward.
Photography isn't just about still images any more. Traditionally, video has been seen as a completely separate subject with a different set of skills, but that's changing – and fast. It's as easy to shoot a video on your smartphone as it is to take a still, and almost all compact system cameras and DSLRs are capable of professional quality video that makes a dedicated camcorder unnecessary.
It all depends on what you want to shoot and what you want to do with it afterwards. If you want to share movies with your friends, a smartphone is ideal and can deliver surprising quality.
Phones aren't built to survive the rough and tumble of extreme sports, of course, but action cams are, and many TV companies use regular GoPro-style cameras to capture footage they could never have recorded with a conventional camera.
If you need to shoot commercial-quality video for your own projects or paying clients, both DSLRs and mirrorless cameras can do the job. DSLRs were the first to bring pro-quality movie modes and are still the favorites amongst pros, but mirrorless cameras are catching up and have key advantages; notably full-time live view with fast and smooth autofocus.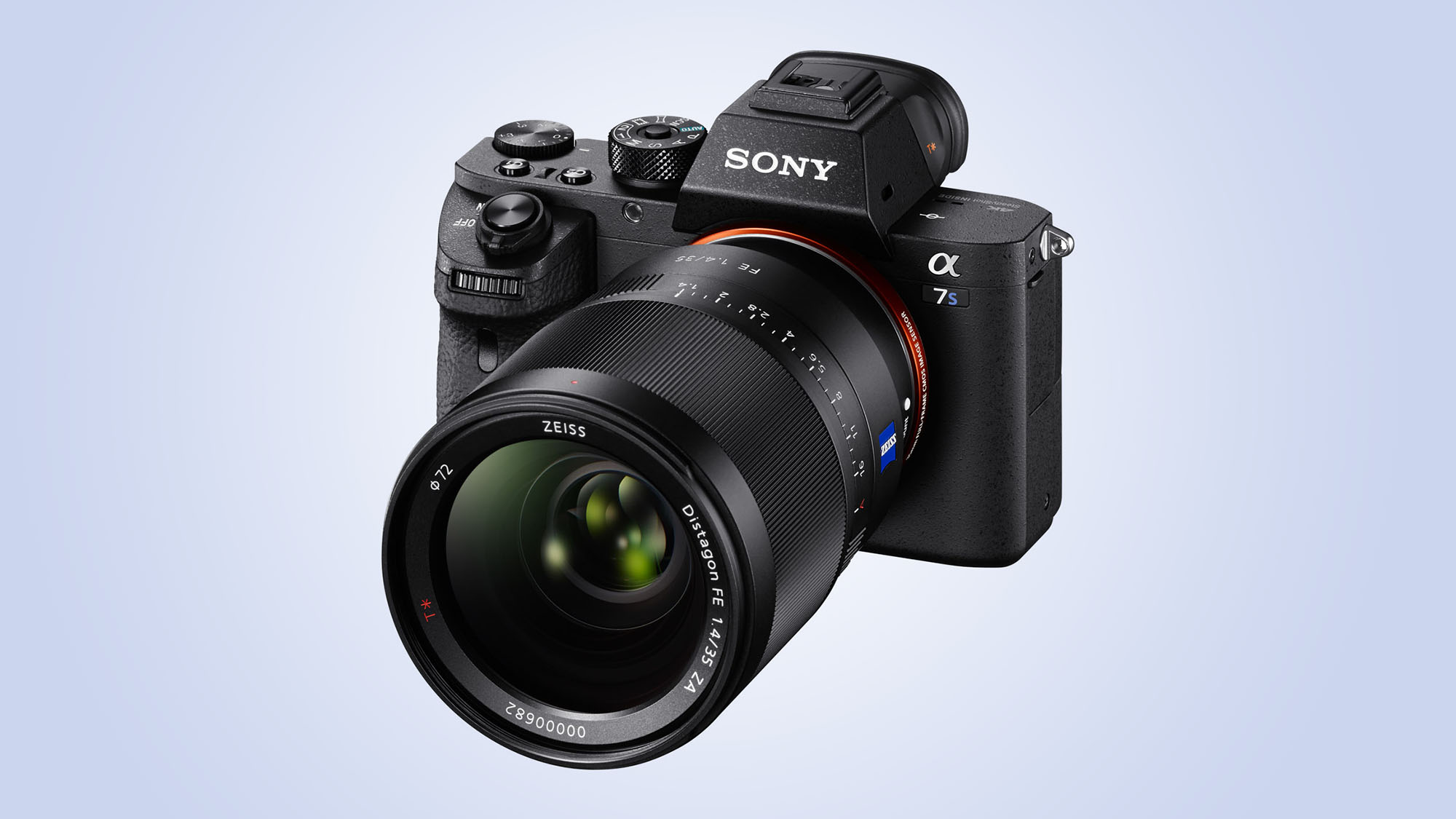 And it's mirrorless cameras which are at the forefront of 4K video. Panasonic is pushing the idea of stills-from-movies with the likes of the GH4, and the ability to capture high-quality 8MP stills at 30 frames per second as a by-product of the 4K video capability in its latest mirrorless cameras.
If you're choosing a camera for video, the normal rules about sensor size don't apply because even 4K video is at a lower resolution that still images. The key for video is processing power and camera design.
Right now, DSLRs are a good, conservative choice for movie makers shooting full HD, but mirrorless compact system cameras are the ones pushing back the boundaries of video, including 4K.
Our pick... Panasonic Lumix GH5S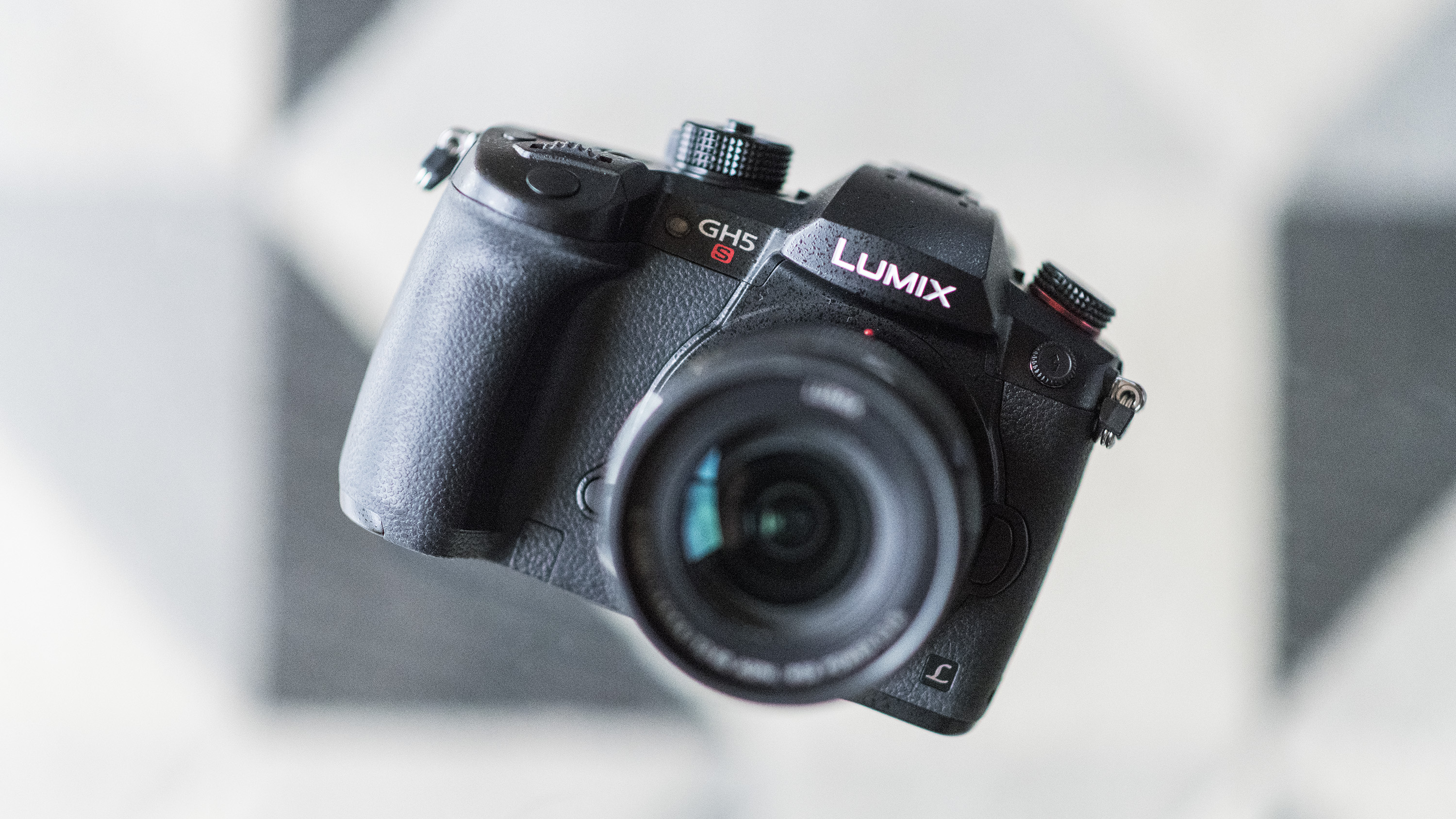 It's hard to know where to start with the Lumix GH5S, but perhaps the highlight is the fact that it can shoot at a world-first 4K 60/50p recording in Cinema 4K (4096 x 2160). You can record both Full HD and 4K video for as long as you want – there's no time limit – while the Lumix GH5S complies with 4K HDR video with Hybrid Log Gamma (HLG) mode in Photo Style. The GH5S also records 4:2:2 10-bit 400Mbps All-Intra in 4K (at 30p/25p/24p) and Cinema 4K (24p), and 200Mbps All-Intra in Full HD. The Panasonic Lumix GH5S is certainly not for everyone, but if you want to shoot professional-quality footage without remortgaging your house to buy a professional video camera you won't find a better video-focused camera out there. 
Read our in-depth Panasonic Lumix GH5S review