Technology Latest News
Samsung Galaxy Tab S4 release date, price, news and leaks
Update: A video has seemingly shown the Galaxy Tab S4 off in the flesh, plus the slate might be announced on August 1.
The Samsung Galaxy Tab S3 is a genuine iPad Pro alternative, and one of the best Android tablets around. It has similar productivity potential to Apple's slates, but with a stylus bundled in, saving you some money, and with a Super AMOLED screen.
This is impressive stuff, but the Tab S3 isn't without faults. Samsung is rumored to be making a follow up device to 2017's Android tablet and we're hearing more and more about the new Samsung slate each day.
Below we've put together all the rumors and leaks we've seen so far about the Samsung Galaxy Tab S4, and that's followed by a list of things we'd like to see improved upon for the next generation tablet.
Cut to the chase
What is it? Samsung's next flagship tablet
When is it out? Possibly late August at IFA 2018
What will it cost? Likely at least $599/£599 (around AU$780)
Samsung Galaxy Tab S4 release date and price
Samsung hasn't been giving its flagship slate range yearly upgrades, with the Samsung Galaxy Tab S2 hitting stores in September 2015, but the Galaxy Tab S3 not landing until March 2017.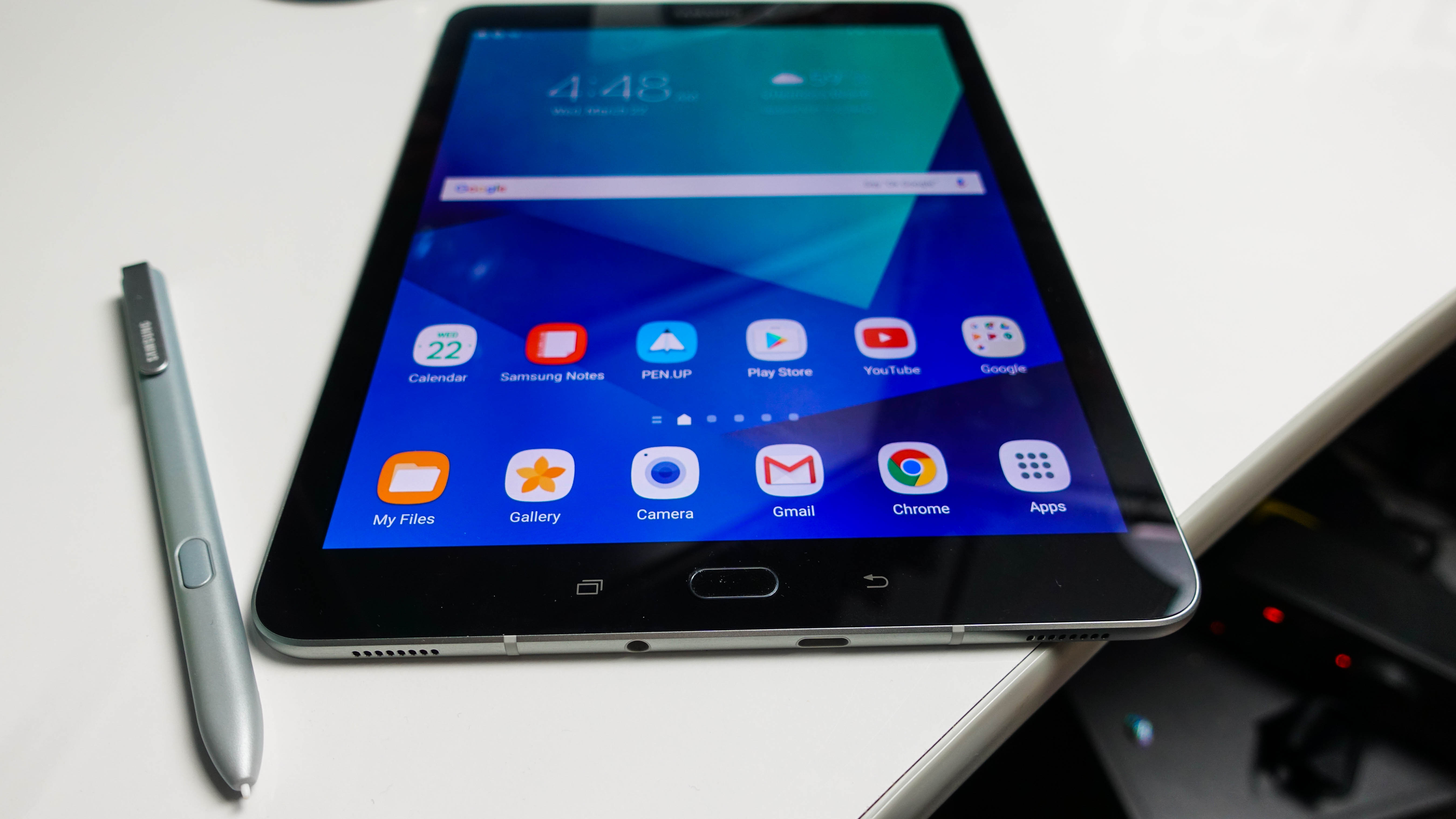 Samsung hasn't been giving its flagship slate range yearly upgrades, with the Samsung Galaxy Tab S2 hitting stores in September 2015, but the Galaxy Tab S3 not landing until March 2017.
So there was around 18 months between them. If Samsung keeps we'll see the Samsung Galaxy Tab S4 by September 2018.
Samsung is hosting a "special sneak peek event" on August 1, and we're expecting the Samsung Galaxy Tab S4 to be the star attraction. Especially because Samsung Tablet reveals usually immediately precede a smartphone launch, and the Samsung Galaxy Note 9 is launching on August 9.
Of course, there are other Samsung launch events at which the Tab S4 could launch. Some believed the tablet would come alongside the Samsung Galaxy Note 9, which is rumored to launch at the start of August, but a new report from anonymous sources suggests it'll actually come at IFA 2018 alongside the Samsung Gear S4 smartwatch.
It may actually launch a few days before IFA kicks off though, as recent image leaks have shown an August 24 date on the screen, so that could be when it will land.
It's almost certainly coming soon in any case, as it's also seemingly been certified by the FCC (Federal Communications Commission) - a clear sign that a launch is imminent.
Pricing will probably be in line with the Tab S3's, if not higher. That slate launched for $599/£599 (around AU$780), and for that money you also got a stylus, but the keyboard costs extra.
Samsung Galaxy Tab S4 news and rumors
We've now seen several leaked renders seemingly showing the Samsung Galaxy Tab S4, with one giving us a look at the front and back.
You can see that the bezels are fairly large but there's seemingly no buttons on the front, which likely means that you unlock the tablet with a face scanner rather than a fingerprint - indeed, we've now seen very compelling evidence that the Tab S4 will have both facial recognition and an iris scanner, as an animation showing exactly that has been found in firmware for the unannounced slate.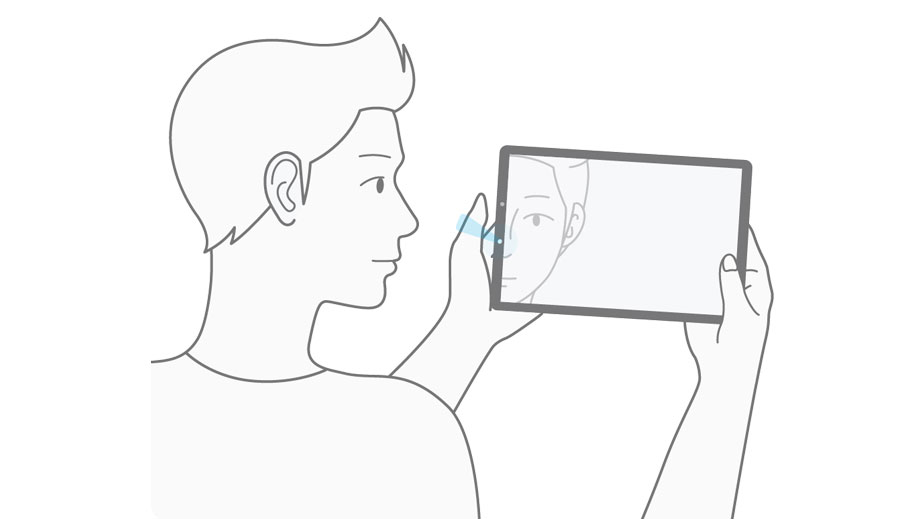 The firmware suggests that the scanner will use the same Intelligent Scan feature as the Galaxy S9 range - switching between the two methods of scanning depending on lighting conditions.
Moving back to the leaked image, the back has a single-lens camera and a claim that the tablet is tuned by AKG.
You can also see what's likely the power and volume keys, but there's no sign of a dedicated Bixby button.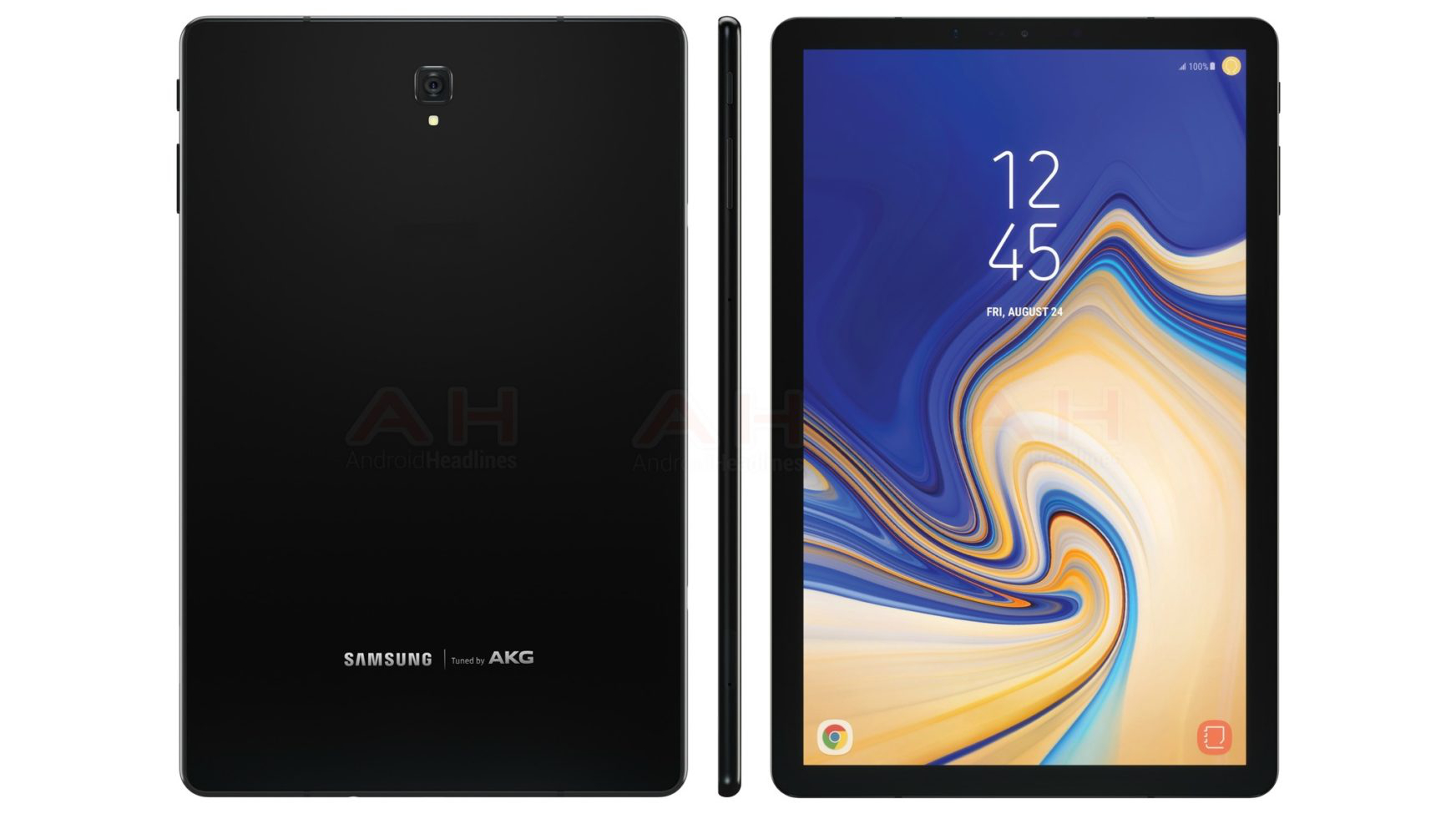 The tablet here is shown in black, but we've also seen shots of it in silver, and according to another source those are the two colors you'll be able to buy the Tab S4 in.
The silver shots additionally show off two speaker grilles, the optional keyboard case and the S Pen stylus, which looks glossier than the Tab S3's stylus, and lacks that one's clip. You can see all of this below.
And we may even have now seen the Galaxy Tab S4 in the flesh, with a brief video seemingly showing it off and matching the above renders.
You can see the slate in both colors and note that it looks a little shinier in the white/silver shade than the black one.
We also have a good idea of the dimensions, as it's seemingly passed through the FCC with dimensions of 249.3 x 164.3mm, making it slightly taller and thinner than the Galaxy Tab S3.
And a fairly complete specs list has also leaked, pointing to the slate having a 10.5-inch 1600 x 2560 Super AMOLED display with a 16:10 aspect ratio, a Snapdragon 835 chipset, 4GB of RAM, 64GB of storage, a 13MP rear camera, an 8MP front-facing camera, a 7,300mAh battery and running Android 8.1.
The same list claims that it will have AKG-tuned audio and be compatible with Samsung DeX, meaning you'd be able to hook it up to a monitor for a desktop experience. The list adds that there's no fingerprint scanner, which is something that images and other leaks also suggest.
A number of benchmarking leaks meanwhile also provide specs and largely line up with the list above. The first benchmark for a slate with a model number that matches what we'd expect the Tab S4 to have came in February 2018.
The benchmark lists a 2.3GHz octa-core chipset, which is likely the Snapdragon 835, meaning this slate might not quite be cutting-edge as that's a 2017 chipset, albeit a high-end one. That same spec has been backed up by another leak too.
There's also 4GB of RAM and a 10.5-inch 1600 x 2560 screen listed, as well as 64GB of storage, a 12MP rear camera, a 7MP or 8MP front-facing camera and Android 8.0.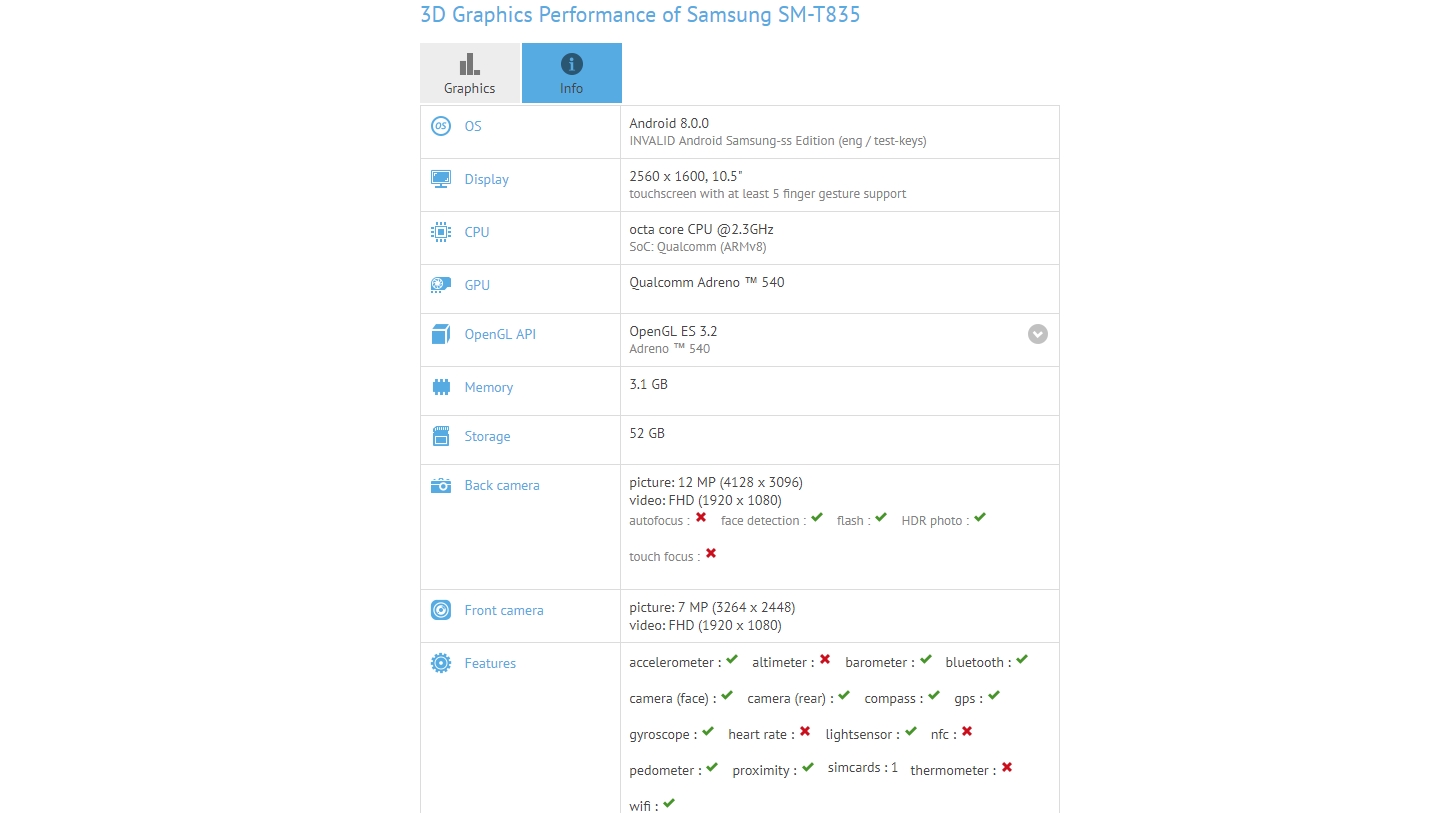 A regulatory filing published at the start of May 2018 also suggests the tablet will be set to run Android 8 Oreo software as well as Qualcomm Snapdragon 835 chipset.
One SamMobile report claimed the tablet will be available in both Wi-Fi only and LTE variants too. 
Beyond that there are some things we can take an educated guess at. For example, the screen will probably support HDR content, since the Tab S3 does and it's unlikely that Samsung would remove a major feature.
Samsung Galaxy Tab S4: what we want to see
The Samsung Galaxy Tab S3 is one of the best tablets money can buy, but it's still a long way from perfect. Here's how the Samsung Galaxy Tab S4 can get closer.
1. Better multitasking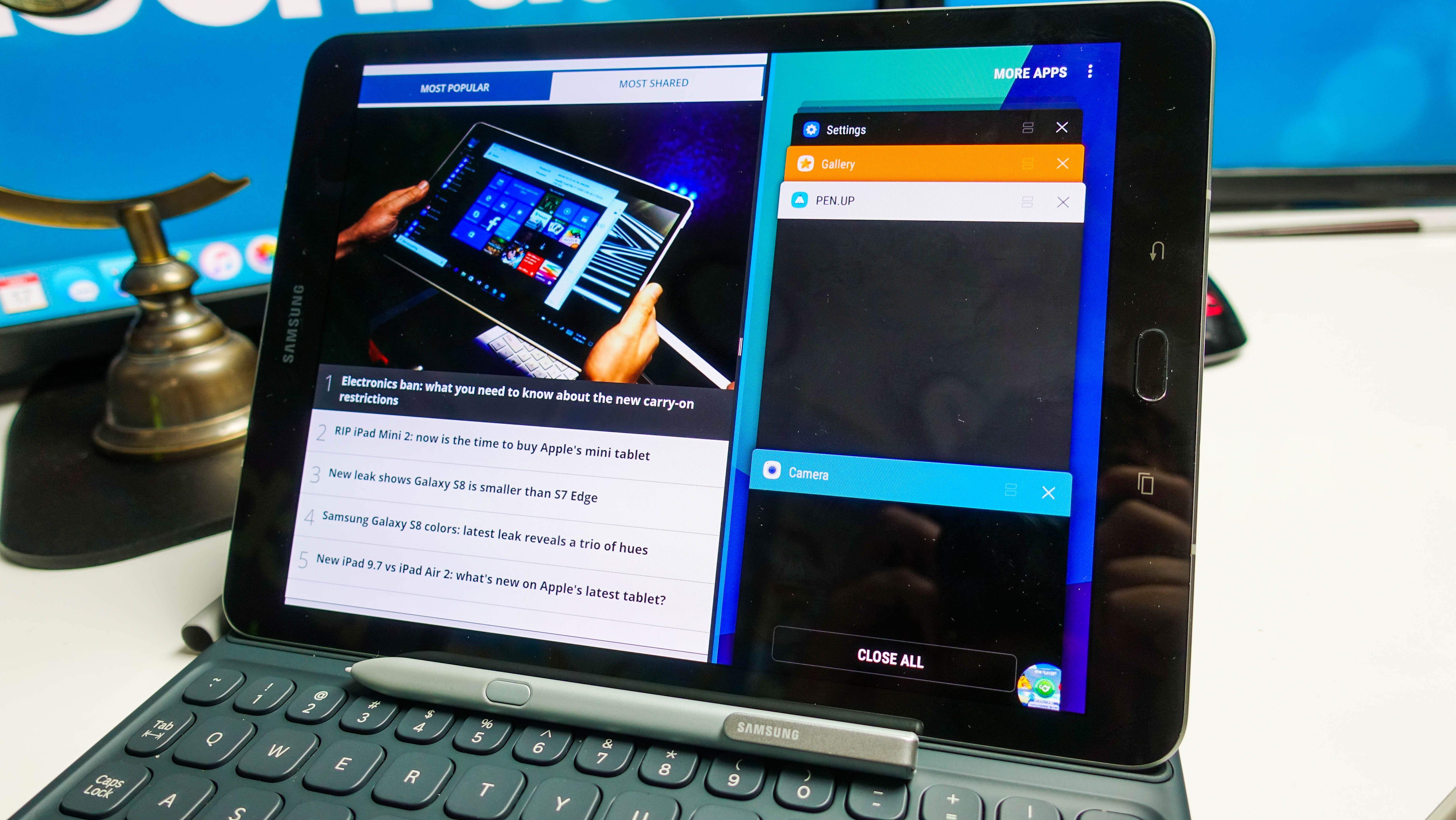 As much as Samsung might want you to ditch your laptop and just use the Galaxy Tab S3, it's not quite up to the task, and that's largely down to clunky multitasking.
There's no proper dock for easy app switching, the recent apps menu is a slow alternative, and the screen is arguably a bit cramped if you want to have two apps running side by side.
Improvements to all these things for the Samsung Galaxy Tab S4 would be great to see, and may be necessary if it wants to compete with the iPad Pro range, as that offers larger slates and iOS 11 is set to boost their multitasking skills well beyond what the Tab S3 can manage.
2. A cheaper keyboard
The Samsung Galaxy Tab S3 is designed in part as a productivity device like the iPad Pro, and like Apple's slate you need an expensive keyboard accessory to get the most out of it.
In Samsung's case, the official keyboard launched for $129/£119 (around AU$170), which is almost as much as some Chromebooks cost. For the Samsung Galaxy Tab S4 we want to see the keyboard bundled with the slate, or at the very least offered for a lot less money.
3. Keyboard tweaks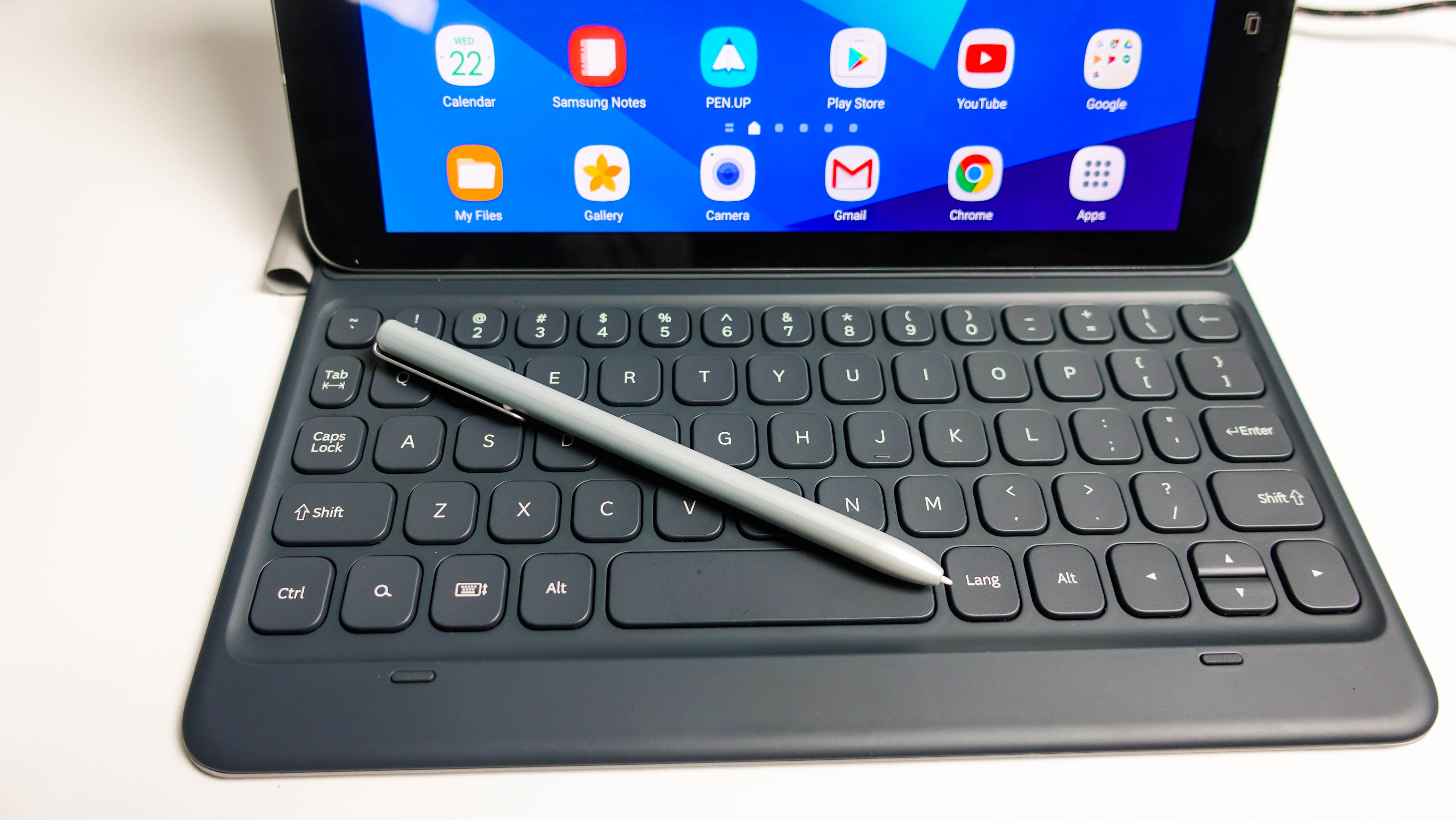 Speaking of the keyboard, there's room for improvement in its design too. There are no function keys and no home button for example.
It could also do with stronger magnets, and the flap should be magnetic, both to keep it shut and to turn off the screen when closed. These should be easy fixes for the Samsung Galaxy Tab S4's keyboard.
4. Water resistance
Samsung's flagship phones have offered water resistance in recent years, but its flagship tablets still don't, and that's a shame.
We'd bet any number of people want to use their tablet by the pool, in the bath or while cooking, and a lack of water resistance could put them off – or lead to a very expensive accident, so we want the Tab S4 to be built for all occasions and environments.
5. A 4K display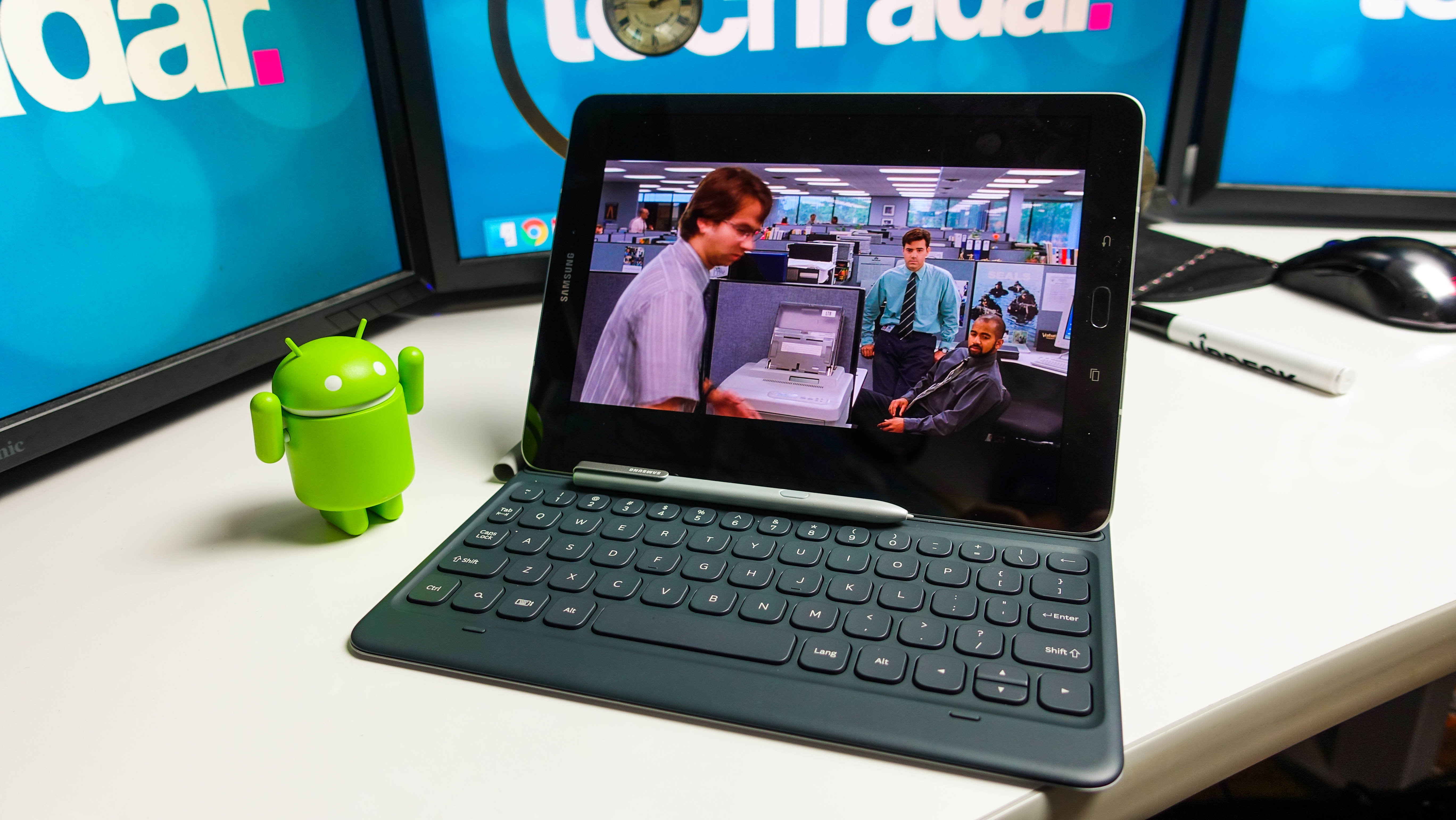 The Samsung Galaxy Tab S3 has a great screen. It's a good size at 9.7 inches, it uses Super AMOLED and it supports HDR. But it's not 4K.
It's fairly sharp at 1536 x 2048, but if the Samsung Galaxy Tab S4 has a 4K resolution, while still packing in all the same tech as the S3's and the same speaker setup, it could be the ultimate tablet for media.
6. Flagship power
While the Samsung Galaxy Tab S3 isn't exactly lacking power, its Snapdragon 820 chipset is a generation behind the Samsung Galaxy S8's Snapdragon 835 one, despite launching around the same time.
So for the Samsung Galaxy Tab S4 we want a cutting-edge chipset, plenty of RAM and performance that can rival the iPad Pro 3 (or whatever Apple's latest slate is at the time).
7. More storage
Invest in a hefty microSD card and you'll have plenty of space to play with on the Galaxy Tab S3, but it only comes with 32GB of storage built-in, which is a paltry amount for a high-end tablet, since you're likely to want to fill it up with games, apps and videos.
The iPad Pro 10.5 for comparison starts at 64GB and goes all the way up to 512GB. Granted, there's no microSD card slot in Apple's slate, but opt for the largest size and you'll have far more room than even the biggest supported card (256GB) allows on the Samsung Galaxy Tab S3.
So we want more storage in the Samsung Galaxy Tab S4. The Samsung Galaxy S8 has 64GB, so that should be the minimum, but as the S4 will be newer and bigger we ideally want even more than that.